Indian consumers have finally got a glimpse into what IKEA will bring through its much-awaited stores in the country.
IKEA has put up a catalog of the products it will stock in its Indian stores on its site. First spotted by Medianama, the online catalog has a list of products, along with prices in Indian rupees. While the website says that it's currently in beta, it's likely that the products and prices aren't simply converted from a different currency — prices for many products end with 99s in rupees, such as Rs. 2999 or Rs. 799, implying that this is indeed the catalog that IKEA will stock in India.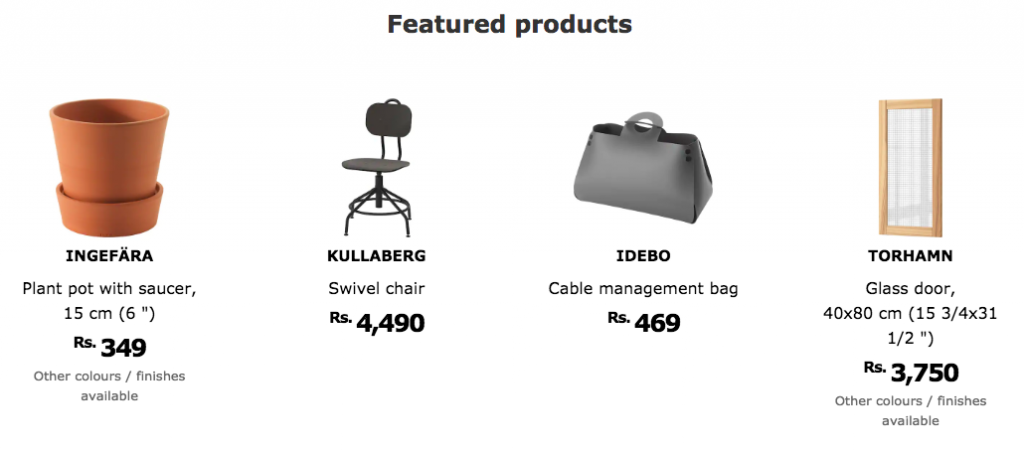 At first glance, the catalog looks comprehensive, and comparable to what IKEA offers in other international locations — the categories contain everything from Baby and children products to mirrors to textiles and rugs. Prices, too, appear to be competitive — the rates don't look markedly different from what Indian stores like Urban Ladder and PepperFry charge for similar products.
And it's no surprise that IKEA is going for an all-out launch in India — the company has been working on opening its stores in India for several years now, and after a string of delays, it looks as though IKEA will open its first store in the country in Hyderabad in the coming weeks. IKEA has already opened a small experience center in Hyderabad, but its full-blown store will be spread across a sprawling 4,00,00 square feet, and the company says it's committed to investing Rs. 10,500 crore into the country.
While IKEA has the resources and brand name that homegrown startups can't match, it does come into India with a bit of a disadvantage — unlike existing players, it can't sell its products online. India's FDI rules currently say that while foreign marketplaces like Amazon can run e-commerce operations in the country, single-brand stores like IKEA can't, which means that IKEA will have to confine itself selling its products through its offline stores. After launching its Hyderabad store this year, the company says that there's a Mumbai store in the works which will open by 2019.
And IKEA's India entry has the potential to shake up the furniture segment in the country. IKEA is, quite simply, the most recognisable global brand for affordable home furniture, and it will end up squarely competing with Indian startups like PepperFry and Urban Ladder. There's also interest from bigger players in the space — Flipkart has recently begun pushing its own furniture vertical. But IKEA will likely be hampered by India's FDI rules — until 2019, it will likely have stores only in 2 cities in the country, meaning that India's homegrown furniture startups don't need to panic just yet. But after being founded in Sweden in 1943, IKEA has appealed to audiences the world over — it's now available in 49 countries, and now has global revenues of $40 billion (Rs. 2,80,000 crore). If Indian audiences lap up IKEA's products, India's homegrown furniture startups, much like IKEA's many offerings, might end up having their backs up against the wall.