There has been hype around drone deliveries for a while, but signs are finally emerging that drones could end up as viable means for transporting goods in India.
In a first, a private diagnostic lab in Noida has used a drone to transport blood samples from Meerut to Noida. The journey took just one hour, compared to the 2-3 hours that it would've taken had the samples been sent by road. The drone belonged to Skye Air Mobility, a drone delivery logistics provider company.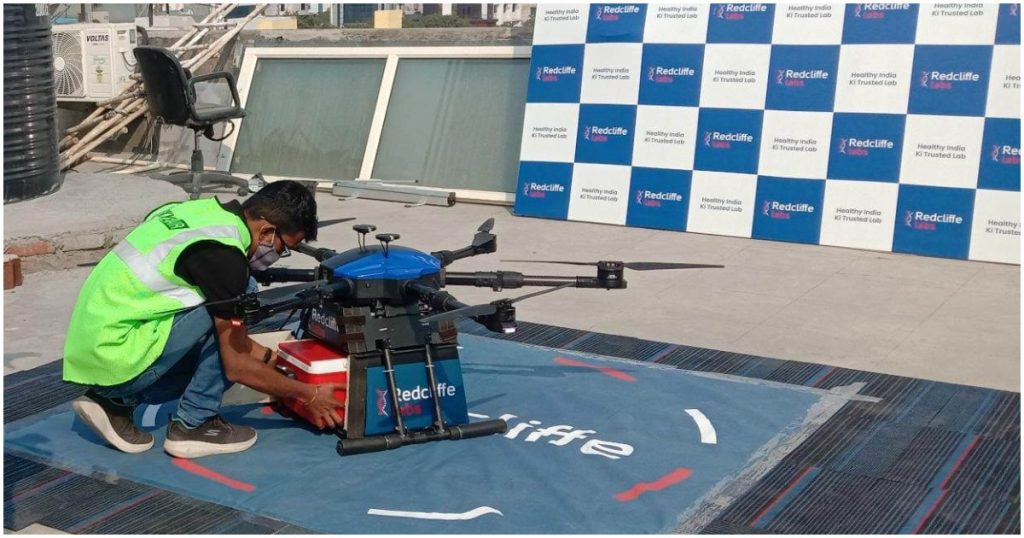 "With the technology, we are confident of also delivering test results to patients on time," said Dheeraj Jain, founder of Redcliffe Life Diagnostics, the lab which used the drone to deliver the blood samples. "Ferrying blood samples with the help of drones is the first of its kind experiment in the diagnostic industry in India. In a country like ours, challenges with respect to accessibility to diagnostic services can be tough. Urban areas face the problem of road traffic while rural areas do not have the required infrastructure. Hence, it can take a lot of time for test samples to reach a particular lab. If the drone technology system is put in place, we can be confident of delivering test results to patients on-time," he added.
The hexacopter drone which ferried the blood samples had six wings, and could be spotted flying over the skies in Noida. It carried the blood samples in a temperature-controlled box, and covered a distance of 73.6 km in an hour. The company is hopeful of expanding blood sample collection through drones in rural and hilly areas such as Himachal Pradesh, Uttarakahnd and J&K.
Drones have previously been used to carry supplies abroad — in Australia, startups have tested delivering medicines in remote areas, and Amazon had made its first-ever delivery through a drone all the way back in 2016. In India, drone deliveries have been of particular interest to food delivery companies. In 2018, Zomato had acquired a drone startup to help it deliver food, and in June next year, it had claimed that it had successfully tested delivering food through drones. In March last year, Dunzo had got approval from DGCA to test drone deliveries, even with drones beyond visual sight. Several companies, including Zomato and Dunzo, have been testing their drone deliveries at the six 'green zones' within which drone flights will be allowed to take place.
And with a startup now using drones to deliver something as critical as blood samples, it could pave the way for drones being used commercially in a myriad of other sectors. For years, startups have innovated with logistics on the ground, coming up with optimized routes, electric bikes, and supply chains; with drones, they might now be upending the logistics industry by innovating through the air.