The biggest Indian startups ideas can sometimes come from the country's brightest minds, who sit on beanbags and brainstorm with whiteboards in one of its swanky entrepreneurial hubs. At other times, they can come from a nondescript village in Maharashtra.
KhataBook, an app first built by Vaibhav Kalpe in Delgoor village in Nanded district, now records Rs. 20,000 crore of transactions per month. Kalpe's father ran an electrical shop in Delgoor, and he saw him struggling to track of receivables pending receivables. While still helping his father run his shop, Kalpe learnt Android programming through the internet, and coded a app that helped his father keep track of his transactions. The app now has over 50 lakh installs, and helps shopkeepers across India, and even neighbouring countries, record their receivables.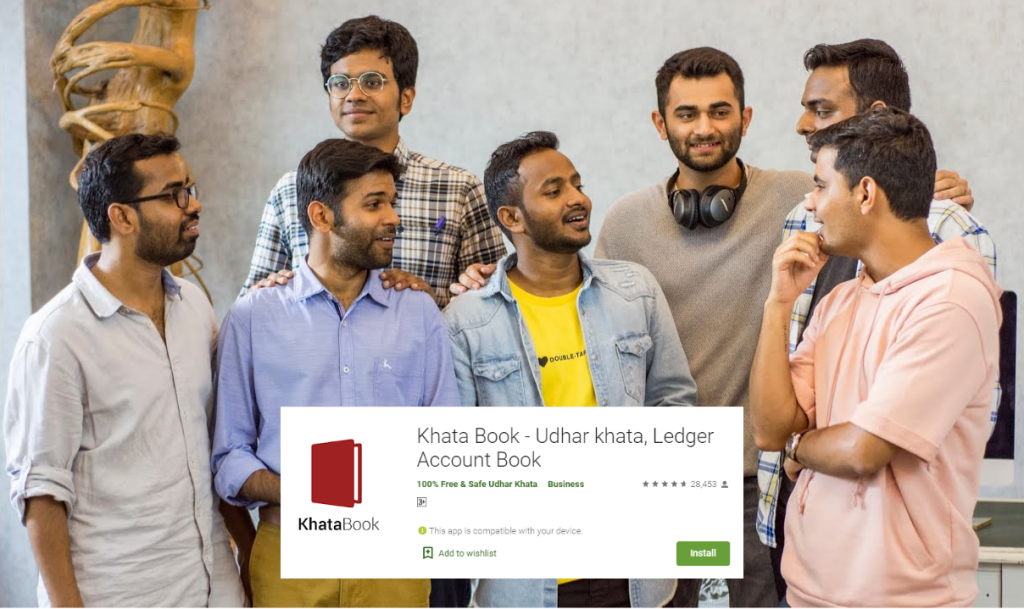 "The app had no backend, very basic front end but was built with first principles and had product market fit," says Ravish Naresh, who is now the CEO of KhataBook. The app had been released on the Play Store in October 2016, and had managed to garner 60,000 users by October 2018. Naresh, who'd previously been a co-founder of Housing.com, had been running a startup called Kyte.ai at that time. "I came across KhataBook which had 60k merchants . I was surprised it wasnt built by a company, but an individual, Vaibhav," he says.
He decided to get in touch with its developer. "It was pure serendipity for me to meet Vaibhav. He was about to get married, settle down and had plans to run the shop as his father was retiring. A day before he was about to take over his shop, he got my email," Naresh says. "He was apprehensive about sharing his number with a random guy emailing him. But after a few exchanges, he decided to meet me in Mumbai."
Naresh wasn't the only one who'd decided to contact the developer of the KhataBook app — Vaibhav had also received an email from Venture Capital firm Lightspeed Venture Partners, which he'd ignored. But Naresh was able to get through. He convinced him to join his startup. "I convinced him to come onboard as a core team member and he decided to take the plunge and shifted to Mumbai," he says.
The Kyte team then revamped KhataBook from scratch, added new functionality, and relaunched it on the Play Store. "We expected the product to be received well, but nobody had even the ghost of an idea of what was about to happen next. The network effects of started kicking in and KhataBook went viral thanks to the starting base of 60k merchants," says Naresh. The company has since gone on to raise $1.5 million from investors including Sequoia, and is in talks to raise $20 million more. Vaibhav Kaple is still a part of the team, working as an Android Developer.
As for the app itself, it still retains the characteristics that had made it go viral. Its user interface is basic and minimal, and still talks in the language of its core user-base (there's an option to run the app in Hinglish, for instance, in addition to other Indian languages). Users can create a new business within the app, and then record transactions. They can even attach the transactions to their contacts, and the app can automatically send payment reminders through SMSes. The app also comes up with handy reports for business owners to peruse and analyze.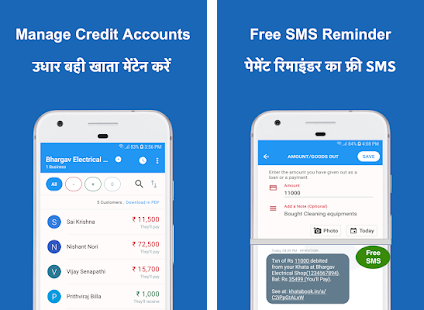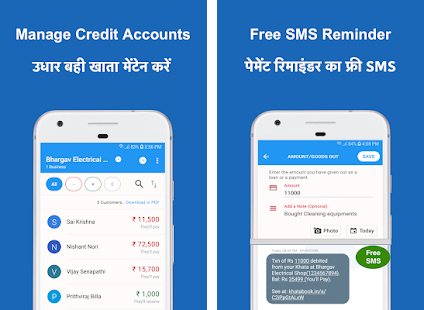 Khatabook still has a long way to go, but its success — 20 lakh active users is no mean feat — is testament to how Digital India is finally taking shape. Not only do shopkeepers in small-town India now have smartphones, they also are actively looking out for solutions that can help them improve their lives and their businesses. It, however, took a Indian living in a small town to recognize the opportunity. He taught himself to code over the internet, and built an app that addressed his personal problem. The app went viral, and was subsequently spotted by India's thriving startup community, which polished it and gave it wings. And now it's courting foreign investors, and looking to become a big player in the space. Several things — internet connectivity, smartphone usage, access to capital, and of course, raw talent — had to fall in place for an idea in a small Indian village to end up serving millions of users, and they did over the last three years. If that doesn't make people believe that Startup India's time has come, nothing will.