The more things change, the more they remain the same. And this thought seems to be espoused by new age startups. On one hand startups are exploring new ways to do things, which includes marketing. So, rich media ad formats, programmatic buying, influencer campaigns, what have you are a standard for the startups. On the other, they're getting back to the basics. 
Local services startup biggies like Urban Clap and Housejoy are experimenting with the latter. The 2 prominent home services startups in Bangalore want to reach out to their potential customers in big apartment complexes. And this weekend, their target audience is married women.
Urban Clap and Housejoy are promoting their Mehendi services 2 days before the Hindu festival of Karva Chauth where married women fast all day for the long life of their husbands, and applying mehendi/henna to their hands is a part of the tradition. Both Urban Clap and Housejoy have not only distributed pamphlets in all the houses in big societies, but also put up banners and posters in the notice board at these apartments. The Mehendi artists have put up stalls within the common areas of the apartments for women to avail the service at.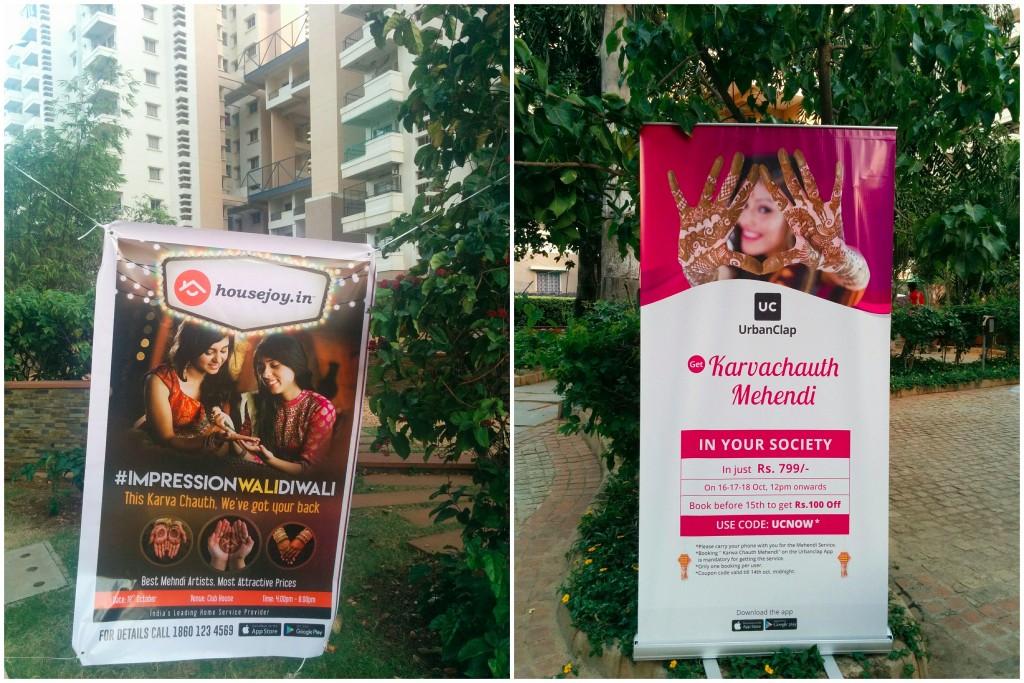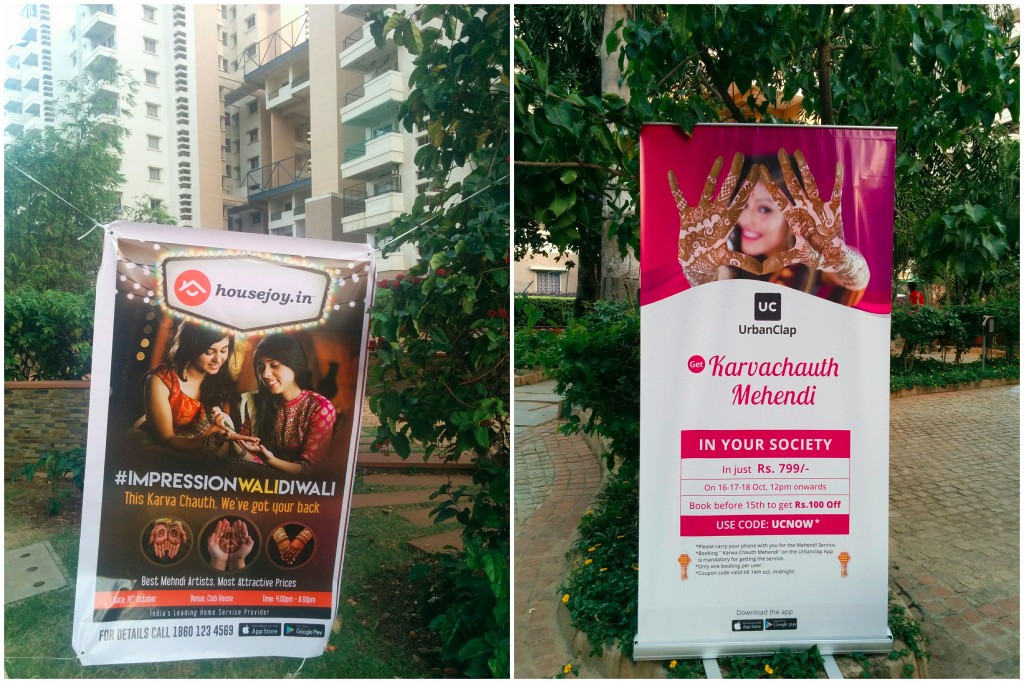 The convenience of having a Mehendi artist in the convenience of your own society, even if at a cost of Rs. 799, could be a good pull for the women. According to one of the coordinators of the event at Ajmera Green Acres we spoke with, a 330-apartment society at Bannerghatta Road, almost 50 women have already signed up for the service and more are likely to come tomorrow. Urban Clap for its part could not only gain significant revenue from the service, but also increase the installs of its app as women who sign up need to install the app to get a discount of Rs. 100. 
And all this for a fraction of the cost of what such targeted marketing over the digital mediums, or the more expensive hoardings.  We enquired around and turns out it costs merely a thousand rupees to put up a poster across all the blocks in the mentioned society, and around Rs. 3000-4000 to set up a stall for a day in such apartment complexes. Definitely not a bad idea to promote your services in apartments with hundreds of residents who are most likely to avail of local services both Urban Clap and Housejoy offer.
Marketing for its all high-tech and metrics, has come a full circle.