India's startups might have had a torrid few months at the stock markets, but new IPO from a freshly-minted unicorn appears to have finally bucked the trend.
Logistics startup Delhivery went public on the stock markets today. Delhivery had an IPO price of Rs. 487, but rose steadily through the day, and even touched Rs. 565 per share at one point. The stock cooled off to Rs. 536 per share by the time the markets closed, but ended up a smart 10% above its issue price.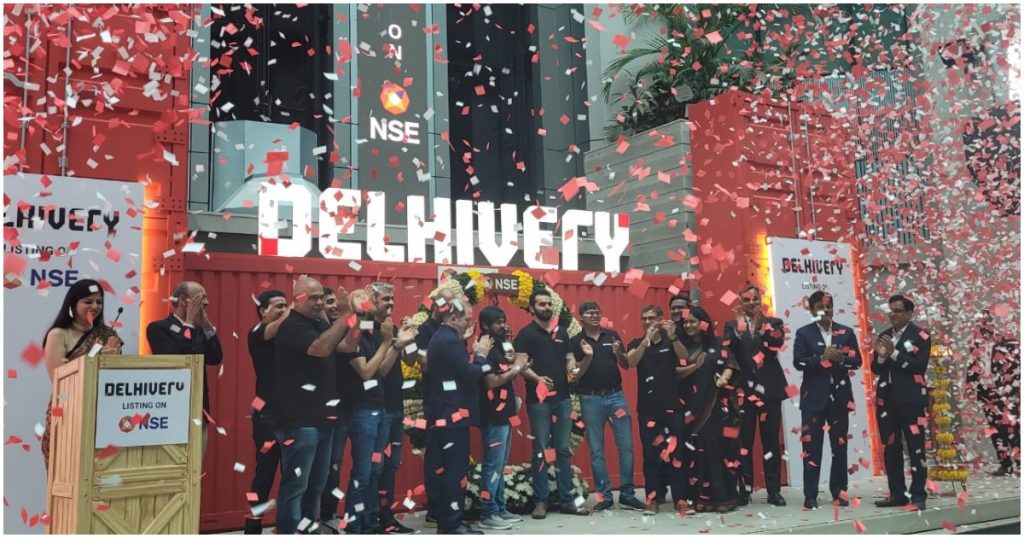 This is an impressive performance by Delhivery, given how there was tepid interest in its IPO — Delhivery's retail portion had only been subscribed by only 57 percent, and the employee quota had only seen 27% bids. Thanks mainly to institutional investors, Delhivery had managed to scrape past the finishing line, and its issue had eventuallllly been oversubscribed by 1.63 times.
Delhivery's strong performance, though, comes on a day which saw startup stocks shine. Zomato, which had announced quarterly results yesterday which saw its losses triple, saw its shares zoom up 14% today. Paytm, whose stock trades nearly 75% below its IPO price, also rose a smart 4.3%.
But unlike Zomato and Paytm, which had no direct competitors that were listed on the stock markets, Delhivery has plenty of peers whose stocks trade on the bourses — companies like Blue Dart and VRL Logistics compete directly with Delhivery in delivering items across India. Delhivery, however, has quickly managed to make a name for itself in the same vertical — it was founded in 2011, and initially delivered shipments for e-commerce companies in NCR. In 2012, it raised its Series A from Times Internet, and created fulfillment centres in Delhi and Chennai. The next year, it raised its Series B from Times Internet and Nexus Venture Partners. By 2014, Delhivery employed 5000 people and was processing 2.5 lakh shipments a day. In 2015, big international investors came calling — Tiger Global became an investor. By 2018, Delhivery had delivered 250 million shipments — that's nearly one shipment for every fifth Indian. Delhivery today employs 21,000 people, and operates 30 fulfillment centers in 12 cities across the country.
Delhivery has now gone public, and has had an impressive opening day at the stock markets to boot. It remains to be seen how the stock performs in the coming months — there are concerns around how the company, unlike its listed peers, still makes losses — but a strong IPO by an Indian startup will offer some cheer to India's currently beleaguered startup ecosystem as a whole.