The first day of Donald Trump's India visit was spent welcoming the US President to India's shores — he visited the Sabarmati Ashram, the Taj Mahal, and was received by over 1 lakh people in the world's largest cricket stadium. But on the second day, Trump got down to business.
Trump today interacted with the top businesses leaders in India around their investments in the US, and encouraged them to invest more. "If you would like to ask some questions and find out how much you should invest in the United States of America, I'll tell you exactly where to invest, and how to invest. We just did a lot of business with India ," Trump said.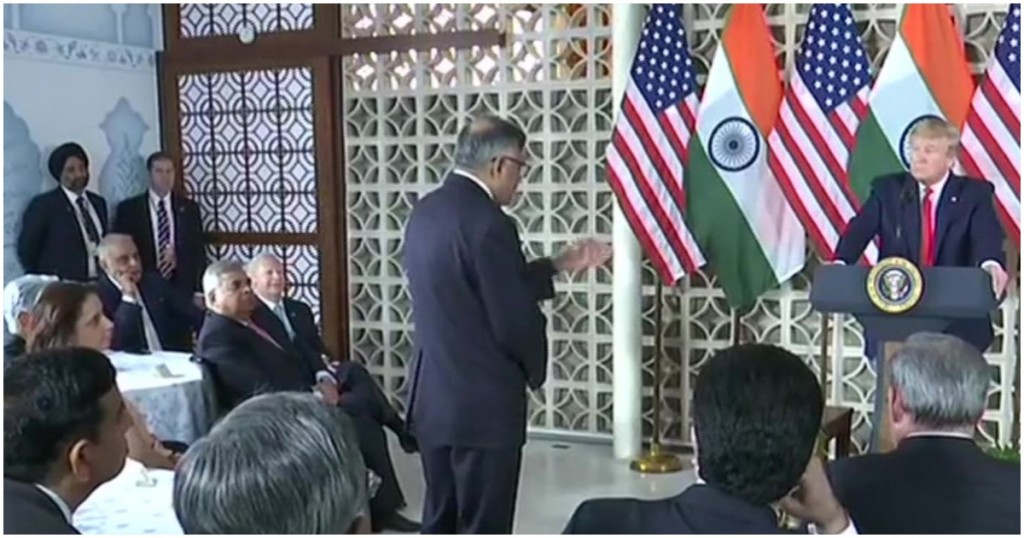 Among the leaders Trump met was Tata Sons Chairman N Chandrasekaran, who talked about  initiatives undertaken by his companies to train people in the US. Anand Mahindra, Chairman of Mahindra Group, shared details about investments made by his company to manufacture postal service delivery vans in the United States. Mahindra said that his company had made an investment of $1 billion and had shortlisted for producing over 100,000 postal delivery vans. Once the bid would be confirmed in August, the company would invest another $1 billion in the venture, Mahindra said. To this, Trump said "Good luck".
Reliance Industries Chairman Mukesh Ambani talked about the US energy sector and its achievements in the Indian telecom sector. Trump followed this remark with the question: "Are you going to do 5G too?" Ambani responded in affirmative, adding Jio was the only company without any affiliation with a Chinese company for 5G network. A visibly happy Trump remarked: "Oh good, put a bid in." Kumar Mangalam Birla went on to talk about two recent acquisitions by his company in the United States. Birla also talked about investments by the Aditya Birla Group in aluminium production.
Trump was also all praise for Lakshmi Mittal,  who got praise for the "incredible job" his firm has done in the US steel industry. "Steel industry was dead in our country. There are a lot of industries you could do without, but steel you need from a military (point of view), and aluminium you need. The job you have done is incredible," Trump said.
Also present at the meeting was Ritesh Agarwal, the 26-year-old CEO of Oyo Rooms, who spoke of his startup's expansion in the US — he said that Oyo had already opened 313 hotels in the country. Trump told him that he'd heard of Oyo Rooms. "Not such a small company, by the way. Good job," he said.