Unicorns startups were so named because they were thought to be rare — it wasn't easy for young tech companies to touch a $1 billion valuation. But what's even rarer in India is a unicorn startup that's also profitable, and one of them is set to go public next week.
Nykaa will launch its IPO on 28th October, ET reports. The Rs 5,200-crore IPO includes a primary issue of stock worth as much as Rs. 630 crore, and an offer for sale wherein existing shareholders will offload up to 43.11 million shares. "An anchor placement of up to Rs 2,340 crore will open on Wednesday (October 27), and the IPO will close on Monday, November 1," ET quoted a source as saying. The IPO will target a valuation of $7.4 billion (Rs. 55,000 crore) for Nykaa.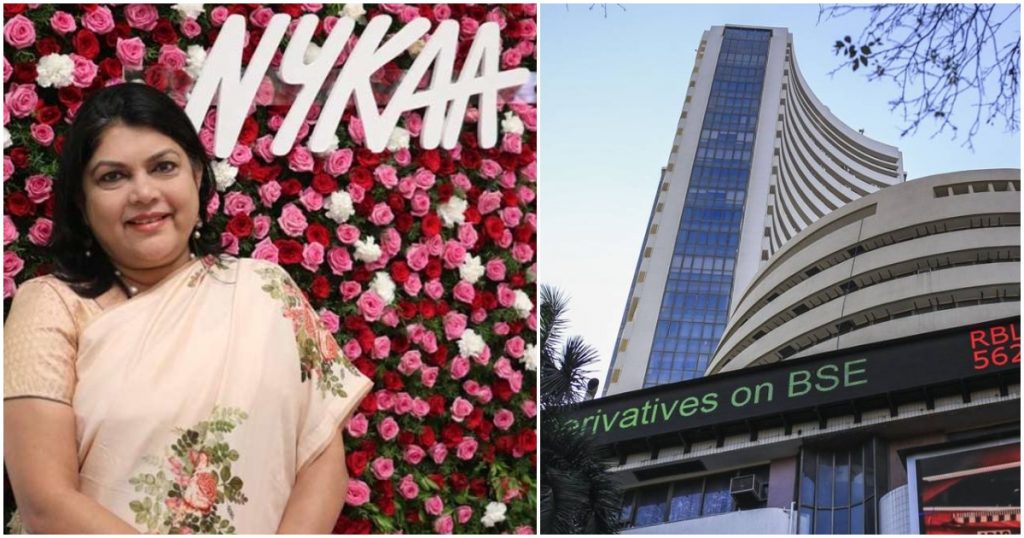 Nykaa promoter Falguni Nayar and her family will continue to own a majority stake in the beauty and cosmetics company after the IPO. They currently own a 53% stake in Nykaa. Investors including TPG, Light House India Fund, JM Financial, and other are likely to sell part of their stakes.
An IPO at a valuation of $7.4 billion will likely mean a windfall for most of Nykaa's early investors. Just 18 months ago, in April 2020, Nykaa had been valued at just $1.2 billion when it had first turned unicorn after raising Rs. 100 crore from Steadview. Even two months ago, it had been reported that Nykaa would seek an IPO at a valuation of $4 billion. But Nykaa's now appears to be seeking a valuation of $7.4 billion in its IPO, which is nearly 6 times more than its private valuation of just 18 months prior.
But these are heady times for public markets in India, and many IPOs are being oversubscribed by hundreds of times by eager investors. Startups, though, have had mixed results at the stock markets — while Zomato was valued at around $7 billion before its IPO, its stock currently gives the company a valuation of around $15 billion, which is twice of what it was valued privately. CarTrade, though, has seen its stock price slip nearly 25% from its IPO price of Rs. 1595.
Nykaa though, while being a startup, is unique in several ways. For starters, the company has a woman founder in Falguni Nayar, which is a rarity in India's startup ecosystem. Also, while most internet startups are being founded by precocious young men in their twenties, she'd founded the company at the ripe old age of 49, when was already a known face in the buiness world, having served as the MD of Kotak Bank and having been named among India's most powerful women in business. Also, while most startup founders have diluted their holdings in their companies to single digits or low double digits, Nayar and her family continue to hold a majority stake in Nykaa. And perhaps most importantly, unlike most other startups, Nykaa is profitable.
Nykaa had reported profits of Rs. 62 crore last year. The company now boasts of over 1,500 brands in its portfolio, including leading luxury labels like Bobbi Brown, L'Occitane and Estee Lauder. Originally started as a online-only brand, Nykaa now also has more than 70 stores across India. Nykaa claims to fulfil nearly 15 lakh orders a month, and offers over 1.3 lakh products on its platform.
But while Nykaa is setting itself up to receive a $7.4 billion valuation on the stock markets, there might be threats on the horizon. A few years ago, Falguni Nayar had said that she'd entered the online beauty products space because the sector wasn't big enough to attract the attention of the big guns like the Tatas and the Ambanis, and felt that Nykaa would be able to carve out a niche for itself. But just last month, it was reported that Tata Digital is looking to build its own beauty vertical to take on Nykaa and Purplle, and Reliance is also big in the e-commerce space, and there's no telling which sector catches its fancy going forward. Nykaa has already established itself as one of India's most prominent beauty and cosmetics platforms — how investors evaluate its chances going forward will determine if the company can build on its ambitious $7.4 billion valuation.