Uber and Ola might both be Softbank companies, but that hasn't stopped Uber CEO Dara Khosrowshahi from firing the first salvo at his rival during his maiden trip to India.
Khosrowshahi has said that even though Ola is a strong competitor in India, it is Uber that provides better quality. "They are a strong competitor, but our driver sentiment, our rider sentiment, and our quality continues to be market leading," he said in an interview with ET Now. "We want to make sure that continues going forward."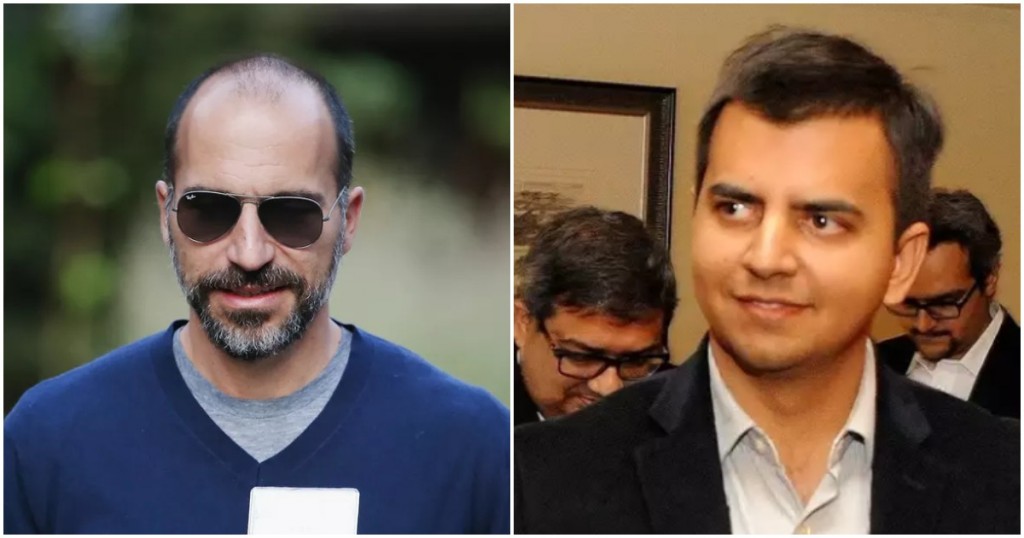 Khosrowshahi also sought to downplay the rumours of its potential merger or sale with Ola. After Softbank had acquired nearly 15% of the global ride-hailing giant earlier this year, it had been speculated that Uber might end up merging with Ola in India, given how Softbank is already the biggest investor in Ola. Uber has already sold its China business to Didi, and might be soon selling its south-east Asia business to Grab. But Khosrowshahi said that it isn't necessarily how his business will play out in India.
"Certainly, it's fun to speculate about (the merger)," he said. "But it's too soon to tell. Right now my focus is on our quality of operations and teams, and that's why I'm here. At this point I'm not focused on M&A."
Khosrowshahi might maintain that Uber's doing better than Ola in India, but there have been recent indications that might not necessarily be the case. Even after spending five years in India, Uber operates only in 31 cities in the country, while Ola now operates in 110. Ola also has a wider suite of products, including Ola Shuttle, and even has a boat service in the works in Assam. And there have been indications that Uber is following Ola's lead on some products — Uber and Ola had both launched auto services two years ago, but Uber had shut it down soon after. Ola, though, had persisted, and Uber ended up relaunching its auto service in Bangalore last month. 
Given how Ola operates in more cities in India, it stands to reason that it has greater penetration than Uber in the country. According to a Quartz report, Ola is installed on nearly 40% of smartphones that have taxi apps in India, while Uber is installed on only 30%. But more surprisingly, Ola's app also seems to be more sticky — over the last five months, people have been consistently uninstalling Uber's app at a greater rate than Ola's.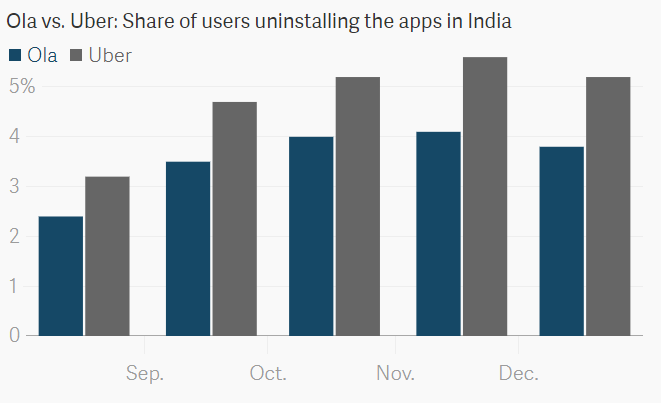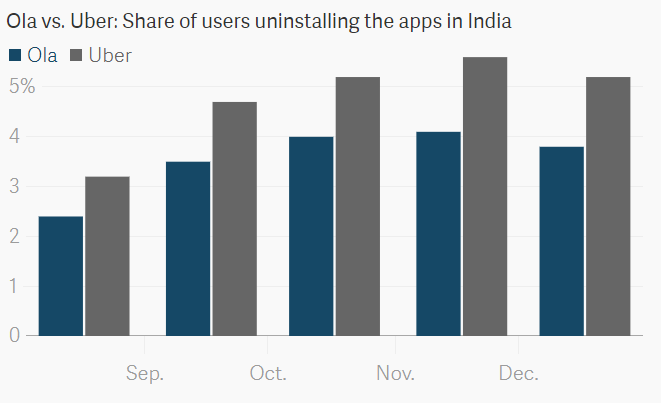 And even as Uber has been looking at retreating from foreign markets, Ola is now actively looking to get into them. Last month, Ola had announced that it was looking to take Uber head-on and launching in Australia, a market that's currently dominated by Uber. Uber might have a sprawling global presence, and billions of dollars in funding, but it might soon realize that Ola is proving to be more than a worthy competitor, both in India and abroad.