Paytm has just made the most crucial pivot in its seven year journey.
Paytm has launched Paytm Inbox, which lets its users message their friends right within its app. Users now can use the Paytm app as a chat messenger, and send the usual text and image messages. Since it's Paytm, users will also be able to send and receive money right through the messenger. And Paytm's chat app will come with some bells and whistles too — users will also be able to share their live locations, and even recall messages that they've just sent, a feature that global messaging giant WhatsApp implemented just this week.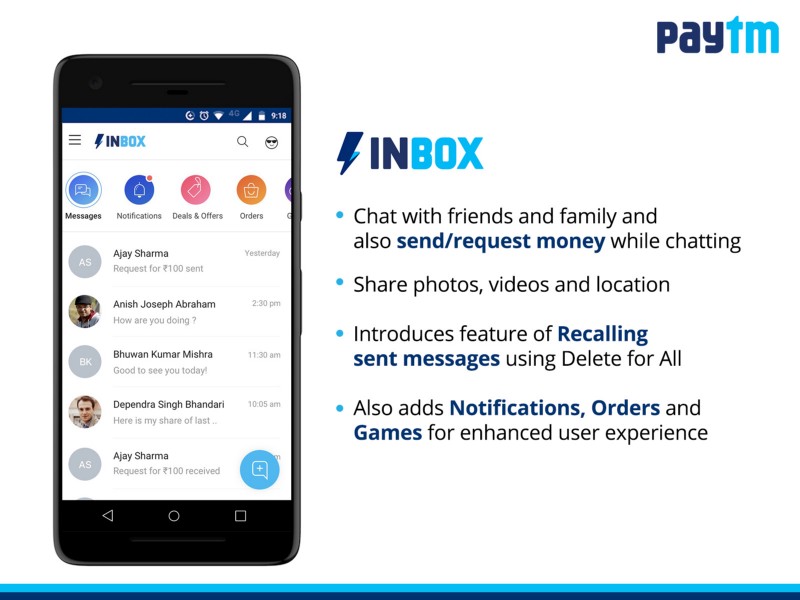 It's no coincidence that the Paytm app now has all the same messaging features as WhatsApp — WhatsApp has been looking to enter Paytm's territory by launching payments within its own app. The move was a clear threat to Paytm.  WhatsApp has about the same number of users in India as Paytm, and giving them an option to send and receive money would've made one of Paytm's core use cases redundant.
But Paytm has beaten WhatsApp to the punch — it's gone ahead and launched chat within its app before WhatsApp could integrate payments into its own. There had been reports that WhatsApp could launch its payments feature as early as this November, meaning Paytm now has at least a month of a headstart as a payments+chat combine.
Payments+Chat
Tech companies seem to believe that chats+messaging is the holy grail for user engagement. The model has worked well for WeChat in China, which has achieved massive scale in the country by integrating chat and commerce right within one app. WhatsApp seems to believe that getting users to transact on its app will unlock its full potential. WhatsApp launched business profiles last month, and is now poised to let people pay through its app too. Paytm has taken the opposite path — it started off as a payments and e-commerce company, and now has chat within its app. But Paytm and WhatsApp have converged into the very same concept of merging chat and payments.
And this sets up a tantalizing battle for supremacy in the space in India. Paytm and WhatsApp are both behemoths in the country — both have over 200 million users, and are ubiquitous across smartphones. With identical product offerings, they're now pitted against each other to try to catch the attention of India's smartphone population. And the question that'll probably determine the victor is: Will WhatsApp manage to get users to transact, or will Paytm manage to make its users talk?