Paytm had become India's worst-performing large IPO on its first day as a public company, and it has created another unenviable record as it has completed a year of being listed on the stock markets.
Paytm has become the world's worst-performing large IPO of the last 10 years. Paytm's shares are down 75% since they were listed a year ago. This is the largest fall in any IPO of a similar size anywhere in the world in the first yearm since Spain's Bankia SA's 82% drop in 2012. Paytm's IPO performance in the first year is worse than UAE's DP World, which had lost 74% of its value in the first year, Hong Kong's Bilibili, which had fallen by 72%, and UK's New World Resources, whose shares had fallen 71% in the first 12 months of listing.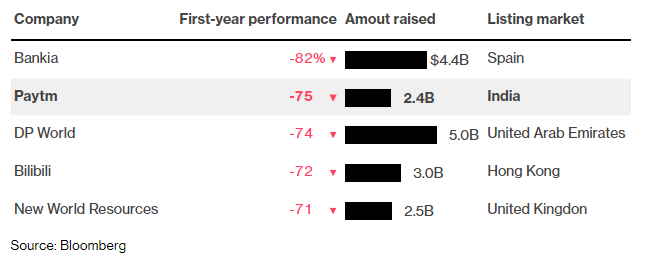 Earlier, Paytm had become India's worst performing IPO since 2011 on the first day as its shares had crashed 27.4% after listing. All the way back in 2011, a stock named Tijaria Polypipes Ltd had crashed 69% on its stock market debut. Since then, the worst performing mainboard stock on listing day had been Healthcare Global Enterprises, which had fallen 21% on its debut back in 2016. But Paytm's stock, which fell 27.4% on its first day, became the worst performing mainboard IPO over the last decade.
And the pain for investors has gotten only worse since the first day — over the last year, apart from a few feeble attempts to stem the downward pressure, Paytm's stock has steadily declined. Paytm had gone public at a price of Rs. 2,150 per share, but currently trades at just Rs. 450, which is a 75% drop in value over the last 12 months.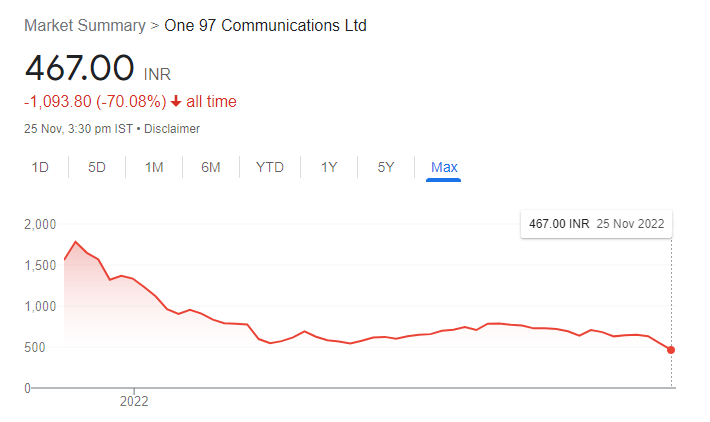 Paytm might be the worst-performing IPO in the world, but its tech peers in India haven't fared much better. Policybazaar is down 65%, Zomato is down 50%, and Nykaa is down 55% from their stock market debuts. But Paytm's performance might sting the most — the company was a household name, it had carried the hopes of India's startup ecosystem, and had made history by coming up with India's largest-ever IPO. But a year on, as it becomes the world's worst-performing IPO, Paytm appears to have made history for all the wrong reasons.