Online cosmetics and beauty products retailer Nykaa has come under social media fire for verbal harassment and employee bullying at the hands of one of its CXOs. Popular Instagram page Diet Sabya – famous for its exposés on plagiarism and other evils in the fashion industry, Bollywood and beyond, has shared a series of instances of employee bullying, toxic work culture and harassment as shared by its own employees.
The unnamed "female Nykaa CXO" is accused of making unsavoury personal comments about employees' looks to being deeply unsympathetic about their pains. The posts allege that the CXO has made rape jokes, made fun of an employee's mental health, economic status, and indulged in "food shaming" amongst others. The exposé narrates an incident where the CXO asked an employee to "work from the hospital" when the parent of the employee was on a ventilator in a hospital. "It's just the god's way of weaning out the weak", so was told an employee who had just had a miscarriage. "Oh you're just making excuses for being bad at spelling", a dyslexic employee was reportedly so reprimanded.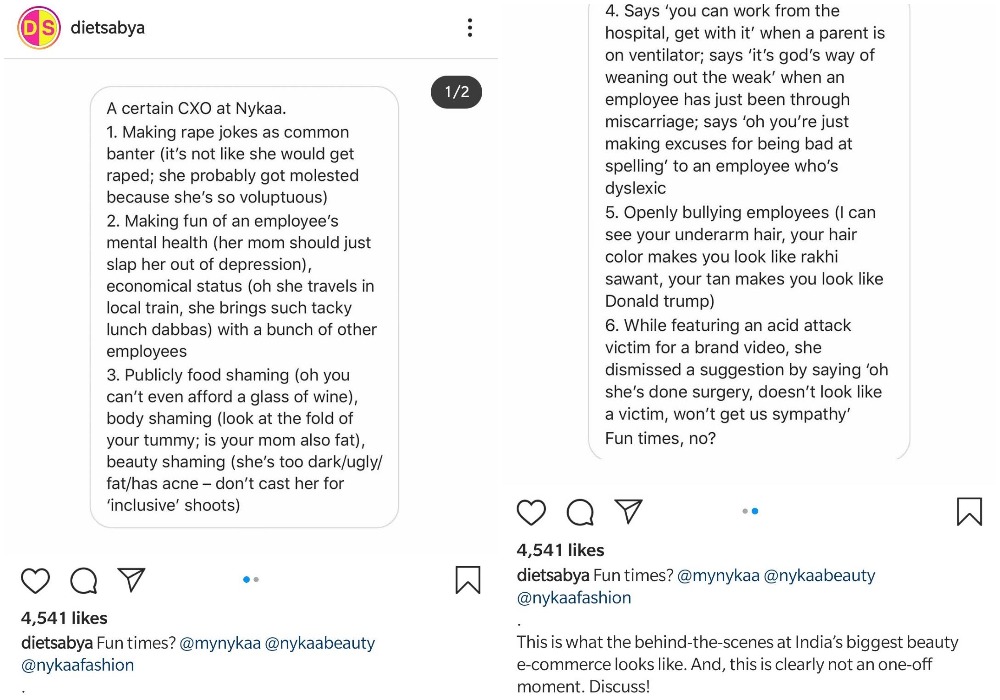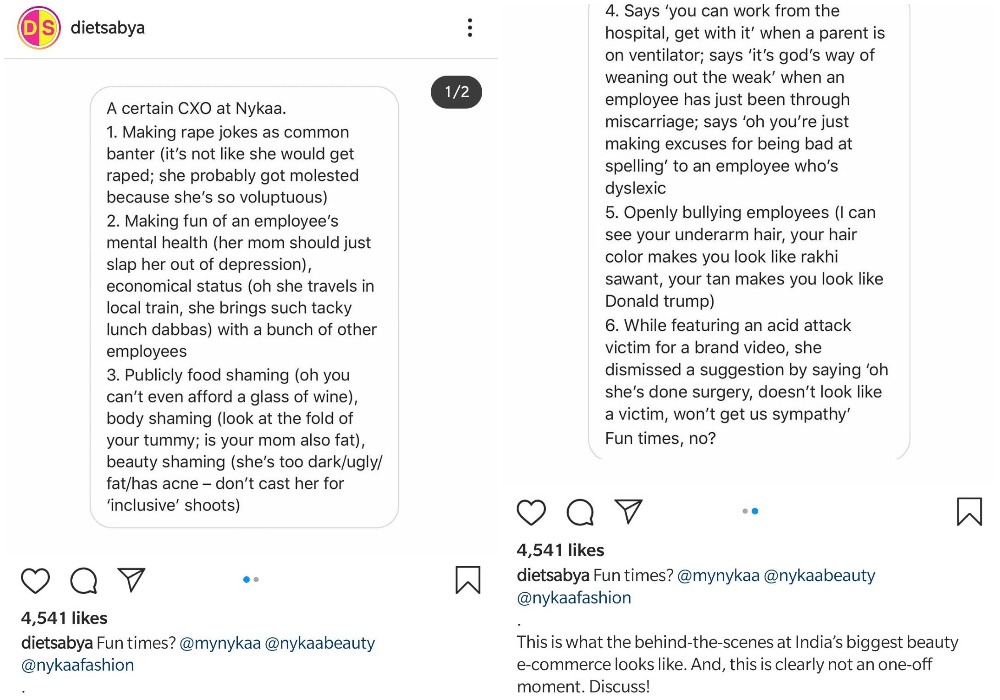 The page also claims that the company makes its female employees double up as models for its website, without it being a part of their mandate or paying them extra for it. A comment by an employee substantiated as much.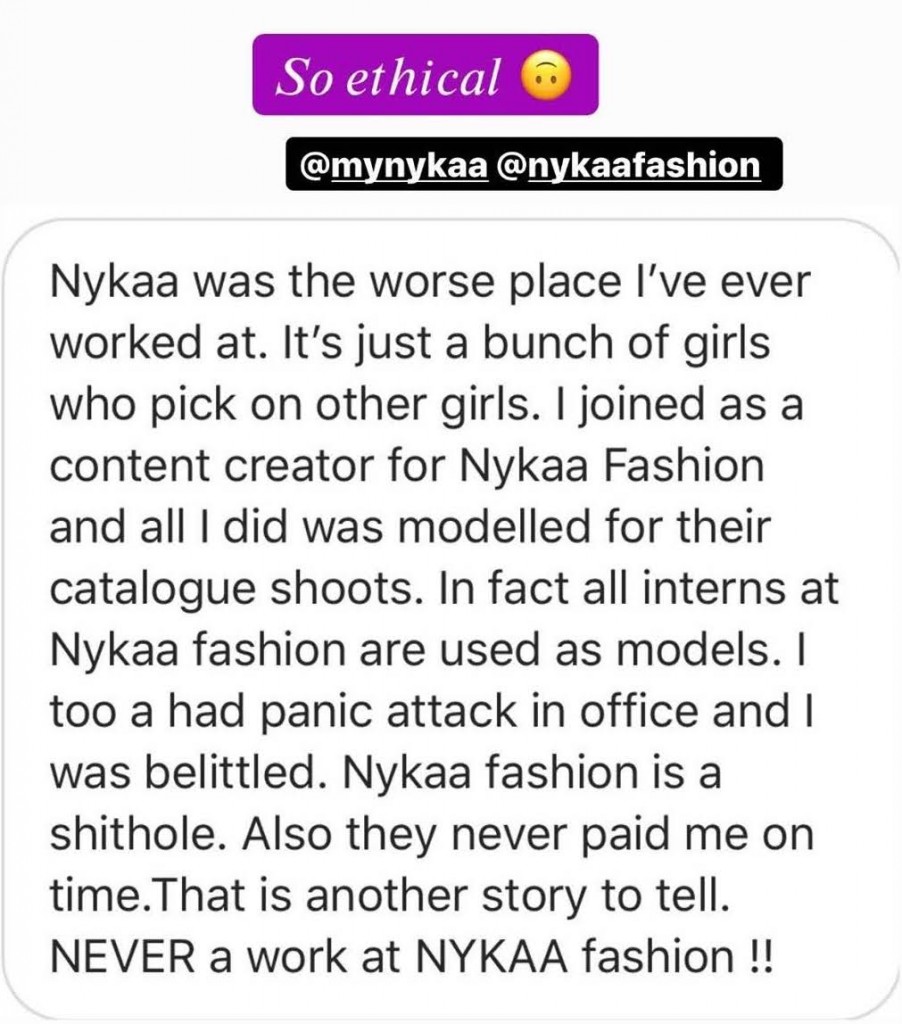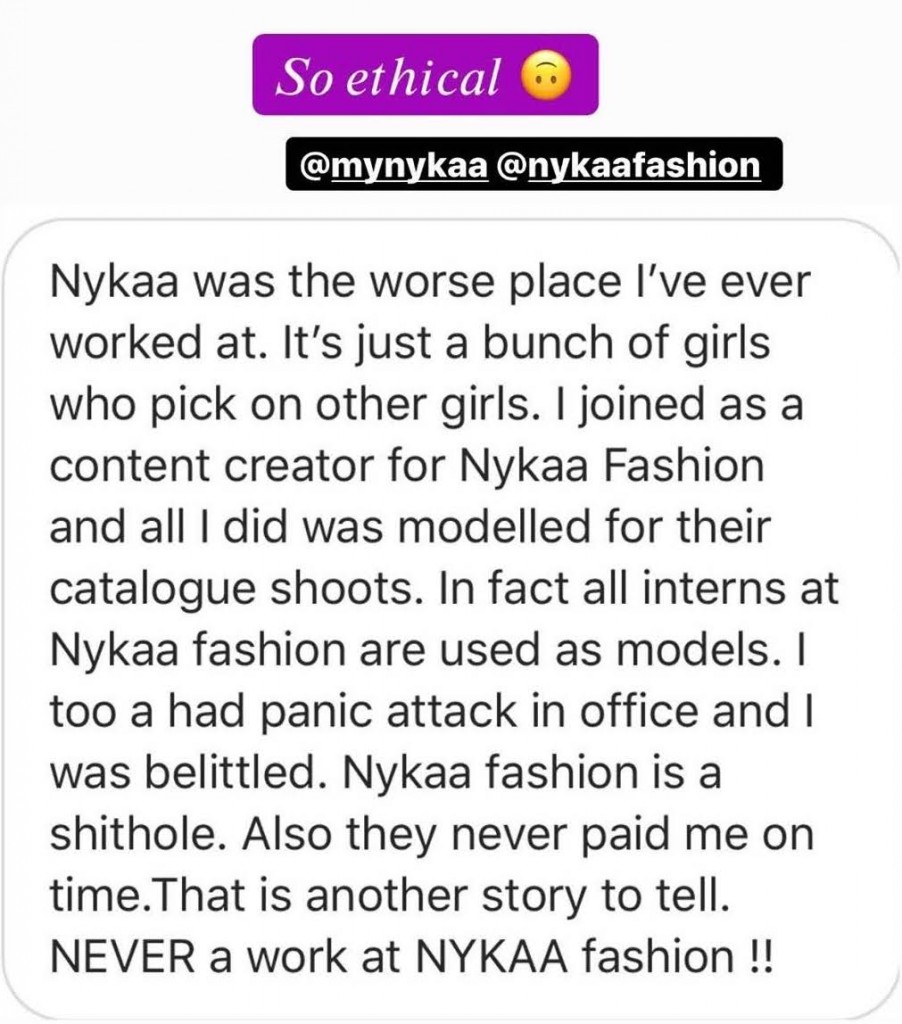 But perhaps, the most problematic of all of her views was this. Reportedly while the company used a brand video featuring an acid attack victim, the said CXO griped that since the woman in question had had facial reconstruction surgery and presumably looked less like an archtypical acid attack victim, the visual wouldn't stand to garner much by way of sympathy.
We have reached out to Diet Sabya to cite the sources of these claims. But the comments streaming on the posts all seem to hint that the CXO is likely the VP of marketing. Many Glassdoor reviews on the company have alluded to similar values and culture practised at the top.
Nykaa's work culture which may be deemed toxic at worst, but casually unsympathetic at best, isn't a unique problem but endemic of the Indian startup realm which often gets away with toxic work culture practices under the garb of a casual startup culture, young workforce, and undefined workplace policies. In the same series by Diet Sabya, many anonymous employees also spoke out against and made similar observations about other new age companies such as PopXo, OML, Ad agency biggie Lowe Lintas, and many smaller firms.
"I am not surprised. This is how it is in most beauty and fashion houses. On social media, so many women give sermons about uplifting other women, mental health and equality and fail to implement it in their own life.", a user's comment seems to have summed up the issue to the point.
Nykaa is one of the most celebrated ecommerce startups in India and often credited for being the pioneer of the online cosmetics and business in India. The CEO Falguni Nayar herself is much vaunted as a rare female founder of a successful startup and often finds a feature in startup hall of fame. But if the uncomfortable instances its workplace harassment, casual elitism and employee bullying are to be believed, it points to some deep-seated ugliness behind a beauty business.