For the longest time, India's startups were largely software-based — they were either e-commerce companies, or built SaaS products. But now, Indian companies are increasingly coming up with hardware products as well.
Revolt Motors, the startup founded by Micromax co-founder Rahul Sharma, has just unveiled its first electric bike. Called RV400, the bike is being billed as India's first AI-enabled electric motorcycle, and packs in features that haven't yet been seen in the electric bike segment in the country. Rahul Sharma has reportedly invested Rs. 400-500 crore into the company, which is headquartered in Gurgaon. The company also has a production facility in Manesar which has a capacity of 1,20,000 bikes commissioned for the first phase.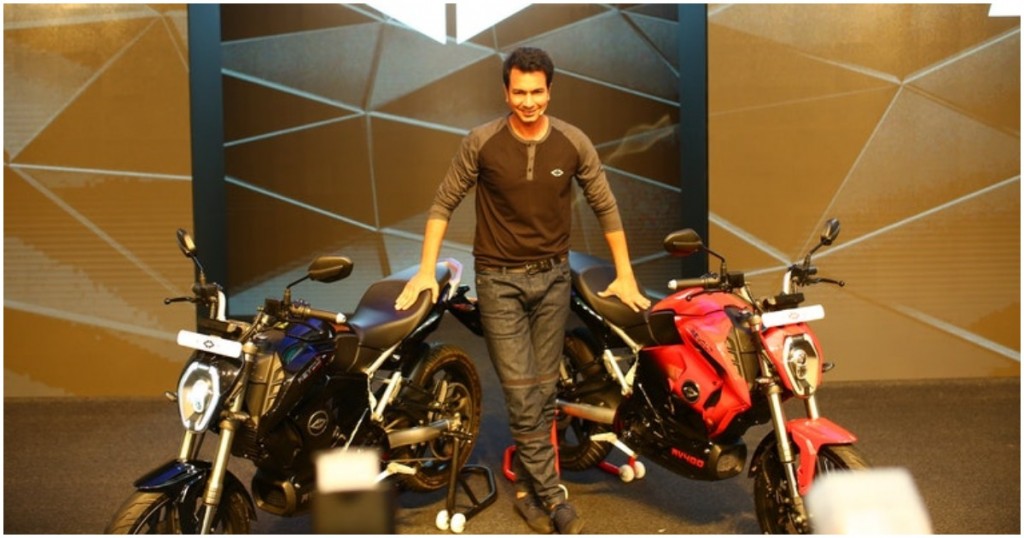 It sounds like a pretty big venture, and the RV400 seems to be a fitting flagship product. The bike claims to be able to run 156 kilometers on a single charge, which will make its range twice as much as that of any competitors — in comparison, the Ather 450 has a range of 55-75 kilometers. The RV400 will have a top speed of 85 kilometers per hour, and claims to have "class-leading" torque.
Like with other bikes, the RV400 will be controlled through its own app, which will provide riders with a slew of features. The app will allow users to locate their bikes, and even geo-fence them, meaning that the bike will not go beyond a specified range, which will prevent them from being stolen. There are some (literal) bells and whistles as well — given how electric vehicles are generally silent and lack the whirr that conventional bikes produce, RV400 will come with 4 preset sounds produced by a exhaust note system that can be controlled through the app.
Regular charging a pain-point for electric bikes, and Revolt appears to have made some strides in fixing those problems. The battery in the RV400 is swappable, and the company says it will even deliver them to your home. It appears to be a pretty useful feature, but it's not yet clear how much it will cost. If riders would like to charge their bikes by themselves, it takes 4 hours to fully charge on a 15 ampere socket. 
It's still too early to say how RV400 will fare — the bike can be pre-booked for Rs. 1000 starting 25th June on the company's website and Amazon, and is expected to be priced around Rs. 1 lakh  — but it would appear that the company's timing is spot on. Indian authorities have been pushing for electric vehicles quite strongly, with some government regulations requiring that all commercial vehicles be electric by 2026, which can lift the sector as a whole. Also, Rahul Sharma might have worked on phones in the past, but he has some experience in his new domain — Micromax phones were assembled in India, but most of their components came from China; similarly, Revolt has worked with Chinese brand Super Soco TS to make the RV400, and will work closely with them for its "platform development." And now with two prominent Indian startups — Ather and Revolt — coming up with their own electric bikes, the sector appears to be well and truly running on full charge.