Startups have become increasingly  popular in India over the last few years, and the media has had a part to play — there are endless blogs covering startups, there are more startup conferences than one can count, and even traditional media has woken up to the world of entrepreneurship. But the Indian government has probably taken the step that'll make startups more mainstream than ever before — it's gone ahead and launched a show on startups on national broadcaster Doordarshan.
Called Startup Ki Baat (Startup Talk), the show is hosted by Neelu Vyas, and features successful entrepreneurs who talk about their ideas, inspirations and their startup journeys. The show is an hour long, and will be telecast every Sunday at 5 pm. The show had been announced by Finance Minister Nirmala Sitharaman during her budget speech on 5th July.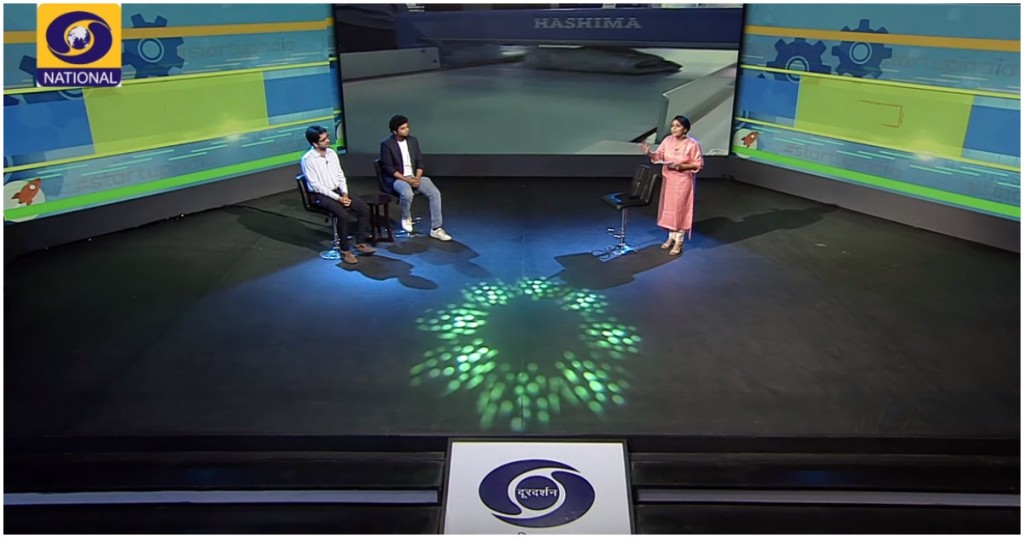 Startup Ki Baat is shot in a studio, and is broadcast in Hindi. The set does have a feel of a retro Doordarshan show, but there are some modern startup-like touches thrown in — a screen in the background throws up generic startup quotes ("Success will be yours"/"You will win"), and there are some snazzy graphics as well. The first episode featured Dhruv Sahni, whose two-year old company ShipsKart had grown to monthly revenues of Rs. 80 crore with a team of 12, and Karan Nambiar, whose app Trunk It Music was giving independent musicians a platform to be discovered. The duo talked about their startup stories on the show in front of a live audience.
There is no shortage of startup stories out there, but Doordarshan reaches an audience that typically doesn't access these stories. Like the show's anchor says during the first episode, there's millions of young people in India's smaller cities and villages who are curious about startups, and would like to start their own ventures. The government, too, would like for this to happen — apart from creating new products and services, startups will also create new jobs and employment opportunities in a world where traditional occupations are being disrupted by science and technology, and can help give India's sagging unemployment numbers a boost.
With this backdrop, Startup ki Baat seems to be a step in the right direction. It's informative without being preachy, and the featured entrepreneurs give a realistic and in-depth view on how they built their businesses. Granted, it's no replacement for Y-Combinator's Startup School or a16z's podcasts, but it's not meant to be. If it can influence a few young people huddled in front of their TV sets in some dusty town in rural India to start their own companies, it will have done its job. And there's no telling where India's next big startup story comes from — with so much of untapped potential waiting to be discovered in India's towns and villages, simply encouraging these people to start their own companies will likely produce some big winners.