On Tuesday, the rupee touched a lifetime low of Rs. 70.08 against the dollar. The fall was attributed mainly due to the under-performance of several emerging market currencies, especially the Turkish Lira, which had been battered by American sanctions. The rupee's fall surprised many — over the last four years, it had traded between Rs. 65 and Rs. 69 to the US dollar. But it now appears that the rupee is entering a zone where it might trade above Rs. 70 — it currently trades at Rs. 70.37, and it's likely that it's entering a new normal of trading at Rs. 70 and above.
A weaker rupee will increase certain costs for Indian businesses and startups — server hosting fees, for instance, which is usually denominated in US dollars, will become more expensive. But there are lots of sectors in the Indian startup ecosystem which will be celebrating the fall of the rupee, as it will help their margins and profitability. Here are 5 business sectors which will be positively impacted by a weaker rupee.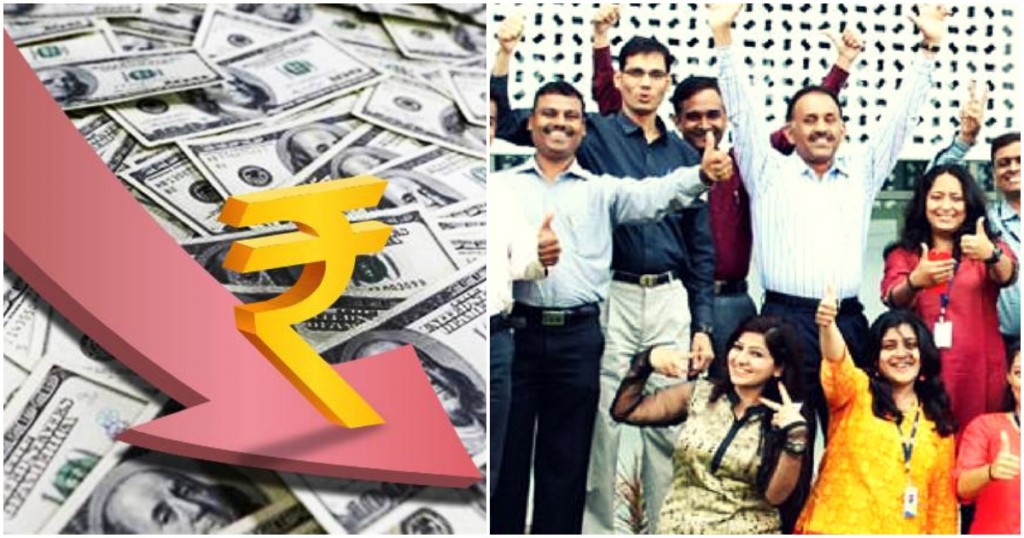 1.SaaS startups: Software as a service (Saas) companies will perhaps be the biggest beneficiaries from the fall in the rupee. Companies like Freshworks and Zoho have most of their customers abroad, and have their pricing plans denominated in US dollars. While each dollar they earn now being worth more rupees, their rupee earnings will increase, but their fixed costs, including employee salaries and office rents, will remain the same. A falling rupee will help improve margins and profitability at SaaS startups.
2. IT companies: A very similar scenario will play out in IT service companies. It will not be limited to IT majors like Infosys and TCS, which have already seen their stocks spike up since the rupee weakened, but also the thousands of small and medium IT service companies that are dotted across India. Most of these companies have clients that are abroad, and since they charge them in dollars, they'll earn more in real terms. Like for SaaS startups, their costs in rupees will remain the same, thus improving profitability.
3. Online Advertising focused media companies and bloggers: Indian online media companies will also benefit from a weaker rupee. Advertising revenue on ad platforms like AdSense is typically denominated in US dollars, and a stronger dollar will mean more incomes for Indian websites and blogs. This effect will be more pronounced for companies with a bulk of their traffic coming from outside India — Indian media companies like WittyFeed and Meaww, for instance, who primarily cater to foreign audiences, will see a big jump in their revenues.
4. Indian e-commerce export companies: Indian e-commerce companies which sell to foreign customers through international platforms like Etsy, or through their own sites, will also benefit. Their incomes are denominated in dollars, and they will increase as the rupee becomes weaker.
5. Freelancers: And perhaps the best impacted from the fall in the rupee is India's army of online freelancers, which will all see their incomes jump after the fall. Indians constitute a large percentage of freelancers on sites like Upwork.com and Freelancer.com, and they provide tasks ranging from everything from software development and consulting, to website design and development, and content writing and copyrighting. These freelancers charge their clients in dollars, and will soon see more rupees hitting their bank accounts with the rise of the dollar.