The last few years of India's food delivery boom had seen companies slash prices in all possible ways, but with only two major companies now left in the fray, things are slowly moving in the opposite direction.
Swiggy has begun charging users a Rs. 2 "platform fee" for every order placed on its platform. This fee is charged irrespective of the value of the order. The fees has been introduced in Bangalore and Hyderabad, and will likely soon be implemented in other cities as well.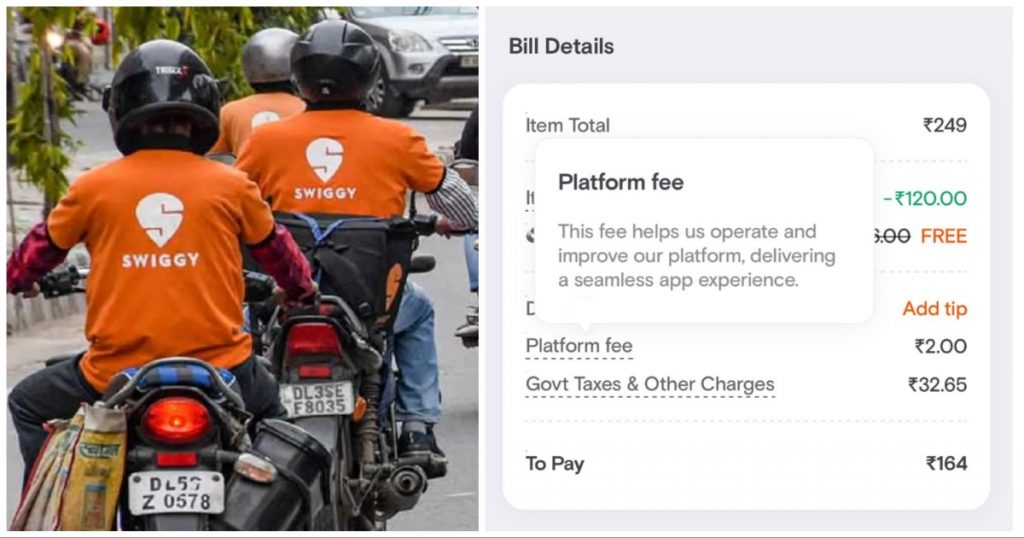 "The platform fee is a nominal flat fee charged on food orders," a company spokesperson told Moneycontrol. "This fee helps us operate and improve our platform, and enhance app features to deliver a seamless app experience," they added.
While Rs. 2 might not seem like a lot, it can quickly add up. Swiggy reportedly delivers around 15 lakh orders per day, so it can stand to make Rs. 110 crore per year from this simple change. A Rs. 2 fee will likely not bother users very much — it's unlikely users will make fewer orders because of this change — but could substantially help Swiggy improve its bottom line.
And Swiggy could do with some help with its bottom line. It was India's highest loss-making unicorn in FY22, losing Rs. 3,629 crore that year. A Rs. 110 crore infusion wouldn't immediately get Swiggy to turn profitable, but it would help all the same. Swiggy has also been taking steps to cut costs — it laid off 380 employees earlier this year, and has sold off its own cloud kitchens play and shut its meat delivery vertical.
But it remains to be seen how customers react to the Rs 2 platform fee. There's already some consternation online over this new charge, and users have been complaining about these additional costs. Both Zomato and Swiggy have, over the last few quarters, cut down on discounts and offers, and have also introduced higher delivery charges. A flat fee on top of these changes is unlikely to enthuse customers.
Swiggy, though, doesn't have much of a choice. It is currently India's highest loss-making startup, and needs to quickly turn its financials around. Swiggy has also seen its valuation slashed by half in recent times, so investors would also be looking for it to rein in costs. And perhaps most crucially, Swiggy's move could enable Zomato to levy a similar fee — these are the only two players in the game — and this could start a round of upward price moves in India's food delivery space.