Entrepreneurship isn't easy. It brings with it pain, tears, and moments of self-doubt. But every once in a while there's a story that comes out that makes entrepreneurs believe that it can be all worth it.
Founded just 17 years ago, Tesla is now the most valuable car company in the world. Tesla reached the milestone after its stock hit a record high of $1,080, taking its market capitalization to $200 billion. This allowed it to overtake Toyota, which had a market cap of $176 billion, and took Tesla to the top of the list of the world's most valuable companies. While Tesla was founded in 2003, Toyota and Volkswagen were founded in 1937, while Honda founded in 1948.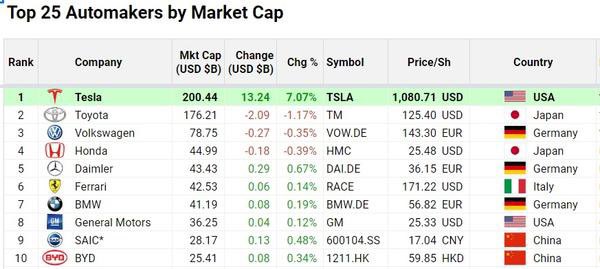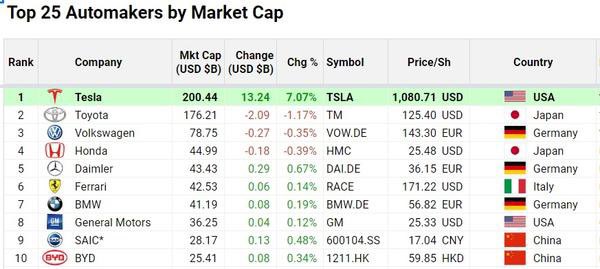 Tesla's stock has been on a tear over the last few quarters. In January this year, Tesla's stock had touched $590, which had propelled its market cap beyond the $100 billion mark. That surge is its stock has made Tesla the second most valuable car company in the world, sneaking ahead of Volkswagen, and just behind Toyota. Tesla has now not only overtaken Toyota, but its $200 billion market cap is more than the market caps of Volkswagen, Honda and Daimler combined.
Tesla might be the most valuable car company in the world, but it still makes a fraction of the cars as its rivals. Toyota, for instance, sold around 30 times more cars than Tesla last year, and its revenues were more than 10 times higher. In 2019, had Tesla delivered only 3.67 lakh cars. In comparison, Ford sold 59 lakh cars, General Motors sold 84 lakh cars, and Volkswagen sold 11 lakh cars in the same period.
But Tesla still holds a commanding lead in electric vehicles, and other car makers are trying hard to catch up. While traditional car companies are ploughing in millions of dollars into producing electric cars, Tesla is still miles ahead, with its Model 3 currently being the most popular electric car in the world, selling thrice as much as its nearest competitor. And stock prices are forward looking — if electric cars do end up becoming the norm, Tesla could end up dominating the space going forward, even though it currently sells a small fraction of the number of cars as larger players.
And incredibly, Elon Musk hasn't only successfully disrupted the world's automobile industry — just last month, SpaceX had become the first private company to send a man into space, and the US has resumed manned space flights from its soil after nearly a decade. Musk might have his critics, but there's now no denying that he's already cemented his place among the world's greatest-ever entrepreneurs.