Uber might have bowed out of food delivery in one of its largest markets, but the company's shareholders seem to have celebrated the move.
Uber's stock rose 7.03 percent the day after it announced that it had sold off its Uber Eats business in India to Zomato. Through the all-stock deal, Zomato had paid nearly Rs. 2500 crore for Uber Eats, and in turn, Uber had received a 10 percent stake in Zomato. After the deal was announced, Uber's stock rose steadily through the day, ending a smart 7 percent over its starting price.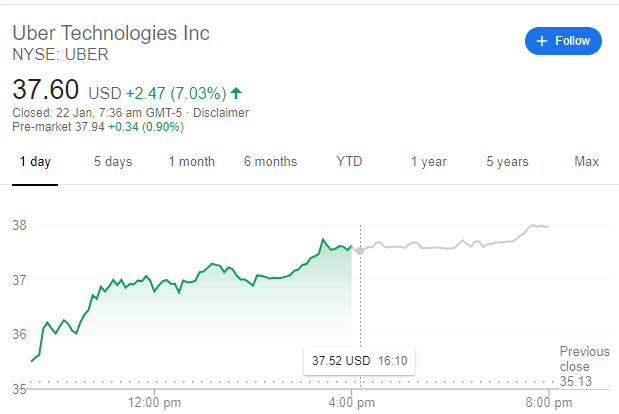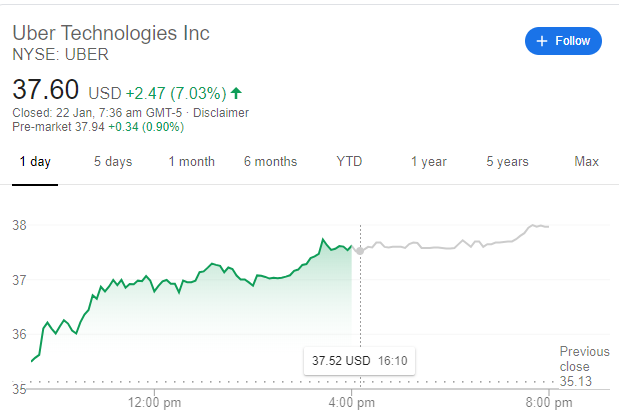 Analysts which track Uber in the US also reacted favourably to the news.  "The sale "ends a dark chapter for Uber Eats in India, which has struggled to gain share vs entrenched domestic competitors Zomato and Swiggy," said analyst Ygal Arounian."The domestic rivals together control roughly 80% of the food delivery market in India," he added. "This move is coherent with the strategy the company has highlighted various times, of pulling back in immature markets with the least potential for the firm to accelerate its pace towards profitability," said analyst Pierre Ferragu. "Uber has effectively converted an asset that was burning ~$20m/month into a 10% stake in the leading local food delivery player," said another analyst. Those who'd known how to trade stocks might've made some money off Uber's moves.
The 7 percent spike in Uber's stock is a rare bit of good news for the script, which has largely been floundering since going public in May last year. Uber had IPOed at a price of around $40 per share, but far from spiking as was expected from one of the world's biggest startups, had struggled to even meet those levels. The stock touched a low of $26 in November, and has risen slightly since then. The latest surge after the sale of Uber Eats India has propelled the stock to his highest level since August.
Uber, while it was a private company, was no stranger to selling off its businesses in other countries. In Russia, it had sold off its ride hailing business to local player Yandex, while it had sold off its Chinese business to local player Didi. More recently, Uber had sold its south-east Asia business to Grab. Uber's sale of Uber Eats in India to Zomato follows much the same pattern — in each case, Uber ended up owning a small stake in the local player, which can enable it to maintain a stake in a market that it's burnt a lot of money in. 
In India, Uber Eats had tried its hardest to grow, coming up with offers and discounts that were often more generous than those of Zomato and Swiggy, but was unable to find enough users. At the end of 2019, Swiggy was processing 1.4 million orders a day and Zomato was processing 1.2 million, but Uber Eats was lagging behind at just 400,000 orders. Uber Eats' orders were smaller too — while the average order on Swiggy was Rs. 272 and Rs. 285 on Zomato, the average order size for Uber Eats was just Rs. 172. As such, it's not surprising that Uber decided to bow out with a 10 percent stake in Zomato, and let it slug it out with Swiggy on its own.
The question, though, remains how Zomato will fare after having spent Rs. 2500 crore to acquire Uber Eats. It's still lodged in a bruising battle with Swiggy for market dominance, and it's still losing some serious money — Zomato lost Rs. 2,094 crore in FY 19. Also, while Zomato now directs Uber Eats users to its own app, it still remains to be seen how many of these users will start ordering from Zomato — as Uber Eats' lower average order size shows, Uber Eats had cultivated users which typically ordered only for themselves because of its low delivery charges, and it's possible that these users might not all go to Zomato with the Uber Eats app being shuttered. And Zomato will have to contend with the organizational hassle of performing a large merger, such as onboarding Uber Eats' delivery partners on its app. At the moment, it appears that Uber's come off looking quite smart with the deal — it remains to be seen how it will pan out for the acquirer, Zomato.