There's no shortage of companies that have faced the brunt of preaching to Indians about Hindu festivals, but brands continue to wade into these controversial areas.
Indian users have begun uninstalling Swiggy's app after the company put up a billboard asking people to not use eggs while celebrating Holi. The billboard had a picture of two eggs, with green check marks next to them with the words "Omelette" and "Sunny side up". However, there was a red cross mark next to the words "kisi ke sarr par (on someone's head)". The hoarding went on to say #BuraMatKhelo, essentially telling people to not play with eggs on Holi.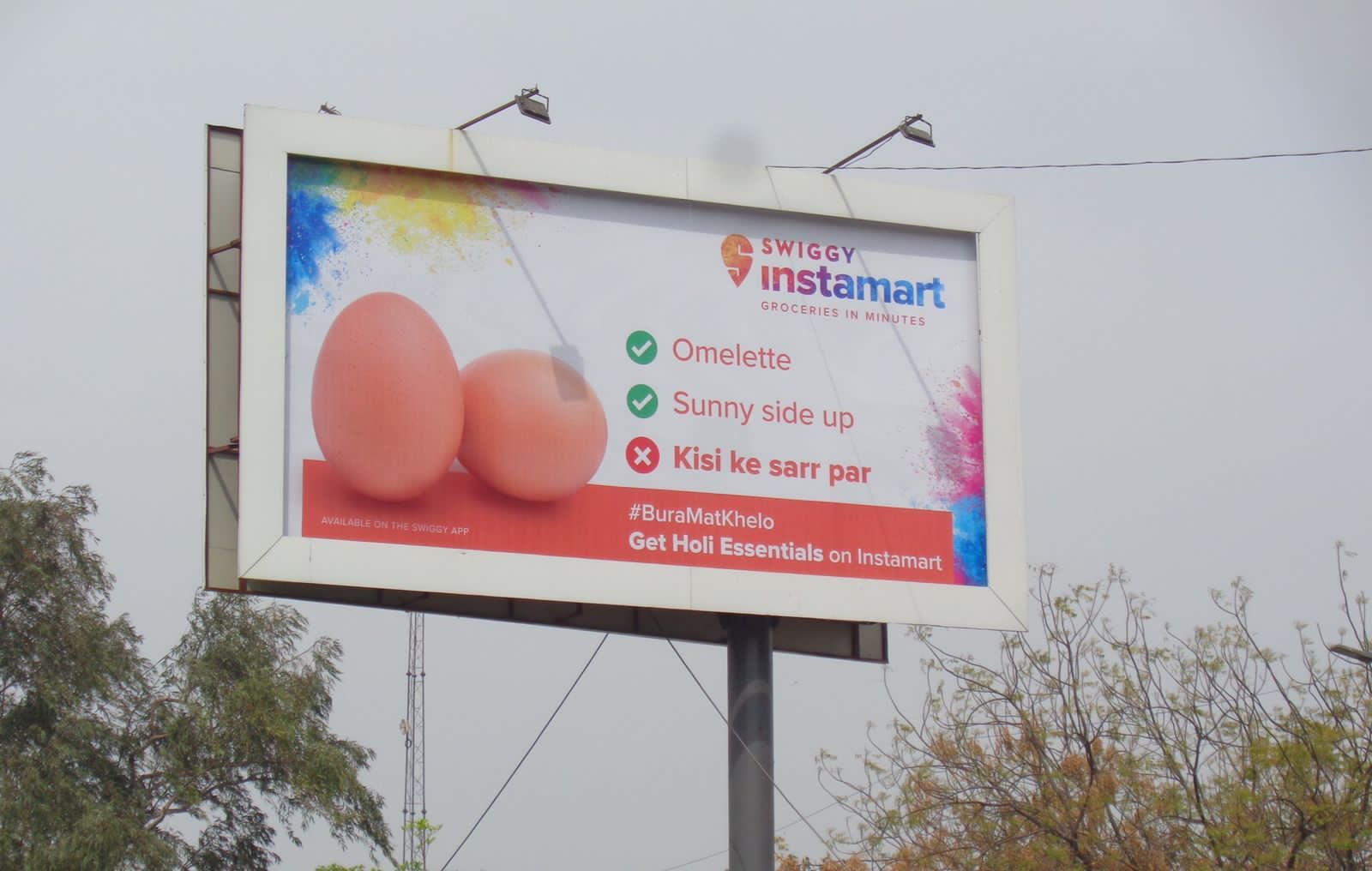 But this didn't sit well with Twitter's users. "The recent Billboard advertisement of @Swiggy is a clear attempt to defame Holi & create a negative perception among people. The lack of similar Ads for non-Hindu festivals shows a clear bias. Show some sensitivity and Apologize to Hindu community. #HinduPhobicSwiggy," said YouTuber Elvish Yadav. HinduPhobicSwiggy was the top trend in India as of 5 pm, and had garnered nearly 70,000 tweets.
People also dug up old Swiggy ads, in which it had simply wished people on other festivals, but appeared to preach only on Hindu festivals.
As the #HinduphobicSwiggy trend began picking up, people started uninstalling their Swiggy app.
Some people also said they would boycott its services.
Soon, the memes around the boycott also started to flow.
Several users pointed out that Swiggy reserved its public service messages only for Hindu festivals. "- @Swiggy did you put up the same billboard during Eid, asking Muslims to refrain from slaughtering goats or during Christmas urging Christians to not cut down trees? Keep your Hinduphobia out of our festivals and let us celebrate Holi the way we want," said a Twitter user.
People also sent emails to Swiggy, asking them to "stop meddling with our oldest and peaceful civilization", before asking them deactivate their account.
Swiggy also had to face the brunt of angry users on Instagram, where it received hundreds of angry comments on its Holi post. Swiggy was eventually forced to turn off commenting on that particular post, but users have been leaving comments about the boycott on its latest social media updates.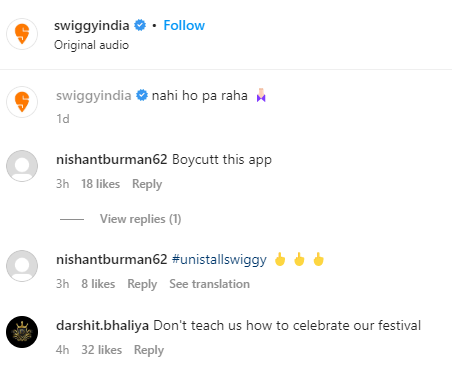 People even shared pictures of placards asking people to uninstall the Swiggy app and rate it with 1-star on the Google Play Store.
Swiggy isn't the first company to have fallen afoul of people while sermonizing about Hindu festivals and rituals. Airtel had previously been attacked for asking people to not burst firecrackers on Diwali, and users had ported their numbers to Jio in protest. Manyavar was also under fire for an ad featuring Alia Bhatt which attempted to paint the ritual of 'kanya daan' as being regressive. Dabur-owned Fem had also courted controversy when it had shown a same-sex couple celebrating Karwa Chauth. These common strain around these boycotts had been that while Hindu festivals and rituals were openly criticized by brands, the same brands didn't attempt to criticize — or even point out — the more regressive practices of other religions.
And Swiggy can ill-afford to wade into these battles. The company has been forced to aggressively cut costs, and fired 380 employees in January. It followed it up by shutting down its meat delivery vertical, and then sold off its cloud kitchens vertical to Kitchens@. Swiggy has reasons to be worried — while it had last raised funds at a valuation of $10 billion, its listed peer Zomato is currently worth only about $5.5 billion, which means that Swiggy could be looking at a significant down-round in the coming quarters. And a mass boycott of its services over a marketing campaign is the last thing the company would need as it looks to navigate the global tech downturn over the next few quarters.