For most people, new year's eve is a time to relax, let their hair down, and party, but things aren't quite the same for food delivery companies.
Zomato and Blinkit CEOs have shared pictures of themselves delivering food on New Year's Eve. Zomato CEO Deepinder Goyal shared a picture of himself wearing a Zomato delivery partner jersey, and carrying a food delivery box. But Goyal, who had been present at the Zomato office as his team worked to handle the surge in orders, discovered that the order he was supposed to deliver was made by someone in the Zomato office itself. "My first delivery brought me back to the Zomato office. Lolwut!" he tweeted.
Goyal was joined by Blinkit CEO Albinder Dhindsa. "Stepped out to help Deepinder Goyal deliver orders," he tweeted. Zomato had acquired Blinkit earlier this year.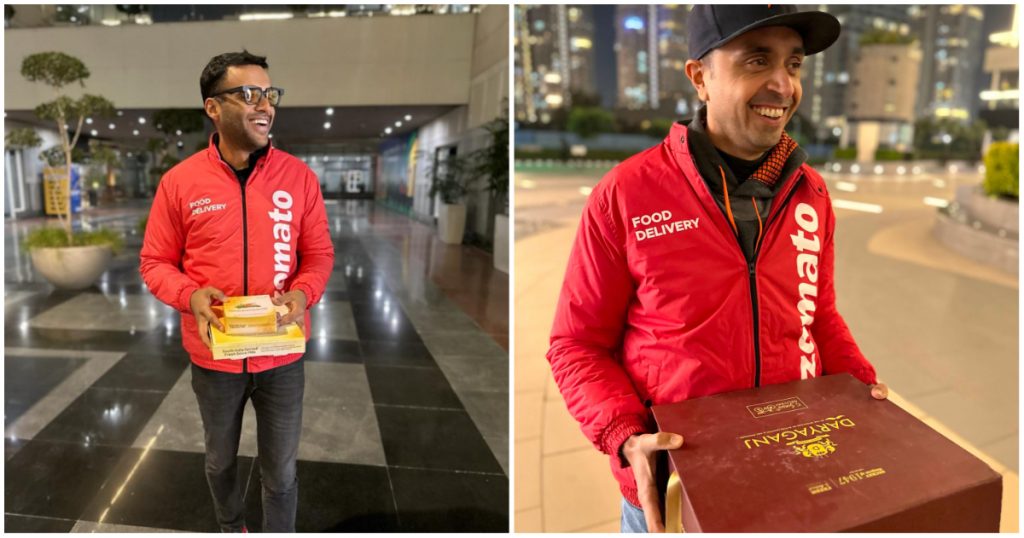 New Year's Eve is the busiest day for food delivery companies, which see a surge in orders. Over the years, Zomato and Swiggy have shared updates on the orders they are receiving on their platforms on new year's eve. This year, Zomato CEO Deepinder Goyal has shared pictures from the Zomato office, which are seen stocked with Red Bull and chocolates. "Been a mad rush at the office since the morning. Entire team's been surviving on glucose and caffeine since the early hours," he said.
By 6:40 pm, Goyal said that Zomato had already surpassed the previous year's Orders Per Minute, and at 6:52 pm, said that 16,512 biryanis were enroute to their delivery destinations. At the same time, Blinkit CEO Albinder Dhindsa said that 56,437 packets of chips were being delivered.
Meanwhile, Swiggy has also been sharing updates. By 6:33 pm, Swiggy CEO Sriharsha Majety said that the platform had already delivered 13 lakh orders.
Around 7 pm, Swiggy had it had seen 1.76 lakh orders for chips and 1.56 lakh biryanis.
These figures point to just how far online food delivery has come in India. All the way back in 2016, Zomato's website had crashed on new year's eve, and the company had been forced to shut down online orders entirely. At that point, Zomato was serving just 750 orders per minute before it had been forced to cease operations. Zomato and Swiggy now seem to be processing many multiples of these numbers, and thus far, seem to be keeping up under the strain.