One of India's top food delivery companies has officially acquired one its top grocery delivery players.
Zomato has acquired Blinkit for $568 million (Rs. 4,500 crore). The deal had been widely rumoured for a while — in March, the two companies had reportedly agreed to merge. But given how Blinkit was valued at $1 billion last year following an investment by Zomato, an acquisition for $558 million will be considered a slump sale for the grocery delivery player.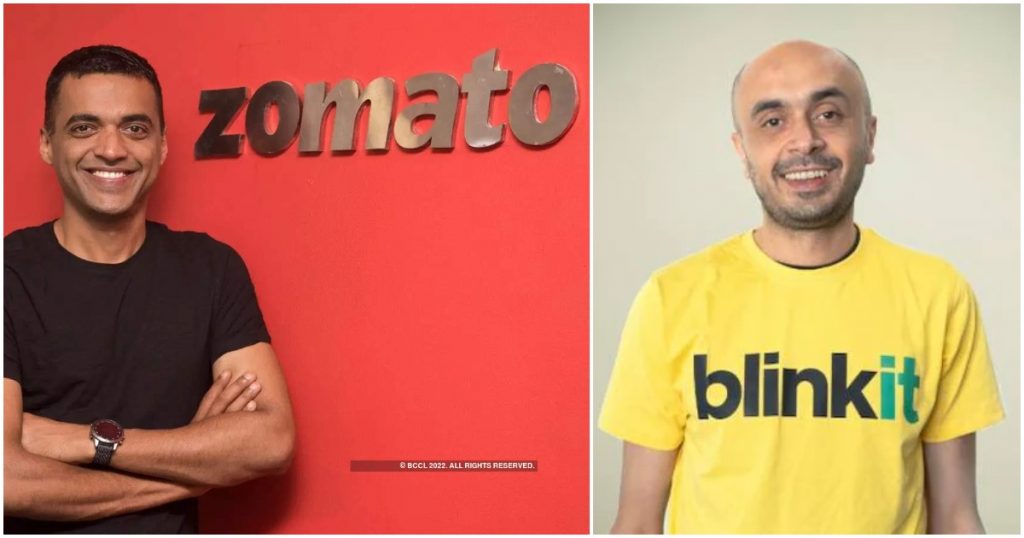 Zomato and Blinkit have been closely associated in the past. In June 2021, Zomato had picked up a 10% stake in Blinkit for $120 million. Earlier this year, Zomato had given Blinkit a $150 million loan to help it grow its grocery delivery services. There are other close links between Zomato and Blinkit as well — Zomato CEO Deepinder Goyal and Blinkit CEO Albinder Dhindsa are both from IIT Delhi, and are good friends. Albinder Dhindsa's wife Aakriti Chopra had served as Zomato's Chief People Officer and Chief Financial Officer, and was later elevated as Zomato's co-founder.
Blinkit, for its part, is one of the veterans of India's grocery delivery space, and has now spent nearly a decade in trying to find a sustainable business model. Blinkit had been founded as Grofers all the way back in 2013, and initially ferried groceries from grocery stores to customers' homes. The company later pivoted to a model in which in kept its own inventory, and expanded to several new cities. Grofers' biggest pivot, though, came in December last year, when it changed its name to Blinkit, and said it would focus exclusively on 10-minute deliveries. Such was its dedication to its 10-minute delivery promise that it even stopped serving loyal customers who lived in areas where it couldn't deliver in 10 minutes.
But Blinkit's 10-minute pivot doesn't seem to be working out as intended. In March, it had been reported that Blinkit was struggling, and had laid off employees and delayed some vendor payments. The 10-minute grocery delivery space is hotly contested in India, with companies like Zepto, Dunzo, and increasingly, Big Basket and Flipkart looking to get groceries to customers as quickly as possible.
And perhaps the greatest sign that all is not well in the 10-minute grocery delivery space is the valuation at which Blinkit has been acquired — after being valued at $1 billion in June last year, Blinkit has been acquired for just $568 million, which suggests a near-halving of its valuation in 12 months. This valuation is also lower than that of arch-rival Zepto, which was valued at $900 million in a funding round just last month.
Blinkit, though, would hope that its fortunes could change under Zomato's wing. In theory, both companies operate in the urban delivery space, and can hope to unlock some synergies through better utilizing their grocery delivery fleets. Zomato and Blinkit could also cross-sell each others' services to their customers, and could both hope to gain more users.
But neither company appears to have found a sustainable way to make money just yet. Zomato had been founded in 2008, and has made losses for the last 13 years straight; Blinkit had been founded in 2013, and has also made losses for all 8 years it's been in existence. It remains to be seen how they'll fare after officially combining forces, but their track record would give Zomato's investors something to chew on as they track the company's performance on the stock markets.