Say what you will about Zomato, but there's probably no other company that keeps coming up with as many innovations in the food tech space as it does.
After introducing Zomato Gold, through which subscribers could get a dish free with another dish each time they dined at select restaurants, and Zomato Treats, through which subscribers got a free dessert each time they ordered online, Zomato has now introduced something called Infinity Dining. Infinity Dining, Zomato says, will let customers eat and drink all that they can at partner restaurants in their cities. Zomato says this is the first time in the world that such an experience has been introduced at this scale in the dining space.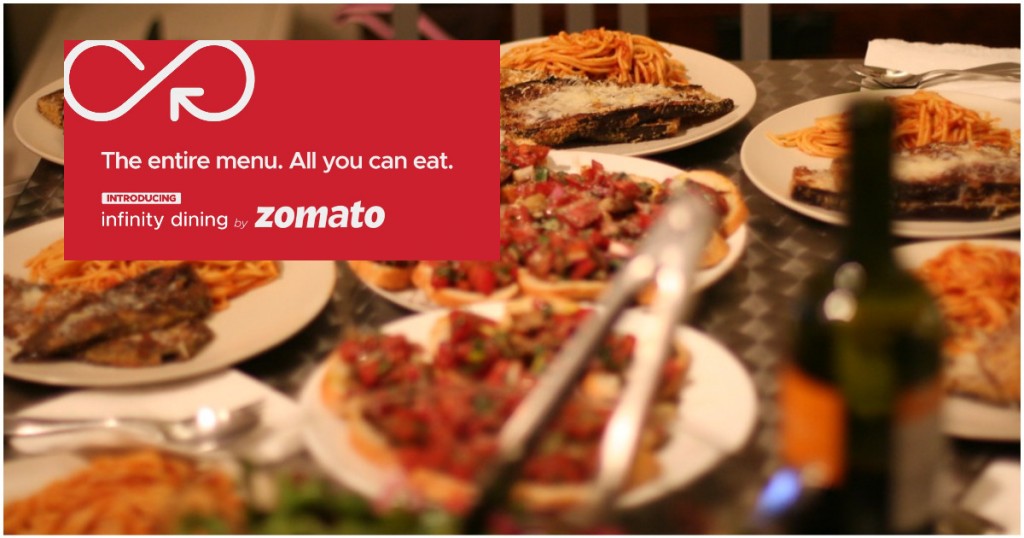 "For the same price that you would spend on a typical two-course meal, you can now order anything and everything you want from the entire menu (yes, the entire menu!) with unlimited servings of your favourite dishes," Zomato said in a blogpost. "Also, while dining infinitely at bars, you get access to an open bar as well so you never have to think twice about the good old question – "Should we have another round?"," it added.
Zomato says Infinity Dining will let users pick any dish from the menu an unlimited number of times, which means that they will be able to sample several dishes, and reorder the ones they really liked. The prices of Infinity Dining vary from restaurant to restaurant — so while Doolally in Mumbai will charge Rs. 700 per person for an open bar, Punjab Grill in Delhi will charge Rs. 1000, and Gilly's in Bangalore will charge just Rs. 400. Infinity Dining will be available to customers of Zomato Gold, and they will be able to buy tickets for others in their group when they visit the restaurant. The service is currently available at over 350 restaurants and bars in Delhi NCR, Mumbai and Bangalore.
Infinity Dining sounds like a pretty radical concept, and it's very likely that it will immediately find a lot of takers. The prices that Zomato's listed thus far for the product sound very reasonable, and loyal Zomato Gold users, who're used to getting a dish free with each dish they order at these restaurants, perhaps wouldn't find putting in a marginally higher amount of money to be able to sample the entire menu instead. Also, Infinity Dining could come in handy at corporate events and team parties, where a fixed fee per person will let everyone in the group eat to their heart's content.
But while Infinity Dining does have its perks, it comes with some obvious potential for misuse as well. While Zomato says users can order an unlimited amount of food, it also cautions them to "ask about portion sizes to avoid wasting food." There's some subjectivity here, and Zomato's user community will have to ensure that they don't end up ordering indiscriminately and making the whole situation unviable for partner restaurants. It's still early days, but if Zomato Gold is anything to go by, it's possible that Infinity Dining will end up changing the dining out experience in India all over again.