Delhi motorists are probably currently doing double-takes as they speed through the city's crowded roads — a hoarding screams MC. BC. at them in large white letters. When they get close enough (and are able to see through the city's smog), they realize they aren't being sworn at — the hoarding says Mac n' Cheese and Butter Chicken in a smaller font.
Zomato is killing it with their hoardings. Neat ?? pic.twitter.com/WTYfw4DJkS

— Jayesh Ughade (@jayeshughade) November 28, 2017
The provocative (and hilarious) hoarding seems to be a part of Zomato's new outdoor marketing campaign. Zomato's taken up prominent spots in major cities, and is peppering the public with zany puns. The puns seem to borrow heavily from 90s Bollywood — so this hoarding says "Mera pizza ghar aaya, O Ramji", while another goes "Tu cheese badi hai mast mast."
Hey Zomato! What happened to you?!?!? pic.twitter.com/6MMkOB1yiY

— Noopur (@noops1987) November 28, 2017
Some others puns center around Zomato's food delivery service. So when a hoarding goes "Oonchi hai building, lift teri band hai," it says "We'll still deliver in time." in small letters underneath.
Brilliant outdoor advertising by @Zomato @ZomatoIN pic.twitter.com/FmvQFPqhDn

— Shivi Chauhan (@shivi_chauhan) November 28, 2017
There are some pop culture references too. Here Zomato tells people that what the nation really wants to know is if ladka nikal gaya kya.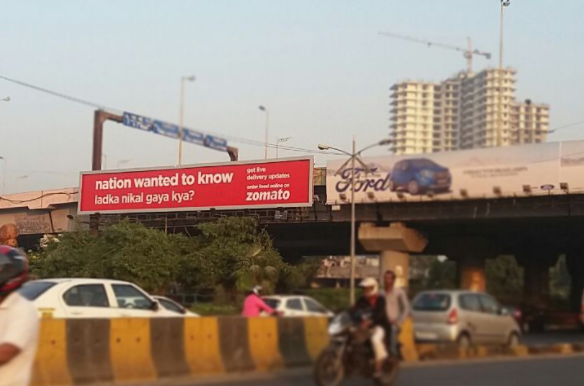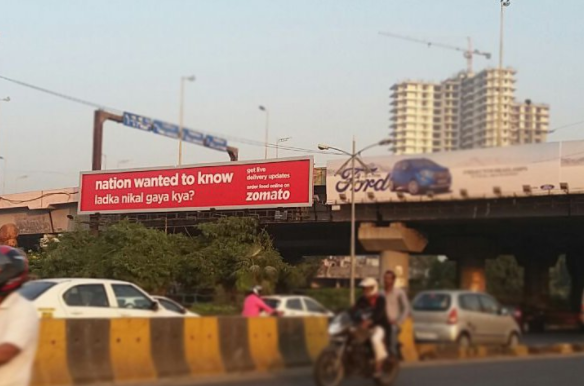 And Zomato even gets political — it asserts that Acche Din are finally here, because of the unbelievable deals on its app.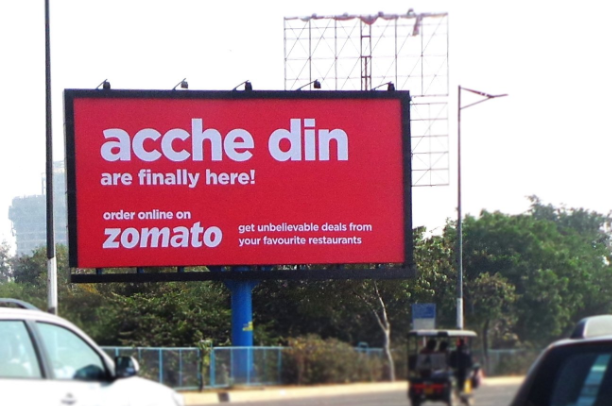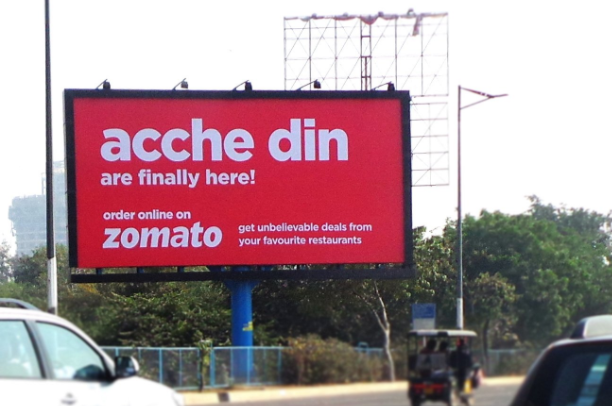 It's a lighthearted, fun campaign, and it's clearly struck a chord with Zomato's userbase. Several people have been sharing the adverts on social media, and publicly applauding Zomato for some pretty clever jokes. It's also a smart campaign because it breaks away from the mould of traditional food advertising — Zomato's campaign has no images of food, and no celebrity endorsements. Foodpanda recently signed on Shah Rukh Khan as a brand ambassador, but Zomato's shown that all you need to create a spalsh is some creativity — and some puns.