Food delivery companies have perfected the art of bringing food from the top restaurants within a city to customers' doorsteps, but Zomato now wants to do one better.
Zomato has launched a service through which it will deliver food from different cities to customers. Called Intercity Legends, the service aims to let customers experience popular dishes from around the country from the comfort of their homes. Zomato Intercity Legends is currently being piloted for select customers in Gurgaon and South Delhi.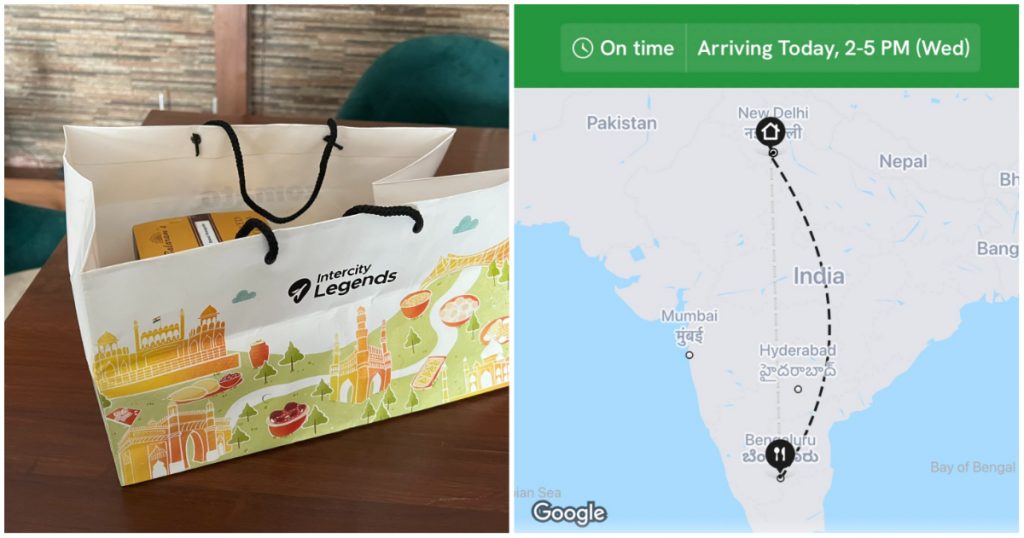 "With our new launch 'Intercity Legends', no matter where you are, you can order and relish legendary dishes like baked rosogollas from Kolkata, biryani from Hyderabad, mysore pak from Bengaluru, kebabs from Lucknow, butter chicken from Old Delhi, or pyaaz kachori from Jaipur," Zomato wrote in its blog.
Zomato will deliver these dishes to customers in one day. Zomato says that once customers receive their orders, they can microwave, air-fry, or pan-fry the food just like any dish out of the refrigerator. "All types of dishes have undergone lab testing to ensure that the aroma, texture, and taste remain of high quality. Food is freshly prepared by the restaurant and packed in reusable and tamper-proof containers to keep it safe during air transit. State-of-the-art mobile refrigeration technology preserves the food without the need to freeze it or add any kind of preservatives," Zomato says.
There could be demand for such a service — India is home to many different kinds of cuisines, and ardent foodies maintain that it's hard to replicate their tastes outside their regions of origin. Such people could wait for up to a day to get their favourite food, and then have it at a time of their convenience.
But Zomato's entry into intercity deliveries could signal that it's seeing limited growth in its food delivery vertical, and is looking at adjacent opportunities to grow its revenues. Zomato's revenue growth has slowed down significantly from its days as a young startup, and the company is clearly looking to innovate to keep growing at the pace it once did. But while customers will not mind the new service — it doesn't hurt to have the option to order food from different cities — the move isn't likely to enthuse Zomato investors. Stock market investors want to either see stable businesses that are profitable, or businesses which have an outsized opportunity to garner a large market. Given the costs of delivering food from different cities, the logistical challenges of keeping food fresh, and the easy availability of similar food in major cities itself, it's unlikely that Zomato Intercity will ever become more than a blip in Zomato's overall bottom line. And the fact that Zomato has chosen to venture into this vertical would present worrying signs for the growth of its core food delivery business in the years to come.