Indian stock markets don't seem to be particularly impressed with all the cutting-edge innovation that high-flying tech companies seem to be dishing out.
Zomato's shares fell 8.64% percent the day after Blinkit announced its plans to deliver printouts in 11 minutes. Blinkit, which had started off as a grocery delivery service, had announced on Thursday that it was starting off a pilot to deliver print-outs — users could simply upload their documents on its app, and the company would deliver printouts to their homes in 11 minutes. It had seemed a reasonable enough idea, but Zomato's stock was weak in opening trade on Friday, losing 3% within the first half hour. The stock continued to fall through the day, ending up 8.64% lower by the time markets closed.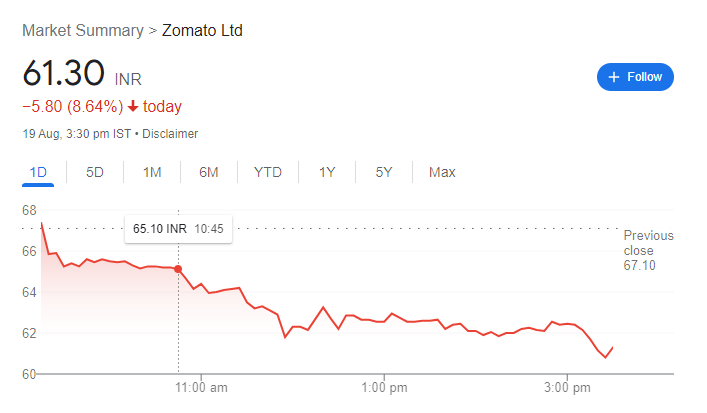 Now correlation doesn't necessarily imply causation, but it's hard to imagine what else apart from Blinkit's printing announcement could've caused this precipitous fall in Zomato's stock. The Nify was down only 1% for the day, and other startup stocks didn't see the same kind of weakness as Zomato did — Paytm was down 1.93%, Policybazaar was down 1.37%, while Nykaa's shares even managed to rise 0.04%. Amidst all this, Zomato's stock was hammered 8.64%.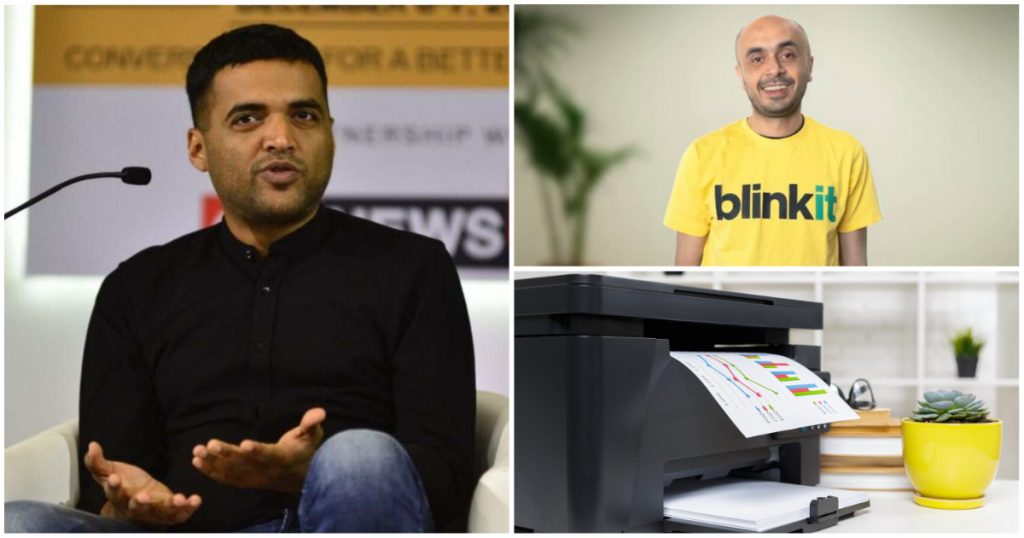 "We intend to be an organisation which is always innovating for our customers, and being able to provide services that help them lead better lives remains at the core of the Blinkit mission," a Blinkit spokesperson had said on Thursday. "We recently launched our print pilot in a few locations (including Sector 43 and Golf Course Road) in Gurgaon. We will look forward to launching the same in more locations (including Delhi) in the near future provided we notice the service being useful for our customers," they had added.
Blinkit is charging Rs. 9 for black and white printouts, while it said it would charge Rs. 19 for colour prints. The company would charge an additional Rs. 25 for delivering the printouts.
It seemed like a reasonable-enough business model — a printout costs barely a few rupees, and Blinkit would make at least Rs. 34 if someone ordered a single printout, and could possibly hope to make good money if users ordered more prints. But the stock markets didn't seem particularly keen on Blinkit's new initiative, much as they had been uncertain about its acquisition — Zomato's stock had capitulated after the company had announced its acquisition of Blinkit, and reached an all-time low of Rs. 41 per share. The stock had recovered somewhat, but has again crashed nearly 10% after Blinkit announced its printing service.
Investors have their reasons to be skeptical of Blinkit's moves — over the past few months, Blinkit has been seen to be struggling to find the sweet spot with hyperlocal deliveries. It had rebranded itself with the promise of delivering groceries in 10 minutes, and had even stopped serving locations where it couldn't meet its delivery promise. But over the last few months, it's quietly taken off the 10 minutes promise from its website and marketing collaterals, and now simply claims to deliver things in "minutes". It's now looking to expand into a whole new vertical of printouts.
And it's this experimentation that could be getting investors nervous. Small startups often try out different business models in trying to find product market fit, but Zomato's hardly a small startup anymore — it commands a market cap of over Rs. 50,000 crore, but continues to make thousands of crores of losses. And while home-delivered printouts could possibly be quite convenient, Blinkit's entry into an ambitious — but largely unproven –business seems to have left the stock markets less than thrilled about its future prospects.