Think farming and the visuals of a grumpy farmer driving a rickety tractor through the field comes to mind. If it's India in question, that image becomes an emotionally loaded one with an anguished-looking, emaciated farmer reining in reluctant bullocks on a parched field under the scorching sun.  Moreover, one normally doesn't expect farmers to be vlogging about their day, with a pro-level camera setup, slick edits and  creating viral YouTube videos. But we're living in interesting, if pandemic-wrecked times. 21 year-old American YouTuber "Laura Farms" offers a refreshing insight into the elusive world of farming.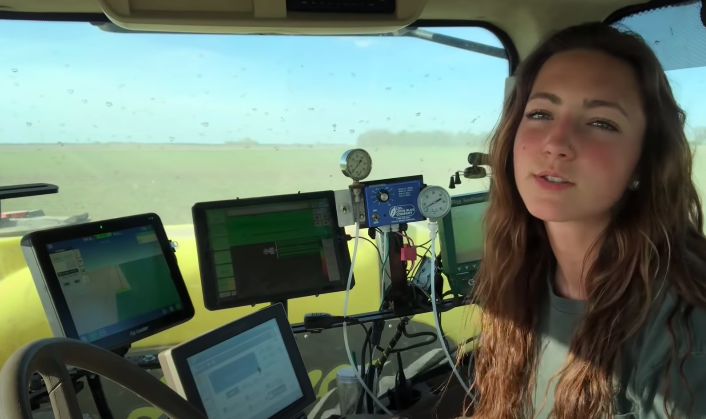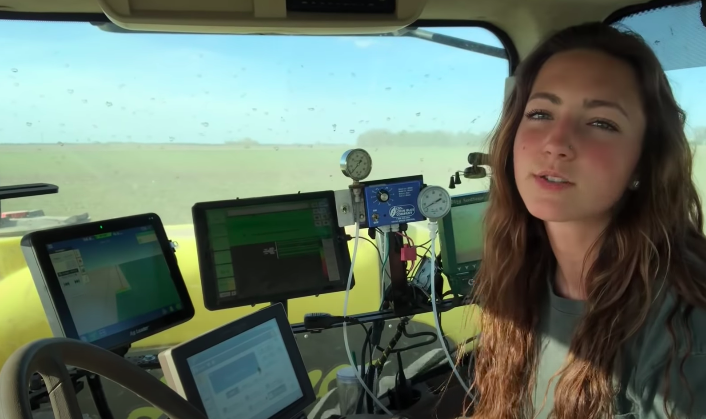 (image : Laura Farms)
Laura takes the viewers inside her 'office' – a John Deer farming tractor – while expertly navigating it and planting seeds the entire time. If the idea of a 21 year college graduate who spends better time of her day sowing corn and soya beans isn't fascinating enough, it's the setup inside of the tractor that throws one off.  At first glance, the inside of the tractor looks like an aircraft's cockpit – with as many as 5 computer screens and a slew of sophisticated paraphernalia. Laura then goes on to explain how the machinery works, the process of sowing and harvesting, along with a demo of some of the equipment.
"Then we change the brushes from being into a 45 degree angle into an 80 degree angle. Then I go on into auto steer. As the seed drops down, there's a suction in the seeds. This is the monitor that's uploading data into the cloud.", she explains with the finesse and tone typically associated with a makeup tutorial.
Laura's personalised tour into her day, her craft and her afterhours life as a normal 21-year-old makes one rethink the world of farming as her rapidly growing subscriber base would attest to.  "I never knew that there was so much technology in a tractor. I also figured that there would be some old grumpy man driving one of those things.", goes one comment.  "It is really very interesting to see where our food comes from, how it is planted, grown, harvested, brought to market", says another. 
The series of videos uploaded by Laura confirms first-hand how progress in technology and crop yields has made the United States among the most productive agricultural producers in the world.  "Agricultural production in the United States has increased by an average of 5 percent each year since 1990. In addition, the output of each agricultural worker has grown by an average of 0.84 percent each year."  On the other hand, while India is a top agricultural economy and the highest producer of many crops, its yield per unit of area is much lower, and issues like dated farming methods, overdependence on monsoons, and preference for jobs in the current generation have consistently plagued the industry. To that effect, this video could be aspirational for how technical advancement in agriculture and agriculture as a science – with systems, processes and a technological backing – may just change how agriculture is perceived as an occupation.  With an interest in urban farming in India catching up, and the need to bring serious reforms in the agriculture sector, channels like Laura's that glamourise farming may just be the motivation we need to get started.
It's not everyday you hear farmers throw around words like "data upload" and "cloud applicator".  If farming could look this cool, the next generation of jobs could be creating more produce farmers than product managers.