The news had broken yesterday morning, and later it was made official — Berkshire Hathaway has confirmed that it's invested in Paytm's parent company One 97 Communications. Berkshire Hathaway owner Warren Buffett isn't a part of the deal in his personal capacity, but he is the biggest shareholder in the company, and its backing of Paytm is a watershed moment both for Indian companies and India's burgeoning startup space. Here are 7 reasons why Berkshire Hathaway's Paytm investment is a seriously big deal.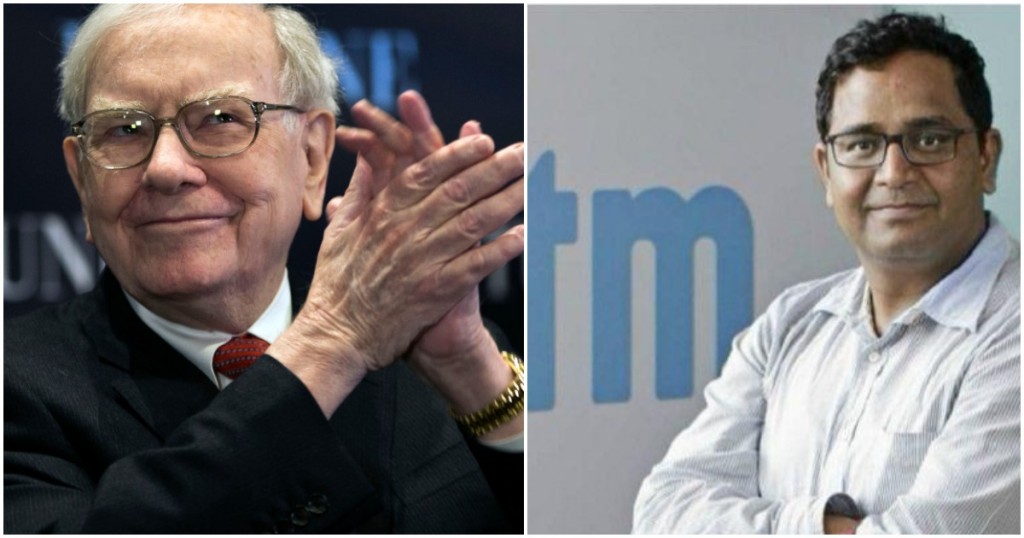 1.Berkshire Hathaway is legendary: As far as investors go, they don't come much better than Berkshire Hathaway. Since 1965, the Warren Buffett-led firm has managed an annualized return of 19%, which is unheard of in the investing world over such a time period. Its continued successes have ensured that its market cap is now $460 billion, making it the eighth largest publicly traded company in the world. Other companies in the list, such as Apple, Amazon and Google have got there by creating products and services — Berkshire Hathaway has got there by investing in other companies.
2. It doesn't usually invest in tech: Warren Buffett has been notoriously averse to investing in tech — he's previously said that he only invests in businesses he understands, and didn't even participate in the tech boom during the dot-com bubble. Even though he's invested in tech since then — Berkshire Hathaway owns nearly 5% of Apple, and is a major investor in IBM — it's never invested in a privately-held tech company before. Paytm will be its first privately-held tech investment.
3. Berkshire Hathaway has never invested in India: Berkshire Hathaway's investment into Paytm is its first in an Indian company. The fact that one of the world's most prominent investors now wants to be a part of India's growth story is a massive vote of confidence for the country and its tech sector.
4. "Rule No.1: Never lose money. Rule No.2: Never forget rule No.1." : Unlike the buccaneering VC investors who are okay with several of their bets flopping for that one massive payback, Berkshire Hathaway is a lot more conservative in its investments. "Rule No.1: Never lose money. Rule No.2: Never forget rule No.1," Warren Buffett had once said. The fact that Berkshire Hathaway thinks that India's most valuable startup — Flipkart has been acquired by Walmart, so Paytm is now India's most valuable startup — isn't a risky investment shows that it believes that India's tech story is a lot stronger than what many in the country themselves seem to believe.
5. "Our favorite holding period is forever" : Berkshire Hathaway is also a seriously long-term investor — it invests in companies for decades and decades, and Warren Buffett had once said that "Our favourite holding period is forever." Unlike typical VC investors who look to quickly flip companies to make a profit — Softbank remained an investor in Flipkart for just over a year before it sold its stake to Walmart — Berkshire Hathaway is in it for the long haul. That shows that the company believes that Paytm will remain relevant for a long time to come.
6. Paytm is in august company: And the rest of Berkshire Hathaway's investments are the who's who of the corporate world. Berkshire Hathaway is a major investor in companies like Apple, IBM, Goldman Sachs, American Airlines, Southwest Airlines, Coca Cola, Mastercard, and Walmart. For Paytm to be standing shoulder to shoulder with such giants is a testament to the faith that Berkshire Hathaway has placed in the company.
7. India's stock market ecosystem is very impressed: India's entrepreneurs are a tight-knit lot, and regularly celebrate each other achievements. There were many celebratory messages when the news of Berkshire Hathaway's investment became known. "There was a time that people used to say 'good investors like Buffet will never invest in Indian tech' That last barrier has fallen today," tweeted India Quotient's Anand Lunia. "Didn't expect it, but a good marriage if it goes through…Paytm will be the first Indian tech company to touch USD 100 B valuation," said investor Rajesh Sawhney.
But for once, India's stock market community, which usually deals with companies which are much bigger than the average Indian startup, also joined in to congratulate Paytm. Former CNBC anchor Varinder Bansal tweeted that it was "super news" for Indian entrepreneurs, and wrote "Hats off to Vijay Shekhar Sharma — an inspiration." 
WoW super news for Indian entrepreneurs. A man who wasn't proficient in English, back bencher in the college and had to take a loan of 8 lakh @ 24% interest as no one was ready to fund One97. Hats off to @vijayshekhar – an inspiration. https://t.co/LkFSk12aGB

— Varinder Bansal (@varinder_bansal) August 27, 2018
"Very, very cool news 🙂 Serious bragging rights for Vijay Shekar Sharma," wrote stock market analyst Mangalam Maloo. 
Very, very cool news 🙂
Serious bragging rights for @vijayshekhar
BH's first investment in Indian Start-ups

On a Lighter Note… are they gonna PayTM the money to them?@Paytm https://t.co/dzz0sJgFwL

— Mangalam Maloo (@blitzkreigm) August 27, 2018
Through the years, Paytm has crossed several chasms. It's gone from being a digital wallet to becoming a Payments Bank to an e-commerce company. It's crossed geographical chasms too, starting operations in Canada, and partnering with Softbank to set up a digital payments system in Japan. And with the Berkshire Hathaway investment, it appears to have crossed the significant divide between Indian entrepreneurs and its stock market participants as well — both are currently toasting its status as Berkshire Hathaway's first investment in India.