Gautam Adani hasn't only personally gone past Mukesh Ambani to become the richest man in India — his group companies have also gone past the Reliance Group.
The Adani Group has overtaken Mukesh Ambani Group to become the country's second biggest business group in terms of market cap. As of Monday, Adani Group Cos had a combined Mkt Cap of Rs. 19.44 trillion, while Ambani Group companies put together had a market cap of Rs. 17.89 trillion. The Tata Group leads the league table with the group market capitalisation of Rs 21.73 trillion.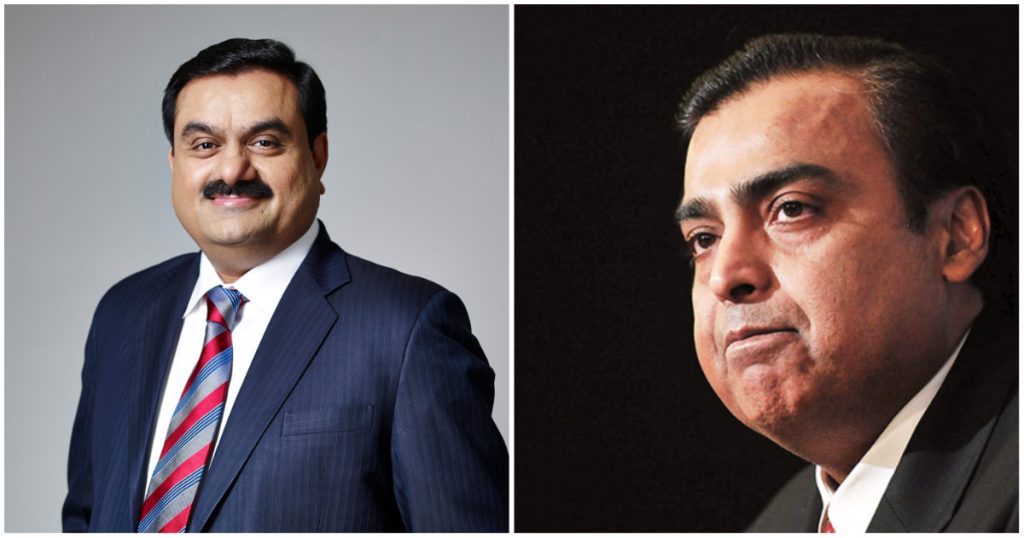 This is a complete turnaround from just 18 months ago. In January 2021, Adani Group companies were collectively valued at Rs. 4.32 trillion and Ambani group companies were valued nearly thrice at much at Rs. 13.76 crore. But since then, Adani Group companies have zoomed in value, and have risen 350% in value. In comparison, Ambani group companies have increased their market cap by a sedate 30%. Tata Group firms, on the other hand, have seen their market caps grow by 35%.
Out of Adani group companies, Adani Power has seen the fastest rise in its share price. Its market capitalisation is up 334 per cent this year. It is followed by Adani Transmission, whose market cap is up 103.6 per cent this year. Next is Adani Total Gas which saw a 96.7 per cent jump in its market capitalization in 2022.
But while Adani Group's rise has been meteoric, it's taken on plenty of debt as well. "Adani has elevated leverage and poor interest cover and cash outflows across virtually all its entities, and is at greater financial risk," a CreditSights report had said this week. In comparison, Reliance has been looking to aggressively cut back on its debt. ""RIL has been on a deleveraging trend over the past few years, and boasts robust credit metrics (gross and net leverage at 2.6x and 2.2x as at end-FY22) and interest cover (7.8x at FY22)," the report said.
But in spite of the high debt, Adani Group companies going past Reliance Group companies is a remarkable achievement. Adani is younger than Mukesh Ambani — he's 60, while Ambani is 65. Adani is also a first generation entrepreneur and has built his empire from scratch, while Ambani has grown the Reliance empire he'd inherited from his father. Adani, though, is now not only personally richer than Ambani, but his group companies also are more valuable than Reliance firms. It remains to be seen how the Adani Group fares in the coming years, but for now, Adani's brave — but high-risk — game seems to be paying off.