WhatsApp is trying to take a second stab at getting Indian users to accept its updated privacy policy, which will allow the messaging service to share some of its data with Facebook.
After a truncated initial roll-out which led to calls for bans, boycotts, and users switching to Signal and Telegram, WhatsApp is once again trying to push through its updated privacy policy. "We're updating our terms and privacy policy," says a message on the app, right above where the chats sit.
On clicking on the message, WhatsApp goes on to describe what the changed privacy policy will entail. Unlike last time, though, it first starts off with disclaimers, saying that even after the update, WhatsApp will not be able to read users' personal conversations, and the chats will remain end-to-end encrypted.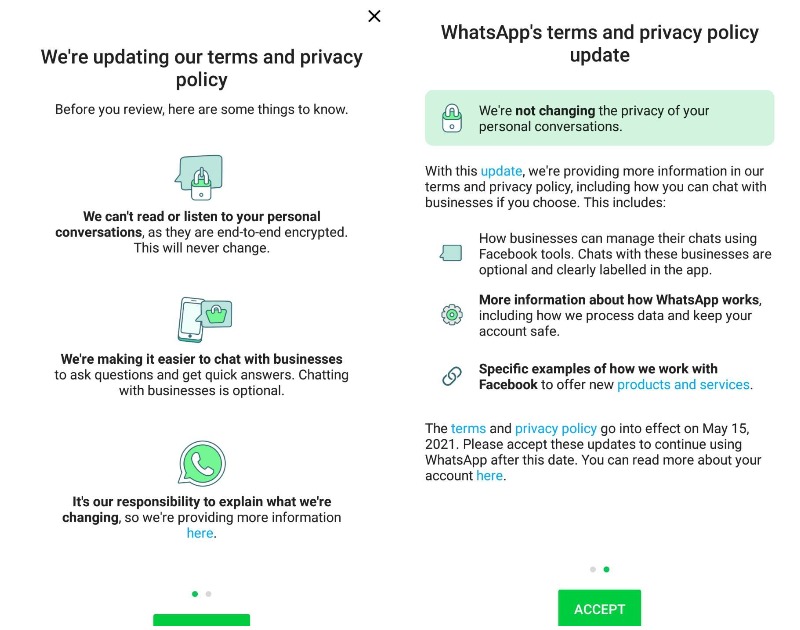 But the changes to the privacy policy — though this time couched in feel-good text around about how it's WhatsApp's responsibility to explain what's changing — remain the same as before. If WhatsApp users chat with businesses, WhatsApp will share their data with them, thus allowing advertisers on Facebook to potentially receive data around WhatsApp users.
"Every day, millions of people use WhatsApp to communicate with businesses, large and small. You can message businesses to ask questions, make purchases, and get information," WhatsApp says if users click on the link which it says will provide more information. "Bigger businesses, like an airline or retailer, might hear from thousands of customers at a time – asking for information on a flight, or trying to track their order. To make sure they can respond quickly, these businesses may use Facebook as a technology provider to manage some of the responses on their behalf," it adds. Like before, there's a deadline for users to accept the new terms — WhatsApp indicates that users will be unable to use their WhatsApp accounts after 15th May if they don't accept the new privacy policy.
The messaging this time appears more vague than the pop-up WhatsApp had shown users two months ago, which had specifically mentioned Integrations with Facebook. Back then, WhatsApp had said that the new policy would change "How businesses can use Facebook hosted services to store and manage their WhatsApp chats," and "How we partner with Facebook to offer integrations across the Facebook Company Products." Also, there were none of the disclaimers around how user chats would continue to remain encrypted. Last time, WhatsApp had provided users a similar deadline of 8th February.
This pop-up had alarmed users, and made many look for WhatsApp alternatives. Several Indian entrepreneurs had publicly batted for Signal, and Signal and Telegram had seen a massive surge in their downloads. Chastened, WhatsApp was forced to stop prompting users to accept the new terms, extended the deadline, and even run full-page ads in newspapers telling users that their chats were safe.
The fact that WhatsApp still wants to push this update through, so soon after it faced near-rebellion from Indian users over the same plans, shows how critical Facebook thinks WhatsApp's data is to finally begin monetizing the service. By integrating WhatsApp chats with Facebook's advertisers, Facebook can turn WhatsApp from being a medium of peer-to-peer communication into one that's also used to interact with businesses, and that can enable WhatsApp to possibly get a commission or a fixed sum from these transactions. It also helps that WhatsApp now also supports UPI, which can also enable payments to also flow through its app. But it remains to be seen if Indian users will readily accept the new terms — they weren't quite as keen on having their data shared with Facebook last time, and with Facebook looking to essentially push the same update again, WhatsApp will be closely monitoring if Indian users take the bait this time around.