He may pass off as just another college graduate out to explore the country before starting his first job, but Akshay Gunteti dropped out of college in his third year, does not want to work a corporate job, and he's no ordinary traveler.
The 22 year old is on a mission to explore the startup ecosystem in India, quite literally. He's on a 100+ city startup tour, which involves meeting the startup community, incubators, achievers, and friends to discover, share, and learn from India's burgeoning startup ecosystem.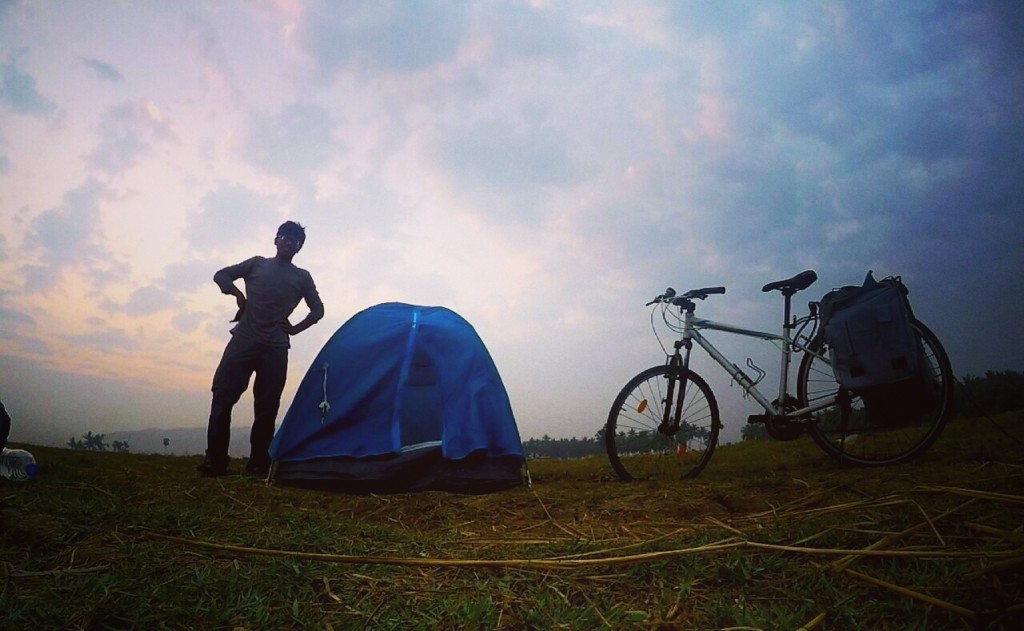 An entrepreneur of sorts himself, Akshay wants to build and grow his own startup, by learning on the go.
The seeds of hustle were sown early for Akshay. Back in 2006, when mobile phones weren't as ubiquitous and most schools didn't allow them on campus, Akshay and his friends had found a way to make some extra pocket money by loaning and smuggling phones into the "jail-like" school. "We would get cheap phones from gray markets and sell to students within the school. We made a lot of money from that.", says Akshay. Finding the conventional education dull and discouraging innovation, he dropped out of college in his 3rd year, and began exploring alternatives ways of education himself.
Initially started as a cross country bicycle trip titled "Inno Yatra" Akshay spent a few weeks traveling around parts of Telangana and Karnataka on a bicycle alone. However, a bike accident injury has caused Akshay to switch to public and other means of transport.
One of his initial exposures to the world of startups came from his trip to the coworking space Startup Village in Wayanad where artists, budding entrepreneurs and socially conscientious worked and collaborated together, against a beautiful setting of the nature.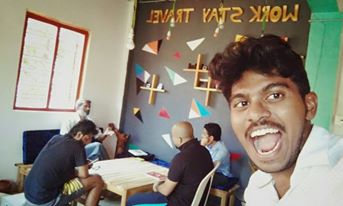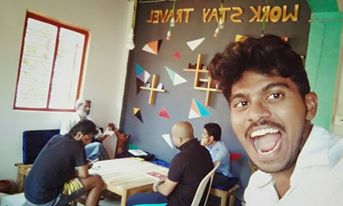 However, after a few back and forth trips between the startup village in Wayanad, working on a community initiative working towards the upliftment of tribals in Kerala, Akshay decided he wanted to start a project for the entrepreneurs, the social warriors and any creative community to connect and work together. That's when the idea of a map based app to house all of the above, was born.
Today, Akshay is traveling all over the country, seeking to meet up with the audience for his app, and recruit initial members of a co-working space he plans to set up in Bangalore. He's met startup founders, coworking space owners and many other folks in his journey.  He has a team of 3 people working remotely, which includes his co-founder, Nidhiya Raj who's currently on a Young India fellowship herself.
In the process, Akshay Gunteti has become a bit of, if self-proclaimed, a startup guru, with self-ascribed quotes that grace his Facebook page, that has over 1800 fans.


Hundreds of photos have made their way there, all of them, featuring Akshay and the startup folks he meets, doing what Akshay calls "Signature Akshay pose" which involves the subject to be gaping at the camera with their mouths open.
While initially he used his contacts and networks to set up meetings with people in his destinations, today after having garnered a bit of a fan following, he uses Facebook to update his whereabouts and seek an audience with the who's who of the startup world in his next destination.
A status update wishing to meet Kunal Shah, CEO Freecharge has elicited him a reply from the man himself.
Akshay's caught the attention of a few investors too, and managed to scoop up some working capital for him to fund his journey. "There are many NRI investors who're looking to give back to their country. They have all the money, but little time or contacts to do it themselves. When they heard about my tour, some of them approached me, and decided to help me, for what I'm doing will help the startup ecosystem in India, some way." Post the funding, Akshay has been able to make his arduous and ambitious journey a bit more comfortable with hotel stays and flights, he adds.
Akshay says that he's poised to to start an "early stage" incubator in Bangalore, where other than desiring entrepreneurs, any creatively inclined people can work out of, live and share a common journey to innovation and societal good. Not just that, Akshay claims that at this space, they will also get paid a small stipend to meet their daily expenses. What's in it for him I ask? "I want to see people with potential achieve something." He also adds that his investors would take the most promising ideas to the Silicon Valley. "And all this will come at a very small equity in the startup.", he adds as he hurries up to make it to his next meeting.
"We believe super small startups can solve the real problems. Most of them fail, but by helping them, we can be a part of country's development.", says the young nomadic startup explorer.