The one-star app rating appears to be officially how protests are conducted in 21st century India.
Hundreds of Indian users have hit Amazon India's app with a one-star rating on the Play Store after the company associated with controversial actress Swara Bhasker for a promotional activity. The online protesters allege that Bhasker repeatedly insults people of the Hindu faith and is an "anti-national," and are leaving making their displeasure known through scathing reviews.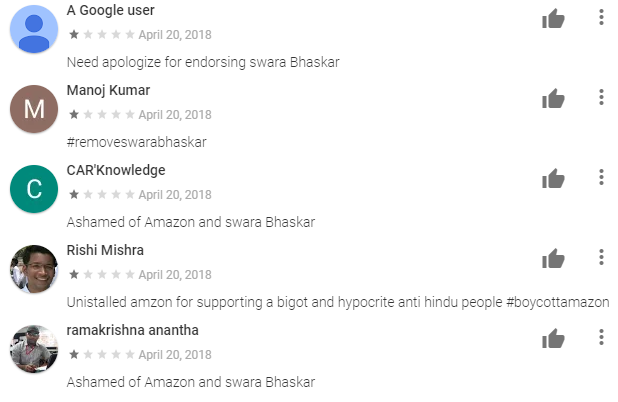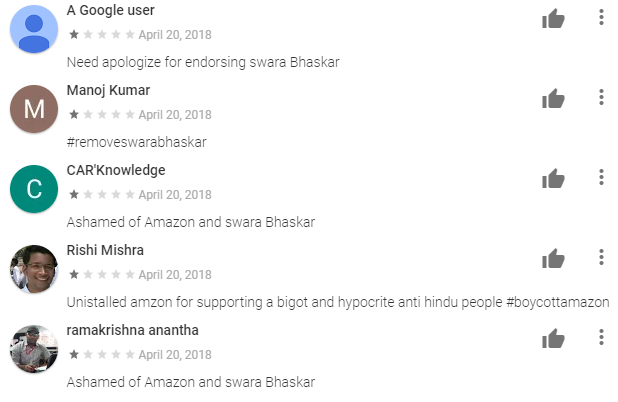 "Uninstalled Amazon for supporting a bigot and hypocrite," wrote Rishi Mishra on the Play store. "Ashamed of Amazon and Swara Bhaskar" wrote Ramakrishna Anantha. "Need to apologize for endorsing Swara Bhasker," wrote another user.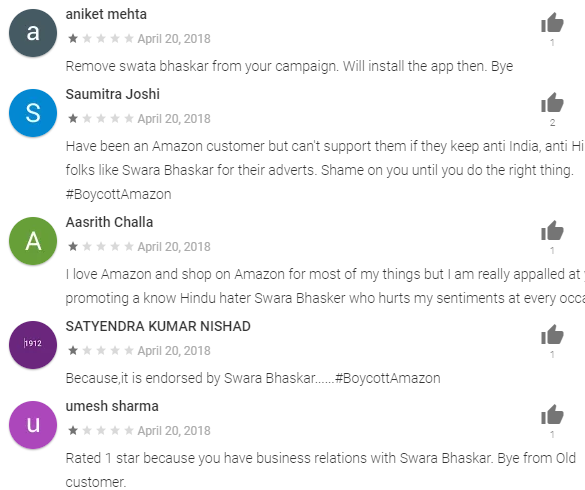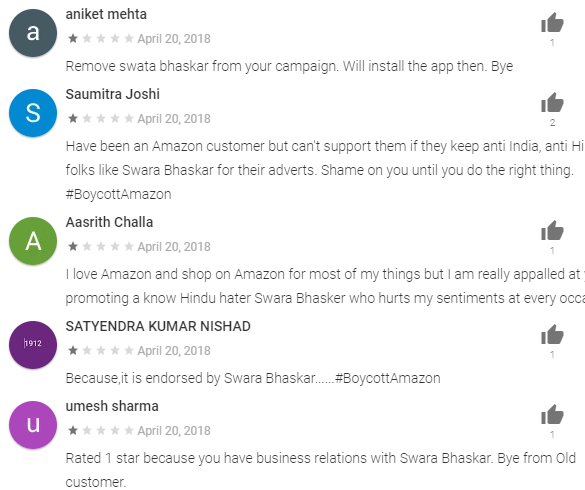 Several people said that they were loyal customers, but would abandon the app because of Amazon's association with Swara Bhasker. "Rated 1 star because you have business relations with Swara Bhaskar. Bye from old customer," wrote Umesh Sharma. "I love Amazon..but am really appalled at promoting a known Hindu hater," wrote Aashrith Challa.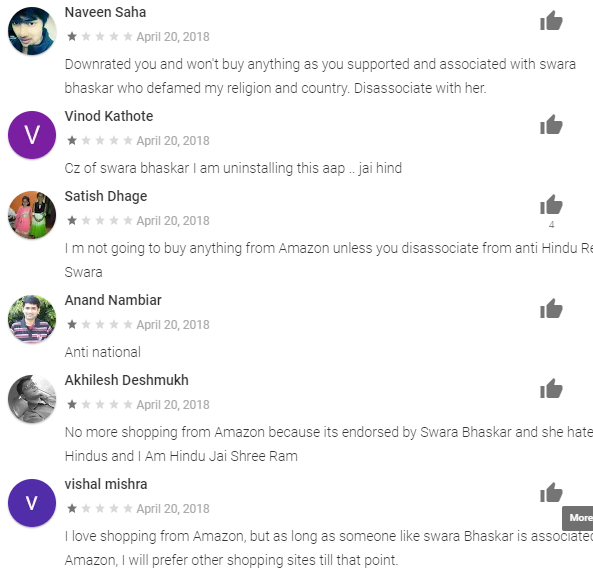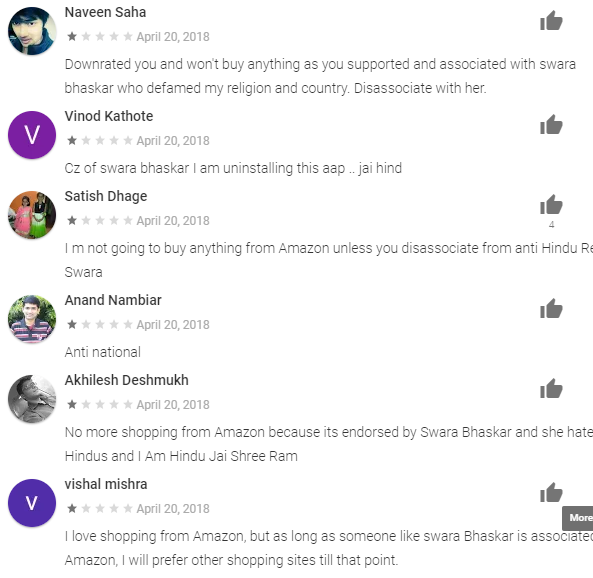 The entire fracas began on Twitter, where Bhasker was involved in a promotional activity with Amazon. Amazon had been getting some small-time celebrities to share the problems they'd encountered while moving to a new city. These promotions are generally paid, and Bhasker appeared to be one of the celebrities contracted, sharing her experience on Amazon's tweet.
When I made the big move to a new city, all I wanted was a swanky music system, music being my passion! No matter how much I hunted for it, couldn't find anything of my choice. In fact, I only got confused! #AjnabiShaharKiGoogly #ChonkpurCheetahs @amazonIN https://t.co/dQcI3z3zww

— Swara Bhasker (@ReallySwara) April 19, 2018
Calls to boycott Amazon began soon after she'd tweeted.
Hi @amazonIN it will be very difficult for me to order something from you guys if u have a India hater Swara Bhaskar endorsing my Apni Dukaan… She hates India and it's traditions …how can she endorse your Indian values

— अंकित जैन (@indiantweeter) April 19, 2018
Time to Boycott Amazon !

Will delete the app soon ..& goods in transit will be returned

— JustHarish (@TweetStreet247) April 19, 2018
Some users told Amazon that they needed to choose their influencers more carefully.
Aye @amazonIN, she ain't no influencer. Choose carefully.

— vps (@vps_sng) April 19, 2018
People also began sharing screenshots of them deleting their Amazon apps.
Amazon India's brand ambassador is 'Tukde Tukde gang' member Swara Bhaskar, so I am uninstalling this app. Until they remove this anti-India Swarup Bhaskar, I will not use the Amazon website or its app #BoycottAmazon pic.twitter.com/xtLHJlkDJL

— ॐ দীপেন্দু ॐ (@dipendu_) April 19, 2018
I have uninstalled the @amazonIN app, and I urge you to do the same until @amazon disassociates itself from India hater Swara. Also, support hash tags #BoycottAmazon #UninstallAmazon pic.twitter.com/PNVnzc2GmX

— हम भारत के लोग (@India_Policy) April 19, 2018
While others started sharing screenshots of cancelling the orders they'd made on Amazon.
I really love shopping from Amazon. One of the best online shopping portal. But nothing great when it comes to religion & nation. So I urge @amazonIN to disassociate India hater Swara.

Rrequested a return of one product recently delivered #BoycottAmazon pic.twitter.com/kUtoN04Xsn

— Vishal (@vsurywanshi87) April 19, 2018
This isn't the first time Indians have descended on apps and bombarded them with one-star ratings as a form of protest. In 2015, thousands of users had hit Snapdeal's app with one-star reviews after actor Aamir Khan had said that he didn't feel safe in India any more. Last year, Indians had left nasty reviews for Snapchat after CEO Evan Spiegel had allegedly said that India was too poor to have Snapchat. And just this year, users had rated ScoopWhoop's app with one-star ratings after it had published an article calling Holi the worst festival — on Holi.
Swara Bhasker, for her part, appears to have attracted the ire of a large section of Indians through her provocative tweets in recent times. She'd appeared to blame "Hindustan" for the recent rape in Kathua, and had focused on how the rape had occurred in a Hindu temple. Bhasker seems perfectly aware of what her actions entail — in her Twitter bio, she calls herself a "Right-wing baiter". But as she's finding out, you can either make money through becoming an influencer for large corporations, or alienate half the population — but you can't do both.
Update: Amazon has deleted the tweet in which it had responded to Swara Bhasker. It has also deleted the original tweet that Bhasker had responded to, effectively removing all traces of the social campaign from Twitter.