Even as Chinese apps have been shunted off app stores, Indian apps are quickly coming in to try to take their place.
The Art of Living Foundation, run by Sri Sri Ravi Shankar, has thrown its hat into the social networking space with the launch of Elyments, which it calls "India's first social media super app". The app was launched by Vice President Venkaiah Naidu and Sri Sri Ravi Shankar, and has been made by Art of Living volunteers.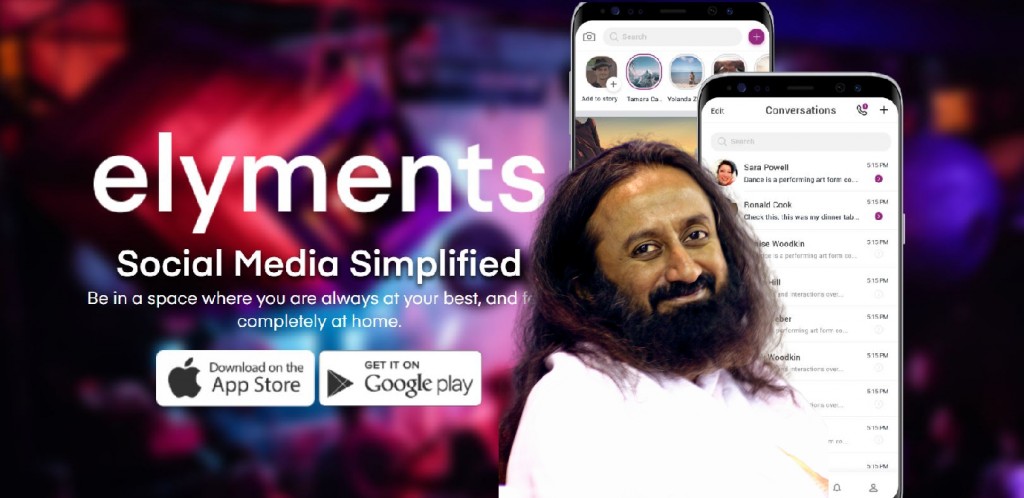 The high profile launch appears to have paid off — Elyments already has over a million downloads on the Play Store. The app is playing up its Indian origins, and that's a smart strategy at a time when tensions with China are at a high, and the Prime Minister himself has given the call for an Atmanirbhar Bharat. "From Day Zero, Elyments has been built with user's privacy as a primary concern. Data of users is stored in India and user's data will never be shared with a third party without user's consent," Sri Sri Ravi Shankar said.
The app itself has several sections — the first is "Hub", which appears to have news articles from publications including Storypick and Opindia, and sections on Bollywood, Health, Lifestyle and others. The app also lets users shop straight from the app, and there's even a section for games.  The social feed has updates from the people you follow, and also a discover tab that lists out popular content within the app. There's also a section to chat with contacts.
Elyments already seems to have a fair bit of content on it — some popular right-leaning influncers are already on the app, as is cricket star Yuvraj Singh. The nature of updates that these people are sharing seem to be similar to those shared on Facebook — there's a mixture of text, photo and video posts. Like on Facebook, other users can like and comment on these updates.
Elyments' biggest strength might be its founders — the Art of Living foundation has thousands of members across the world, and they'll likely serve as initial users for the app. The biggest challenge for most social media networks is getting their initial set of users, and thanks to the prominence of its founders, Elyments already seems to have that part fixed. The app also seems reasonably robust — while there were some issues loading certain elements, the app performed reasonably well for a newly-launched product. Most importantly, the app is Made in India, so will draw users who have concerns about using foreign social networks. But Elyments doesn't seem to have a "wow" feature that'll make people want to come to the app — it appears to be an amalgamation of existing popular apps with games, shopping and social networking all thrown in. But the app already has over a million users, and if they can stick around and create unique content, and build a community over time, Elyments might just end up making a dent in India's recently-upturned social media space.