Going to a cafe is a fun and social experience. For some it could be just to grab a much-needed coffee or tea, while for the others it's a social activity which gives them a chance and a place to meet people, network and share ideas. While the cafe culture is mushrooming in India and there are well-designed, modern, and even unique themed cafes especially in the metro cities, there are some concept cafes that are doubling up as hubs for social awareness and change.
Not only do these serve up a cup of coffee and delicious fare for the foodie, but they seek to evoke your conscience, and act as focal points to create awareness and support many social initiatives. A visit to these cafes can only not be humbling and perspective giving, but is highly recommended to understand and support the owners in their noble causes.
1.  Sheroes Hangout Cafe, Agra: 
Cafe run by acid attack survivors.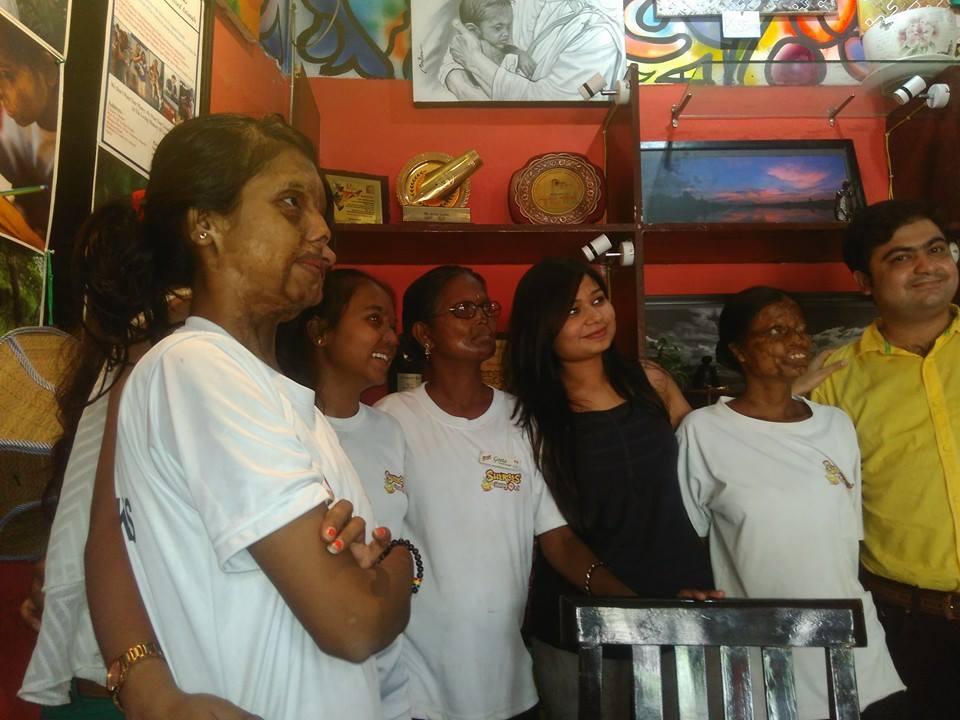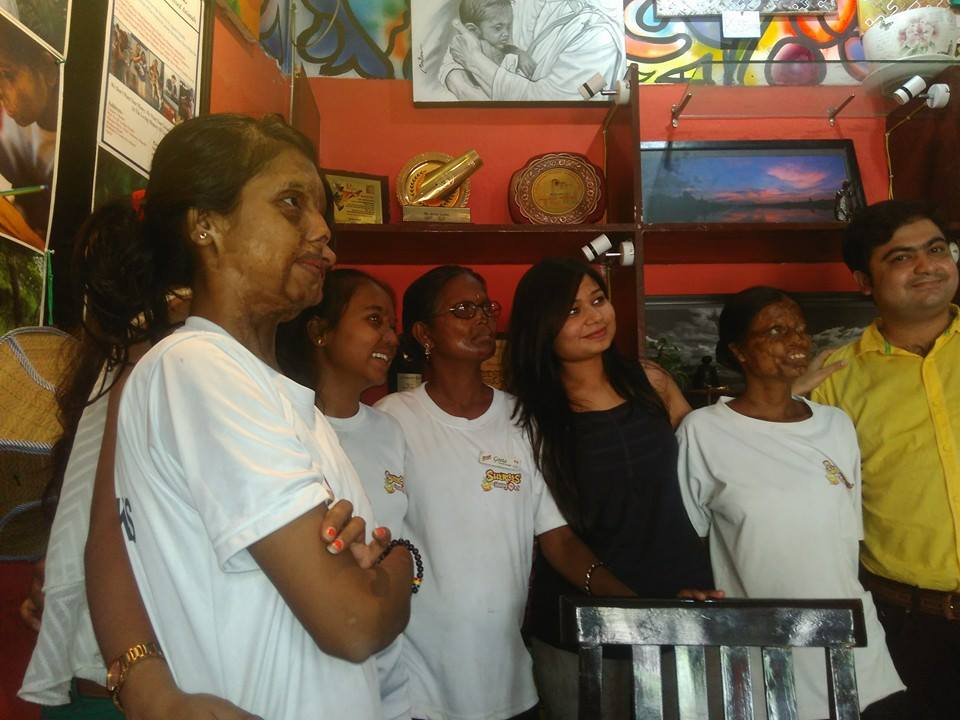 The world comes to Agra to see the beautiful Taj Mahal, an enduring Wonder Of The World. Just a lane apart is the Sheroes Hangout Cafe. The women who work at Sheroes Hangout are just like every other waitress, minus one detail: they've all lived through devastating assaults by men who threw acid at their faces. When the patrons of the cafe are not enjoying a cup of chai or curled up with a book, they can have a word with the strong women of the cafe and hear their stories. The cafe runs on a pay-as-you-wish concept and offers free Wifi. It has been drawing patrons from all parts of the world including celebrities who are moved by the resilient spirit of its staff and their heartbreaking stories.
2. KumZum Travel Cafe, New Delhi:

Travel inspired cafe where you pay-as-you-wish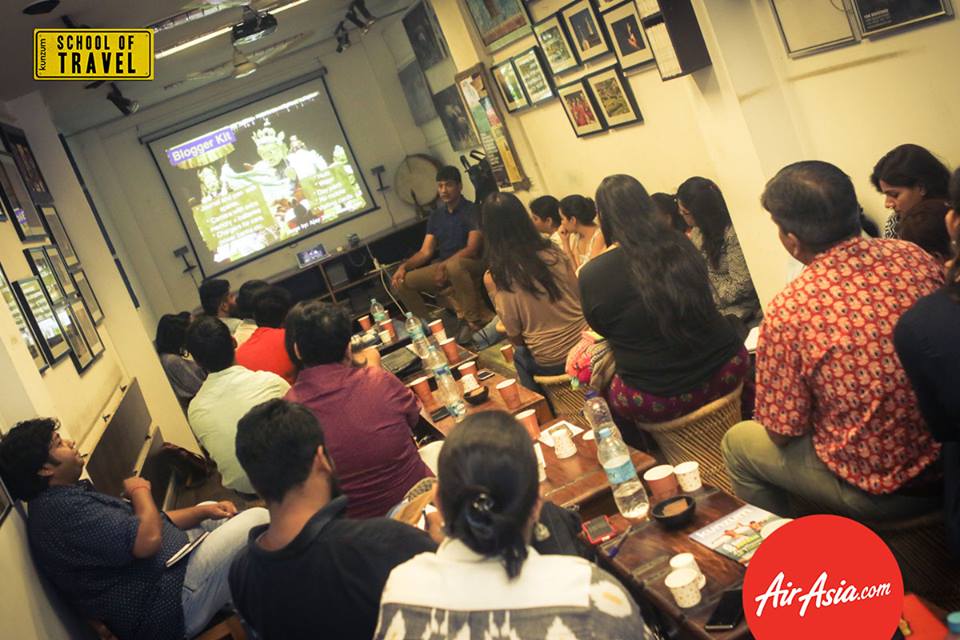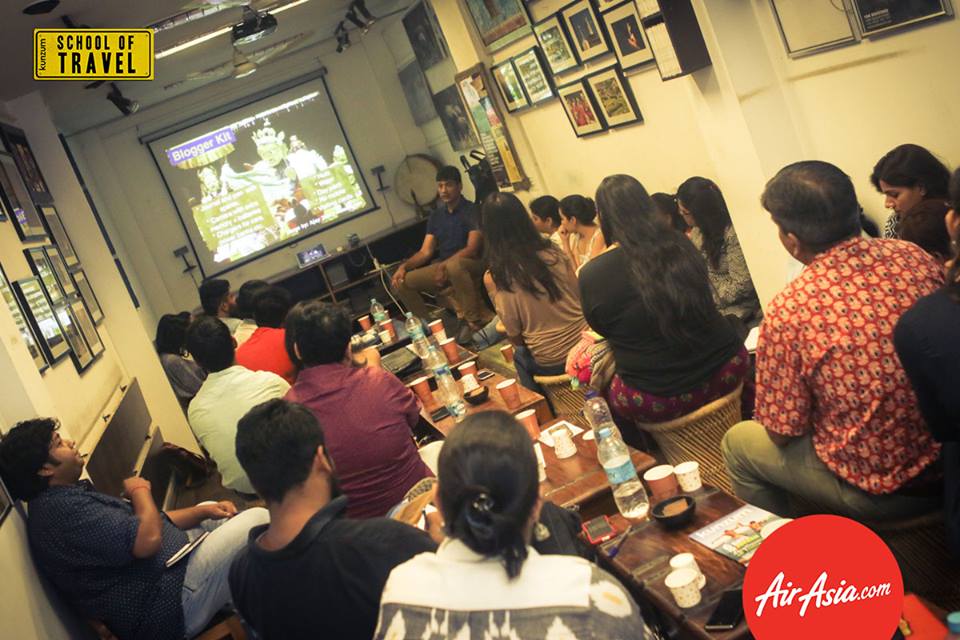 If this cafe is not already a pitstop on your way to somewhere it might just inspire you to go. Kumzum is a cafe to come to meet travelers and focus on all things travel. Started by acclaimed travel blogger Ajay Jain, the tiny cafe in the popular Hauz Khas area has a limited set of items on the menu and works on a pay-as-you-wish model. The cafe houses travel books and magazines (you can probably find all editions of the Lonely Planet in there!), artwork from around the world, and regularly hosts talks, workshops sessions on social issues, apart from travel inspiration.
3. Dialogues Cafe, Bengaluru –

Cafe and coworking space that charges only for time, not for the food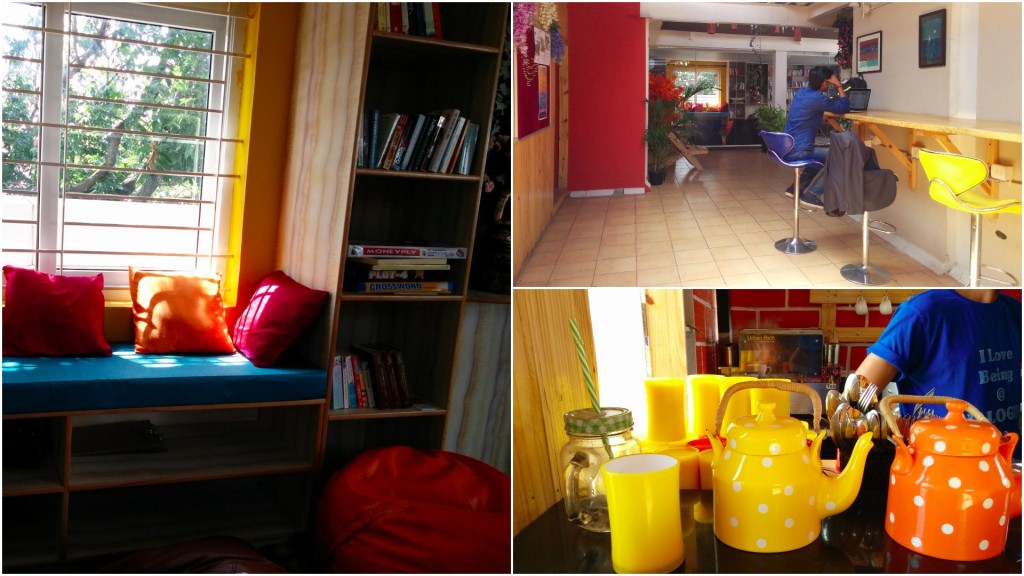 At this pretty and spacious cafe in the heart of Koramangla, one pays for the time spent at the cafe, and everything else is on the house.  The Dialogues menu offers a basic cafe fare like coffee, chai, some non alcoholic beverages, and sandwiches and burgers as of now. The food options get changed twice in a day, for breakfast and then for dinner. The founders are also opening up the space as a potential venue for performances, music gigs, and office events. Moreover, with reasonably priced weekly and monthly passes, the cafe also doubles up as an interesting co-working space for digital nomads and early startups.
4.  Taste of Darkness, Hyderabad – Restaurant that offers meals in complete darkness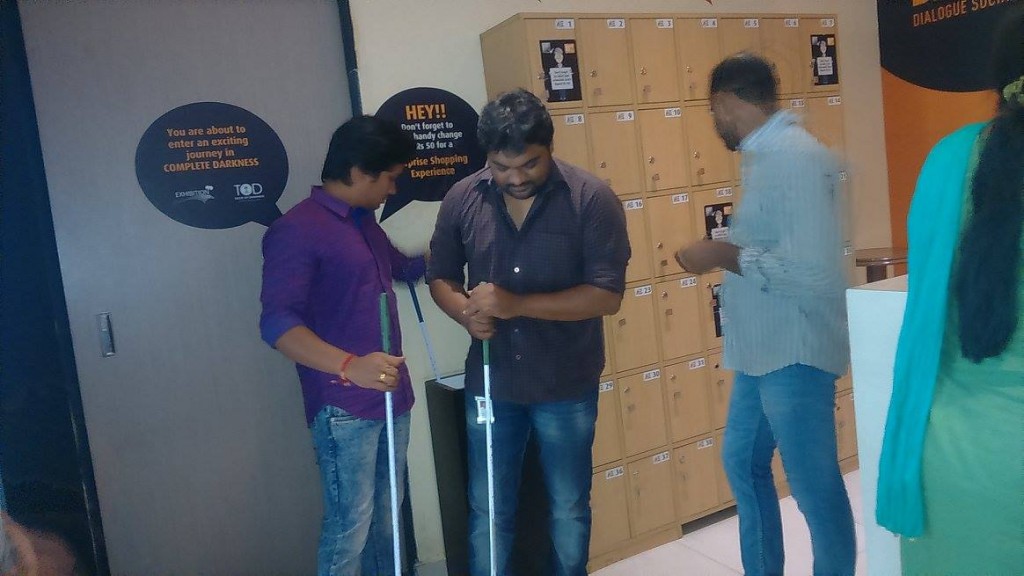 A visit to this place can be quite a perspective changer. The themed cafe operates in complete darkness so you experience, feel and taste things, instead of seeing them. The idea is to experience and sensitise people on the challenges of being visually challenged. Imagine a proper, formal, sit-down dinner with 50 people, in a room that's bathed in complete darkness.In a world that's increasingly consumed by the visual aspects of food and is big on food photography, Taste of Darkness lets you focus on the non visual aspects of food such as its feel, flavours, and taste.
5. Seva Cafe, Bengaluru –

Restaurant run by volunteers and works on "pay forward" basis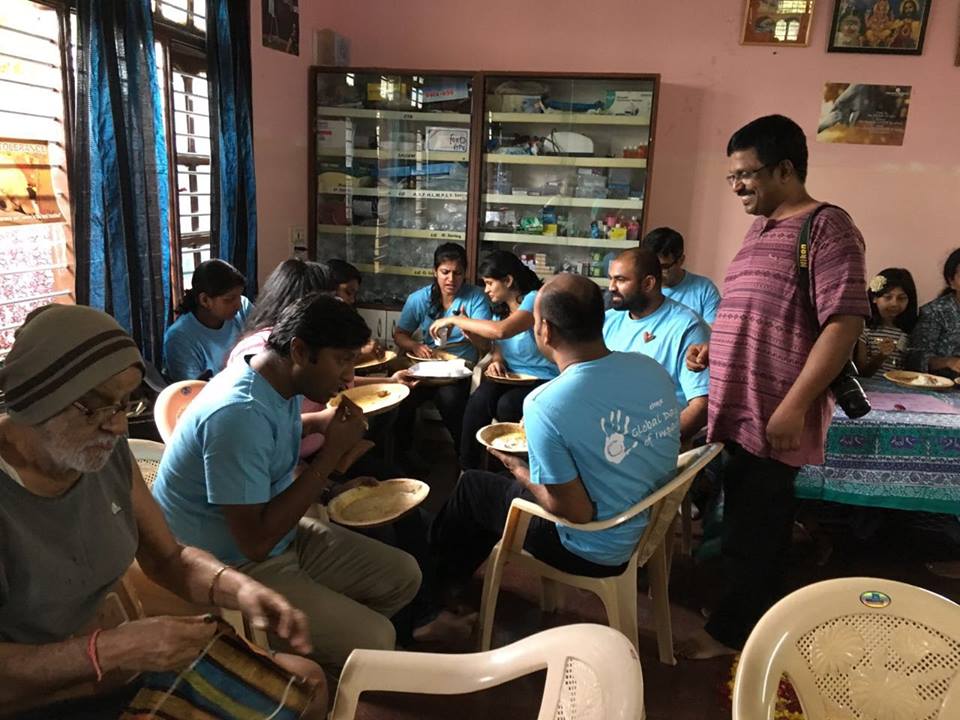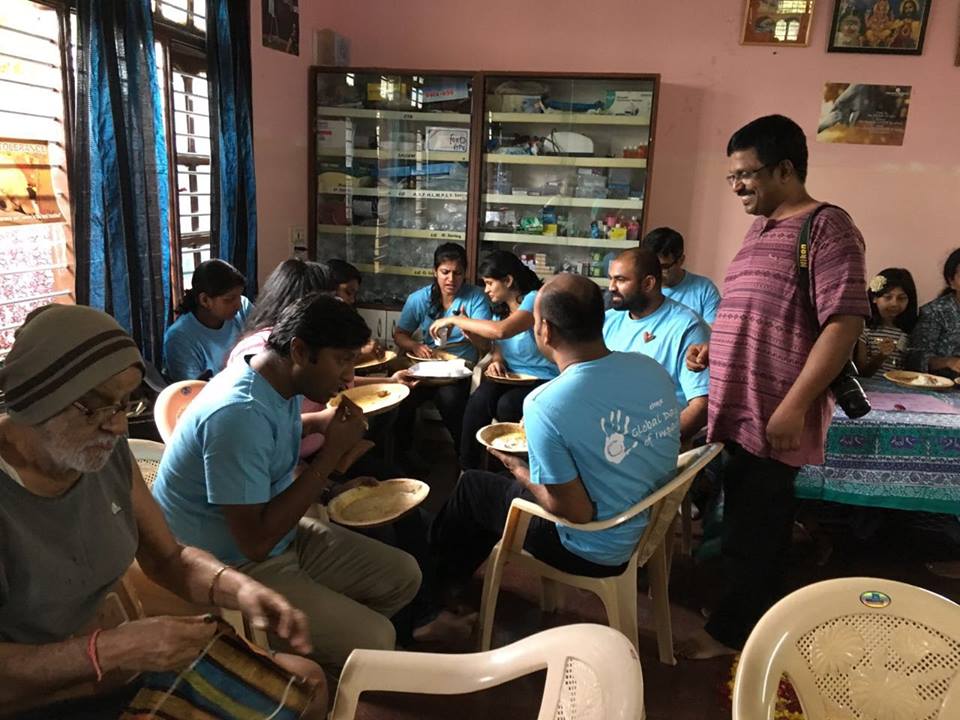 Imagine a restaurant where there are no prices on the menu and where the check reads Rs.0 with only this footnote: "Your meal was a gift from someone who came before you. To keep the chain of gifts alive, we invite you to pay it forward for those dine after you."  That's Seva Cafe, a experiment in 'peer to peer' generosity. Driven by volunteers, the meals at this restaurant are served as a gift to the next customer from the previous. To complete the full circle of giving and sustain this experiment, guests make contributions in the spirit of pay-it-forward to those who will come after them. All costs and income are made transparent, and 100% of any profits are used to support social service projects.
6. Cat Studio Cafe, Mumbai –

cat friendly cafe/coworking space that's home to rescue cats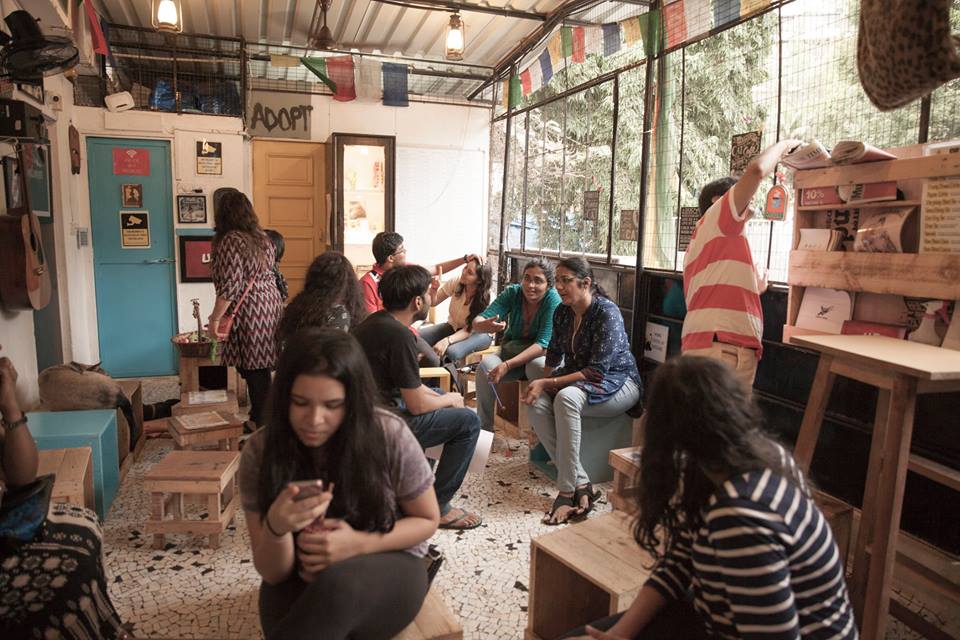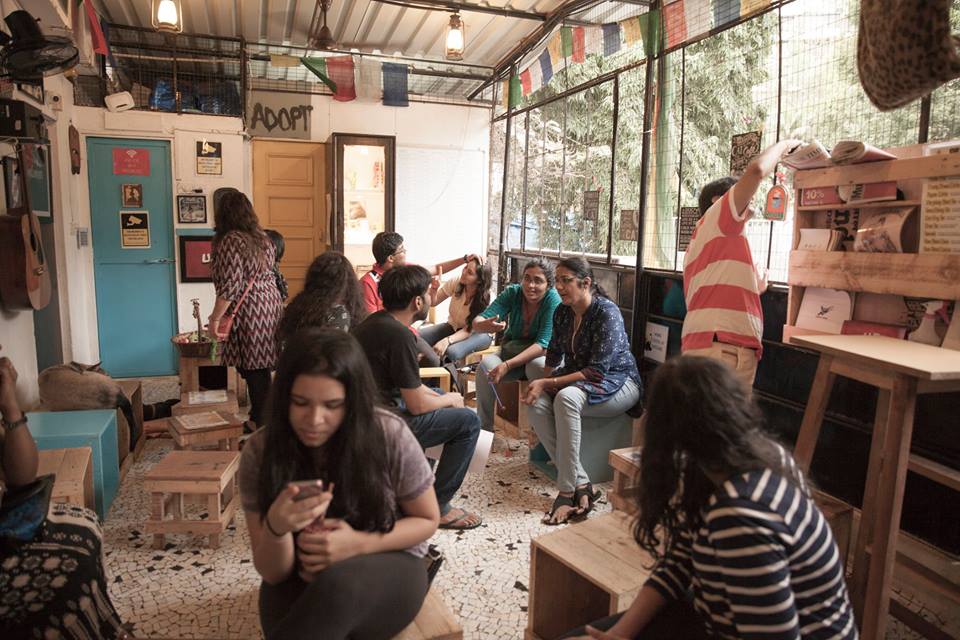 Mumbai's first and a one-of-its-kind, the Cat Cafe Studio in Mumbai doesn't only serve up coffee and works as a community hub, but is also home to many rescued and rehabliated cats. Customers can play and cuddle with the cats, and also adopt one. The trio that manage the café organise a lot of offline events with art exhibitions, open mic nights, theatre and bake sales where people can play with the cats and enjoy the show. Whatever they make, more than 12-15% of their profit goes in helping cats and dogs.
7. TherCup Dog Cafe Bengaluru –

Dog friendly cafe that's home to dogs up for adoption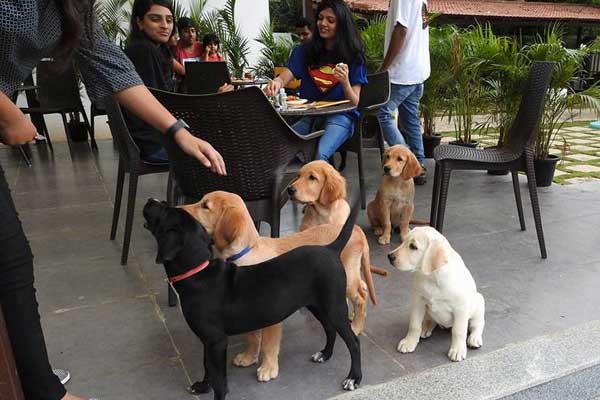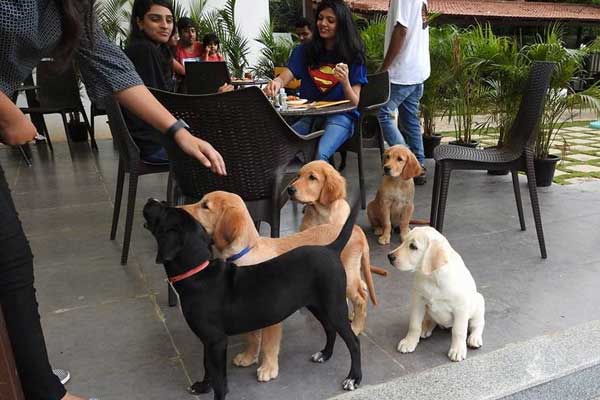 If cats can have a cafe of their own, why should dogs be far behind? Bengaluru's first dog cafe serves treats for your furry friend and you. Catch a latte while cuddling with the in-house Cookie, or enjoy a lazy Sunday brunch with Bruno.  Apart from the human menu, TherPUP also has a specialized Dog-food menu, carefully tailored to meet the nutritional requirements of the pooches, including chicken mutt-balls, healthy doggie platter and Melon Pup-sicles. And if you happen to fall in love with one of the cuddly babies at the cafe, you'll be encouraged to take one back home.
8. Tihar Jail food court, New Delhi –

Canteen run by jail inmates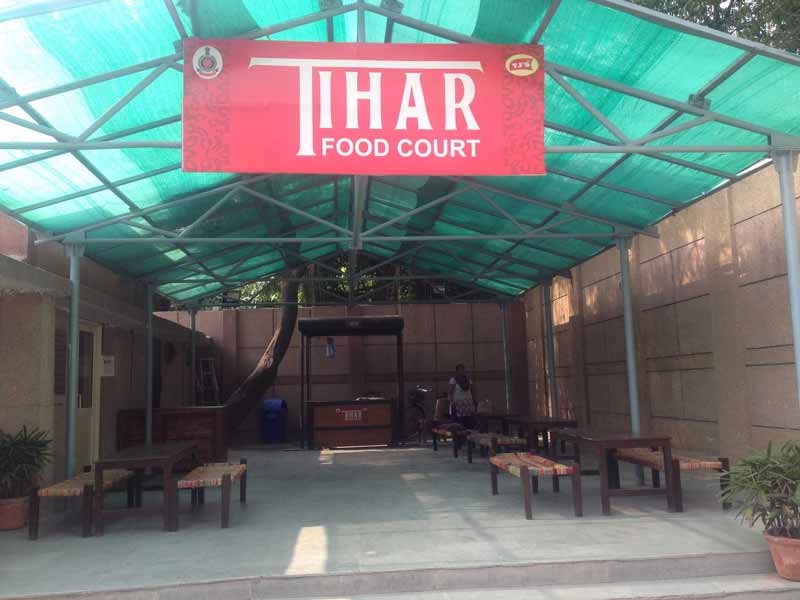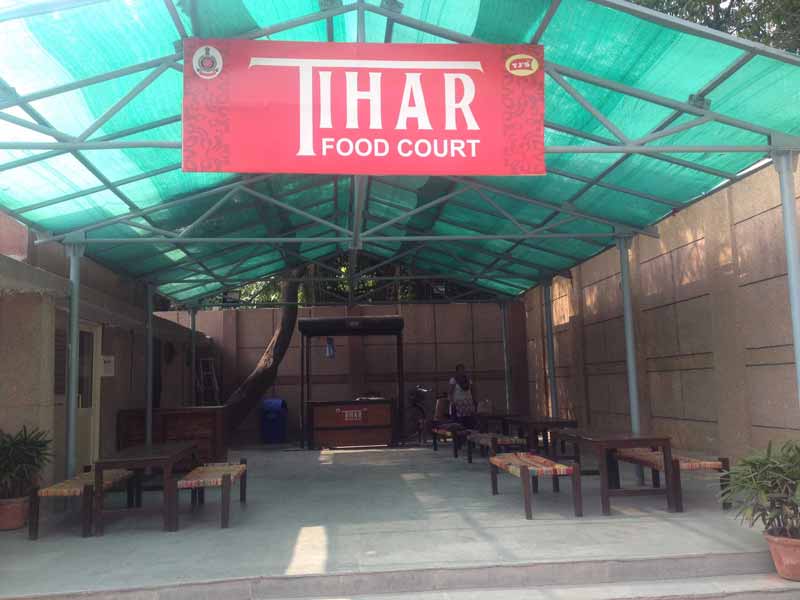 The Tihar jail is one of the most iconic and largest jails in Southeast Asia, infamous for its strict terms and even stricter jailers. However, the authorities are making constant efforts to give the inmates a second life and reward good conduct. Establishing a food court is another step in this direction. Convicts are employed as waiters and staff at this restaurant and revenue from the non-profit restaurant, flagged under the TJ's brand of products and made by prisoners, is earmarked for prisoner welfare and vocational training. In order to be eligible to work in the food court, the inmate has to have an unblemished record through at least 12 years of imprisonment and a minimum of a high school education.
9. New Lucky Restaurant, Ahmedabad –

Restaurant built over a cemetery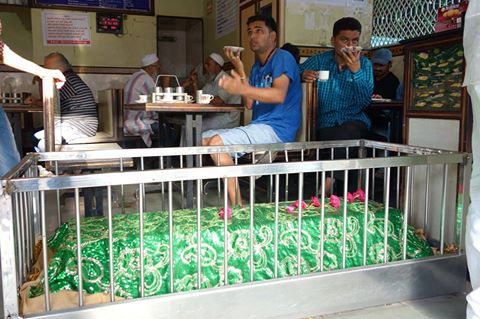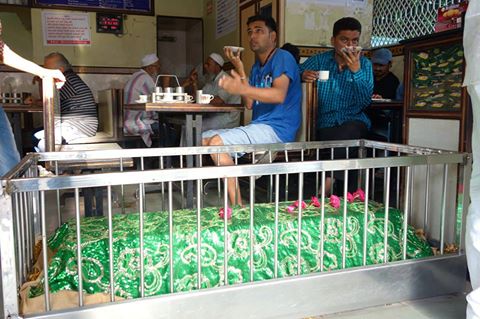 In a land like India, where life and death intertwine so naturally, and reincarnation is such an important part of religion, what better place to build a restaurant than in the middle of an old cemetery? This bustling cafe is laid out amidst rows of a thankfully-now-defunct Muslim graveyard in Ahmedabad. The owner Krishna Kutti wanted to open a restaurant at the site of the graveyard, but instead of having the graveyard dug up and erased, he chose to let the sleeping lie and work around the graveyard. The restaurants attracts new as well loyal customers, who don't mind having corpses as a side to their tea and rolls. "The graveyard is good luck. Our business is better because of it", the owner has famously said.
10. The 'Giving Tree', Pappadavada, Kochi –

A free community fridge for the poor and hungry
While the restaurant itself is a regular food joint, it's come up with a unique solution to help the homeless and hungry. Pappadavada, a popular food joint in Kochi has installed a public fridge outside the restaurant where the leftover uneaten food from the restaurant is available for anyone to help themselves to.   The owner Minu Pauline calls the initiative 'Nanma Maram', which roughly means 'giving tree', which she sees as an opportunity to distribute excesses to the those who are needy. She ensures that her restaurant keeps at least 50 food packs in the fridge, daily. Those who are less fortunate to afford a meal are invited to come and take food as they please, at any time of the day or night.
11. Cafe Toto, Kolkata –

French cafe and school run by trainees from underprivileged backgrounds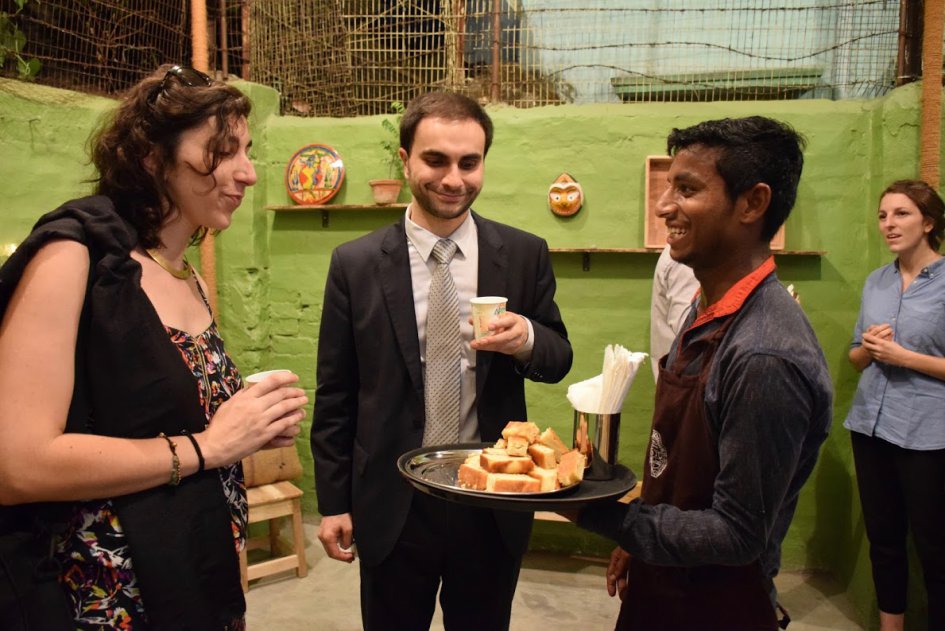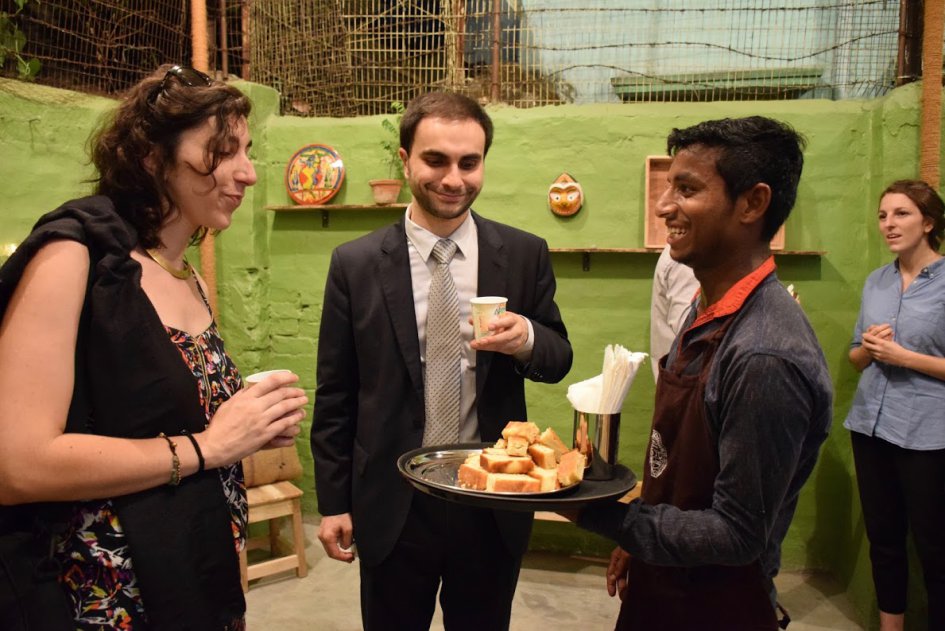 Located in south Kolkata's Chetla area, the restaurant-school is a collaboration between NGO Tomorrow's Foundation and the French NGO Life Project 4 Youth with support from the French consulate in Calcutta .  The school cum cafe will train children from underprivileged backgrounds on courses that include cooking, service, setting hygiene standards, commercial and financial management of funds.  The cafe can seat 20 people at a time and is open two to three days a week for lunch and will offer vegetarian fare including European starters and desserts. The trainees come from different backgrounds: orphans, disabled, victims of domestic violence and others.
12. Nukkad tea cafe, Raipur –

Cafe that employs only the deaf and dumb as staff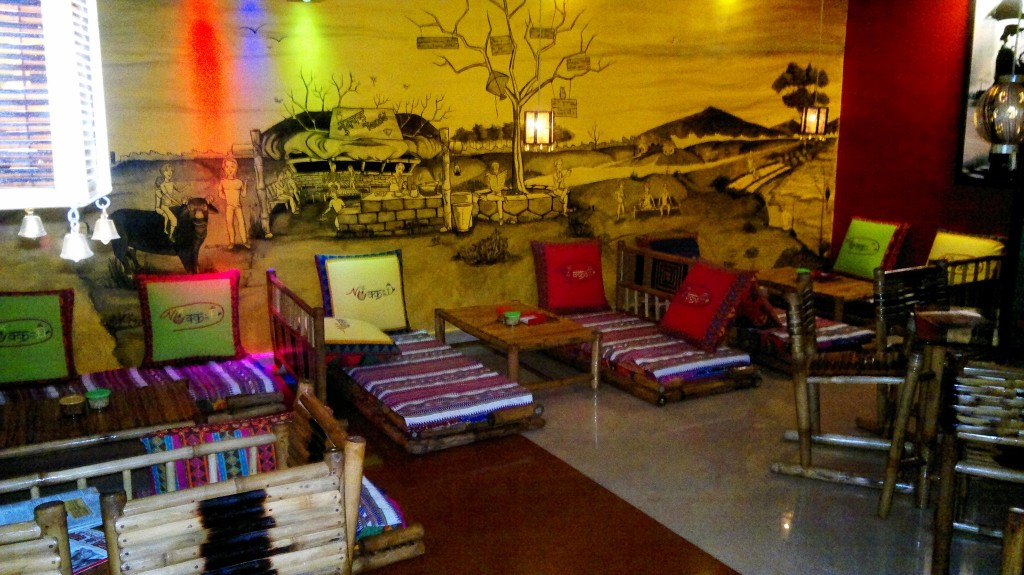 At this cafe in Raipur, the small capital city of Chhattisgarh, cups of hot tea and samosas come with communicating in sign language with hearing and speech impaired staff members, enjoying books, reciting poems amongst other activities. The cafe aims to not provide a unique dining experience, but to also sensitise fully-abled people to the challenges of being a hearing or speech impaired person. The cafe also provides a discount to people who deposit their phones at the reception. "We want people to enjoy the experience without being hooked to their phones or chatting with people who are not actually present there. Instead, we want them to celebrate their time, have fun, read a book, talk to a stranger, and more," says Priyank Patel, the owner.