Days after the military standoff between the Indian army and the Chinese troops at the Galwan valley in Ladakh in which India lost over 20 of her soldiers, India's citizens are rallying to stand up against China. While the Indian army beefs up at its protection from Chinese intrusion at the border, the ordinary Indian wants to hit China where it hurts the most – its might as a global economic power and a major source of imported products in India.
Even as the clip from Gujarat where a family was seen tossing a presumably Chinese-brand flat-screen TV from the second storey house onto the street goes viral, netizens are sharing ways to make their punitive commitment against China clear. "Lets defeat China, not with bullets but with the wallet.", says a much-repeated tweet, "Made in China = Made With Blood of innocents", says another.  Amul, the homegrown brand that's famous for its legendary use of topical content,  has weighed in too.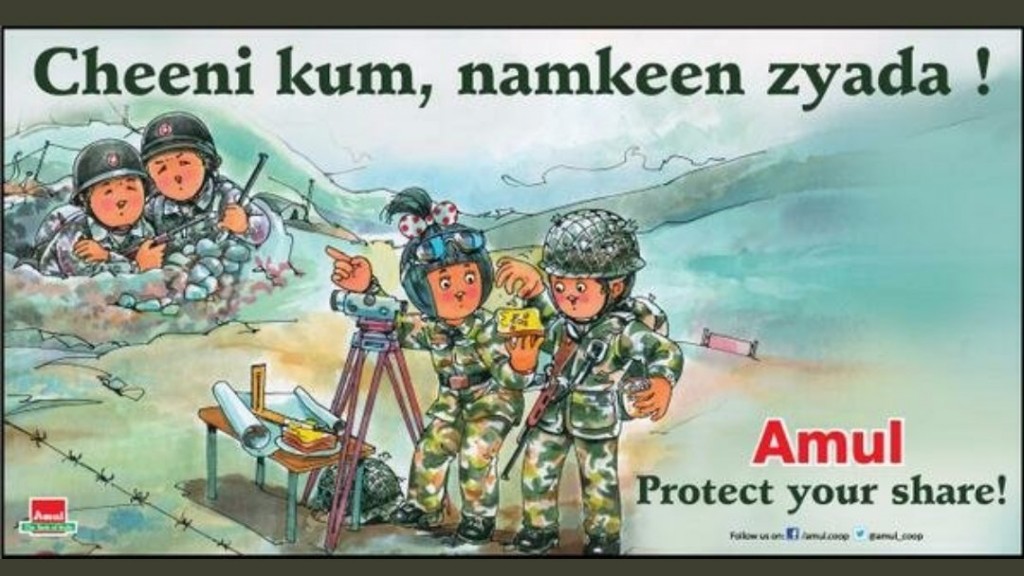 Trends ranging from #BoycottChina to #WeWillCrushChina have been trending on social media for days. Posts that evoke the patriot in one and to boycott commonly used Chinese brands abound the internet in the wake of the border clash between Indian and China.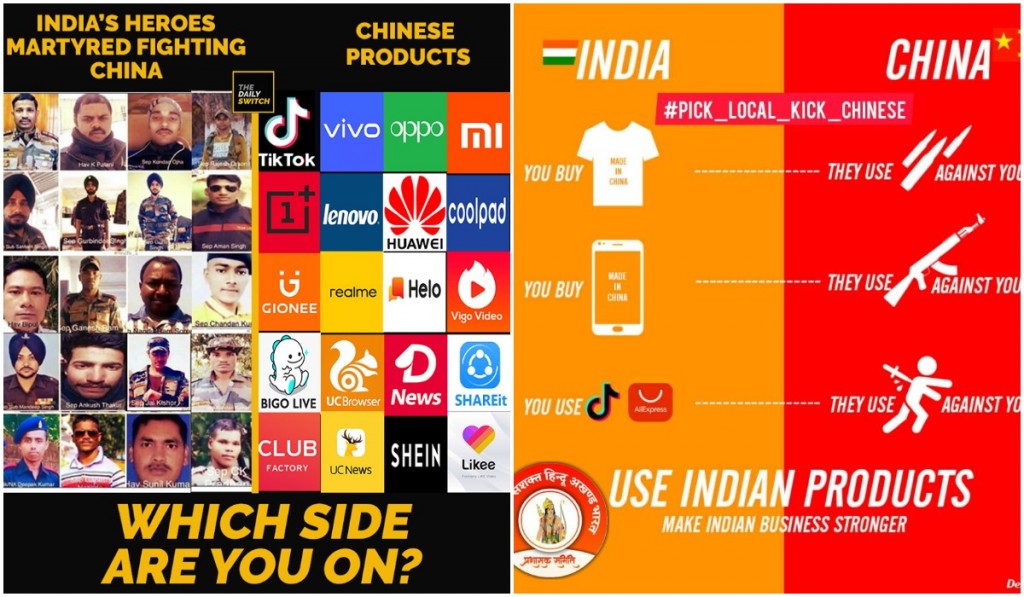 While the fatal standoff on Monday escalated the matters between the two countries, border tensions between India and China have been brewing for a while. Just last month, a video by activist Sonam Wangchuk where he appealed to Indians to abandon made-in-China products, led to a mass movement of uninstalling Chinese made apps, so much so that an Indian app called "Remove China App" had over a million downloads in a few days, and was used to automatically remove as many as fifteen Chinese origin apps, including Tiktok and WeChat, from Indian smartphones.  The animosity against the Chinese-owned TikTok also came to a head when after a few clips featuring problematic content uploaded by users emerged, Indians hit the app with millions of 1 star ratings and negative reviews, leading to the app sporting a 1* rating from an earlier 4.4* one. (albeit, later restored.)
The Chinese boycott isn't just stemming from a jingoistic fervour either. In the wake of the Covid19 pandemic, as the country's battered economy looks to recover and rebuild, supporting the local industry and curbing imports has been the clarion call of the Indian government. In early May, PM Modi appealed to the nation to "Go Vocal for Local" and patronise Make-In-India products.
Not everyone's on board with the anti-China narrative though. Some critics of the Boycott Chinese products have called out the counter-productivity of shunning made-in-China products while the startup ecosystem in India is flush with Chinese money. Sure enough, over 50 Indian startups, including unicorns like Paytm, Zomato, Ola, and Big Basket have a major funding from Chinese investors like Alibaba, Tencent amongst others. But then others believe that Chinese funding in Indian startups, doesn't hurt but boosts the Indian economy, by ramping up infrastructure and creating large scale employment opportunities in Indian companies.
There's another wet blanket against the economic boycott. India's imports represent just over 3% of China's total exports, and admittedly India's hostile boycott of China's may not create a huge dent in the Chinese economy. 
However, the symbolic nature of this mass anti-China movement in India is a force to reckon with.   Within the country, the movement is helping dispense a subliminal message that the days of depending on cheaper Chinese imports over supporting the locally-made products may well be over. Chinese brands too have taken note. Chinese phone maker Oppo canceled a live phone launch scheduled for Wednesday citing "technical glitch".
With the Indian government backing the economic boycott of China with a push to supporting the local economy, as similar conversations rise in the other two big economies, the US and Israel, China may find its backbone – its economic superpower –  massively strained, if not completely crushed.