PM Modi in his address to the nation today highlighted the importance of encouraging a strong and self-reliant economy in the wake of the Coronavirus pandemic. In the 40 minute address with 'Atma Nirbharta' or self-reliance as its leit motif, the PM repeatedly focussed on the importance of a local economy. "Be vocal about local" is one of the catchphrases he used to highlight the importance of not only using but also endorsing and promoting the locally-made and locally-sourced products. He cited the example of him urging the country to use Khaadi a few years ago which led to a revolution in the Indian handloom sector and Khaadi did not only broke all-time sales records in India, but also became a highly exported commodity. We did an article on the Top Indian Brands That Are Exported The world over, a sentiment that's gaining traction with the increased focus on PM's Swadeshi Movement 2.0.
In that spirit, here's the top crowdsourced Made-in-India products and brands to choose over their foreign made counterparts. Of course, there's many small players, and no-name brands and small cooperatives that are proudly made -in-India and should be considered for purchase as much as possible. This list is to highlight some of the larger made-in-India brands.
1. Bira 91 for beer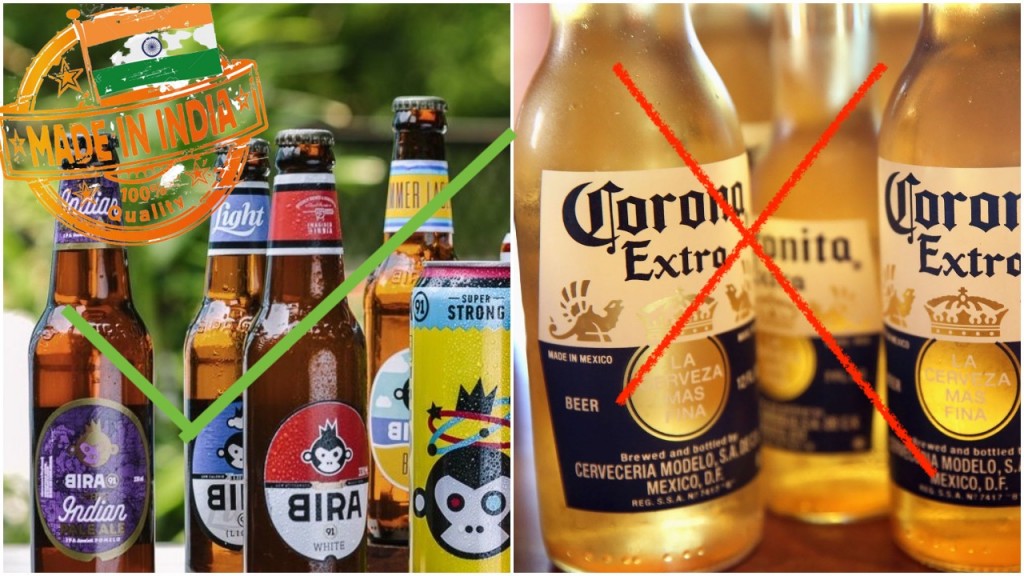 The home-brewed beer brand emerged at the top of all Make-in-India lists with over 20 mentions. It of course helps that in the current times Bira is also the favoured beer over its mis-named counterpart, the Corona beer. Other Indian produced alcohol brands include Old Monk, Amrut, Kingfisher, and Royal Challenge. The humble "IMFL" tag at bars in the country may carry more nationalistic sentiment than ever and boost its sale amongst the Johnny Walker audience, once the lockdown lifts that is.
2. Mysore Sandal/ Medimix / Patanjali Soaps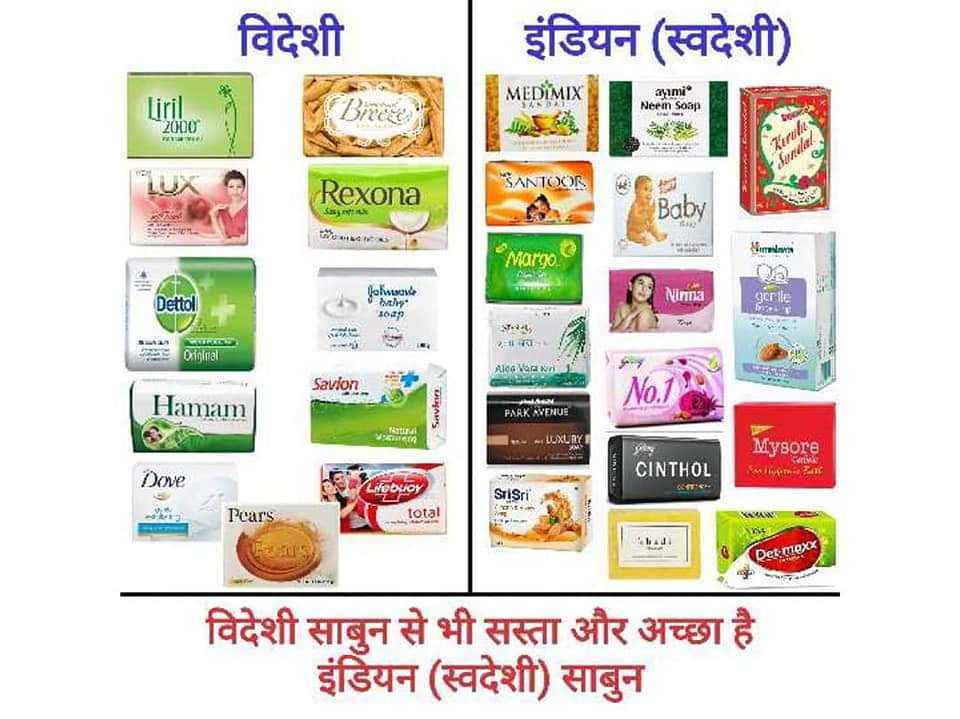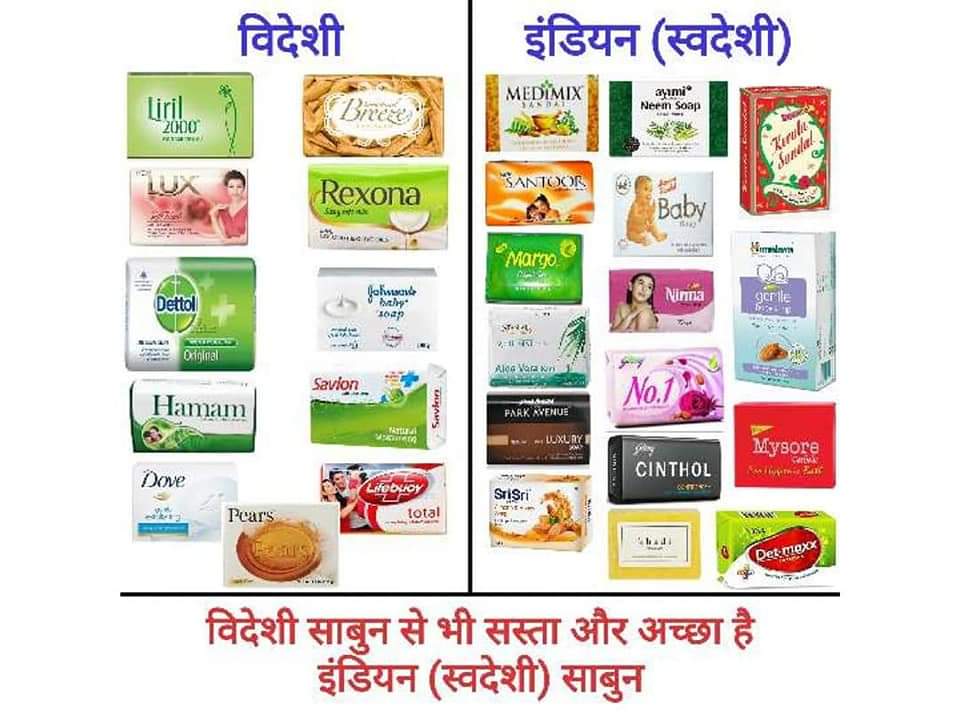 Indian bathrooms may be awash with soaps and other personal care products from FMCG biggies like Unilever and P&G for over a century now, but in the light of all things make-in-India and owned by India, 100% Indian soap brands such as Mysore Sandal, Medimix, Chandrika, and Patanjali's range of soaps are finding favour with Indians.
3.  Rupa/Dollar/Lux Undergarments
India may be a textile powerhouse in its own right, but the 19,950 crore undergarment industry in India is largely dominated by foreign brands such as Jockey, Enamour, and more in tier 1 cities. The made-in-India innerwear brands like Rupa, Dollar, Lux, and local brands under lingerie e-tailer Zivame may seen a push in this movement.
4. Allen Solly/ Van Heusen/ Peter English for clothing brands
Their foreign-sounding names notwithstanding, Allen Solly, Van Heusen and Peter England are all Indian brands owned by Madura Fashion and Lifestyle, the retail giant under the Aditya Birla Conglomerate and can give foreign fashion brands such as Benetton, Zara and H&M a serious run for their dollars. Some of the other large Indian clothing brands are run by departmental store chains like Fashion by Big Bazaar, Reliance Retail, and Landmark Group.
5. Lakme / MyGlamm 
Lakme's story is one for brand history nerds. Started in 1952 as a 100% subsidiary of Tata oil mill, Lakme has survived over 70 years in an industry where foreign  makeup brands like Mac, Revlon, Maybelline, and L'oreal rule the roost. Indian designer Manish Malhotra launched his own brand of makeup and skincare products under the name MyGlamm which claims to be proudly made in India.
6. Himalaya / Lotus / Biotique for Skincare
Indian skincare brands like Himalaya, Lotus, Shahnaz Hussein, and Biotique have been prominent names in the indigenous skin care industry, incorporating the principles of Ayurveda and traditional Indian skincare recipes. However, the skincare market has seen an influx of foreign skin brands such as the Body Shop, L'oreal, Garnier, and brands under the American P&G umbrella, taking some sheen off the Indian brands.
7. Cafe Coffee Day For Coffee
CCD was synonymous with coffee in India, it set up the first ever cafe in the country, but the home-grown brand slowly lost market share as fancier, more exciting foreign names like Starbucks, Costa Coffee, McDonalds came on to the scene. However, the country's seen a surge in a plethora of local coffee roasters and brands like Third Wave Coffee roaster, Blue Tokai, KC Roasters are re-claiming and tapping the urban coffee market in India.
8. Tata and Mahindra for automobiles
In an admittedly complex industry where lines between locally-made and foreign-assembled can blur easily, people are still batting for Indian automobile brands like Tata, Bajaj, Mahindra, TVS and more. While some of their components and R&D may be foreign-sourced, their production remains largely within India, and profits from the automobile industry form a large part of India's GDP. Did you know the Royal Enfield  bikes or 'Bullet' as it's more popularly known is made by Eicher Motors, an Indian company? 
9. Maaza, Frooti and Paper Boat for beverages
Despite all their localization efforts, soft drinks major Coke and Pepsi are still considered foreign and therefore are being put in the same bucket as foreign brands. Home-grown drinks brands like Frooti, Maaza and Paper Boat are the drinks of choice for the Swadeshi-minded Indian.
10. Amul and Britannia over  Nestle and Danone for dairy
If one Indian brand can be the face of the original make-in-India success story, it's Amul – the 75 year old dairy behemoth – vision of Dr Varghese Kurian. Under the Amul and Wadia-group owned Britannia banner, more than 500 brands across dairy products line the supermarket shelves today, a feat even international biggies such as Danone would find hard to usurp. Add regional leaders in the dairy segment such as Mother's Dairy in the north and Nandhini in the South, and one would find the dairy industry at an enviable top of the make-In-India list.
11. Nirma washing powder
Popular washing detergents like Surf Excel, Tide and Ariel are produced in Indian factories employing Indian workforce and as such should be considered as Indian brands. But if one is looking for a detergent brand that's completely conceived and made by an Indian company, then the Gujarat based Nirma, and Ghadi detergent (made by Shri Mahadeo Soap Industries Pvt. Ltd.) should be adopted.
12. Made in India phone?
The one thing that everyone uses and needs, but  would be hard-pressed to find which phone is made in India or made by a 100% Indian company. Let's just  say telecom hardware is not our strongest suite. But the good news is that even Chinese and Korean phone biggies such as Vivo, OnePlus, Xiaomi and Samsung respectively have almost 100% production centres in India. That is, the phones use the tech developed and some inner components made in China and other countries, but are produced and marketed in India and by Indian workforce.  Vivo claims that 100% of its phones sold in India are made in India. Chinese phone giant Xiaomi manufactures the entire RedMi range of phones in India. Since 2018, iPhone XR is made in India. Moreover, Apple announced last year that it would be setting up a factory in Tamil Nadu to amp up complete production in India. Reportedly, all of OnePlus phones that have launched since the Oneplus 7 are manufactured in its Noida plant.
13. Skore / Manforce / Kohinoor for Condoms
While Durex – made by the Malaysian company Karex – may be synonymous with condoms in India, condoms from India companies such as Skore, Manforce, and Kohinoor may just be the best desi option for what we need to control the burgeoning population of the country.
In a world where the threat of an economic war from China looms large, and the #BoycottChineseProducts movement is gaining traction,  it's imperative we encourage industries that attempt to produce alternatives for Made-in-China products in the country, even if they bear a higher price tag.  One of such common products is the lights we use on Diwali and other occasions.  Another is the plastic toy market that is inundated with toys imported from China. Indian wooden toys do not only support local handicraft industries, they're also much more ecofriendly, and safer to use. 
While it's not possible to use an Indian or made-in-India product each time, it's important that that we begin to question the origins of the products we consume often, and consciously make an effort to encourage and buy locally made products as much as possible