BharatPe had created a splash last year by offering to give fresh hires BMW bikes when they joined the company, but a Chennai-based IT firm has done one better.
Chennai-based Kissflow, which makes software products for workflow and process management, has gifted five BMW 530D cars to five senior employees. Each car is worth around Rs. 1 crore. Kissflow said it had gifted the cars to the employees to honour their loyalty and commitment to the company.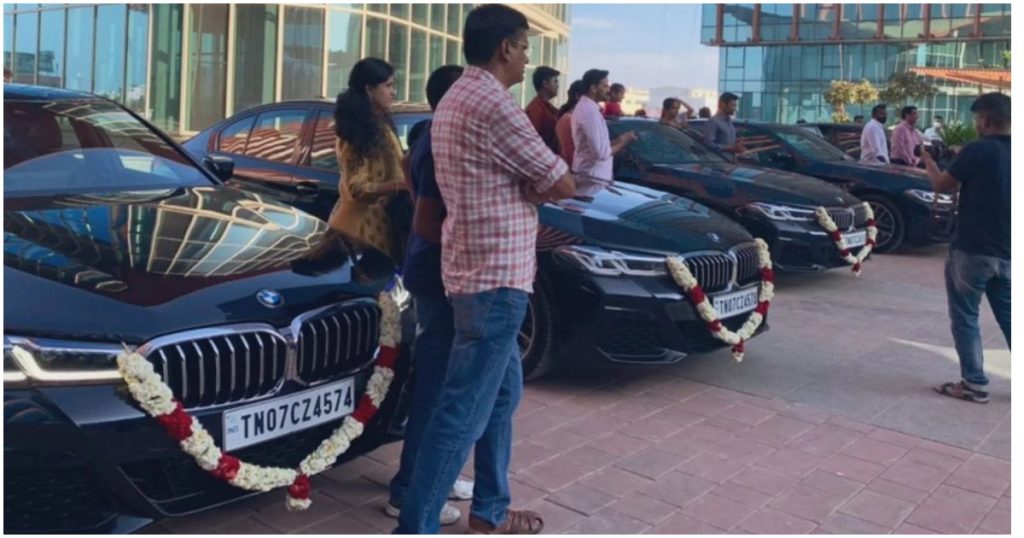 Kissflow had decided to surprise the employees who'd been gifted the cars. The company organized an event on Friday afternoon with all employees in attendance, and called the five employees on stage. The BMW cars then rolled next to them, much to the delight of all gathered.
"The cars are for these five who were with me when I dug 100 feet for gold (setting up Kissflow while others left the organisation midway)," said Kissflow CEO Suresh Sambandam said. Sambandam says the five had been were with him right from the inception of the company, and stayed with him during the course of its journey. Some of them hailed from humble backgrounds and had undergone various challenges before joining Kissflow.
Kissflow too faced many hurdles during the Covid-19 pandemic, and some of its investors even raised doubts if the company would run successfully. "There were difficult times. Even during the pandemic, the investors were not sure whether this company will sustain and build a future. Today we are very happy that we have paid back the investors and now it has become a fully owned privately held company," said Sambandam.
Suresh Sambandam had started his entrepreneurial journey all the way back in 2003, founding a company named Orangescape which worked with app development. After founding two more companies in the interim, he founded Kissflow in 2012, which was a workflow creator for Google apps. Kissflow eventually became a full-fledged work management platform. It today has over 300 employees and over 10,000 customers which include the likes of Pepsi, Domino's, Flipkart and Jet.
And while the best perks in tech are thought to be at companies like Google and Facebook, a small firm from Chennai appears to have outdone them all with its largesse — Google might provide free meals and massages, but it's unlikely that it's surprised employees with BMWs. And in an age when employees switch jobs on a whim based on slightly higher increments or slightly higher bonuses, on Kissflow has shown that, even in this day and age, loyalty does pay.