India's startup funding boom has meant that startups are now flush with cash, and the benefits are now trickling down to the most valued employees.
Fintech startup BharatPe has unveiled an extraordinary set of perks to attract top tech talent. Employees who join BharatPe's tech team will get to work from Dubai for the duration of the T20 cricket world cup, and also get to choose from 5 superbikes. Those who aren't inclined towards bikes can instead opt for receiving over 10 of the latest gizmos, including an iPad, a Samsung Galaxy smartwatch, and Bose headphones.
"At BharatPe, we are designed to disrupt and grow. We are hiring 100 folks in our Tech team. Joining proposition is simply compelling," wrote BharatPe CEO Ashneer Grover on Linkedin.
"1) Cri(work)cation in Dubai during ICC T20 World Cup for the entire Tech Team (Oct 17 – Nov 14)
2) BMW Superbike
3) In-vogue gadgets for WFH Life
4) Leading tech development (payments / loyalty / lending / banking) for any Fintech in the world
5) Market leading salaries and life changing equity," he added.
BharatPe has also created a separate webpage for potential hires, where it lists out the details. New employees will be able to choose between a BMW, Royal Enfield Himalayan, a Jawa Parek, a KTM Duke 390, or a KTM RC 390.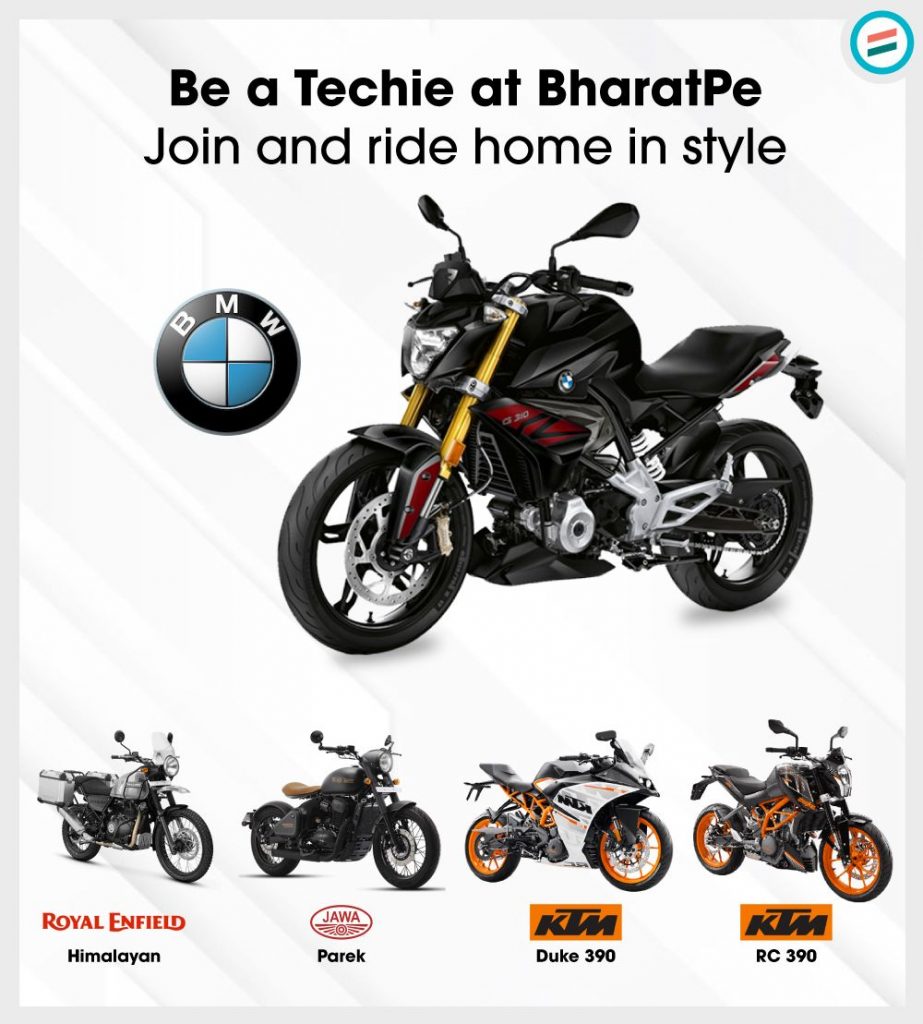 Employees who opt for the gadget pack will get an iPad, Bose headphones, a smart keyboard, subscriptions to Neflix, Amazon Prime and Hotstar, Harman Kardon speakers, a Samsung Galaxy watch, a folding table, a Green Soul Monster chair and a Firefox Typhoon 27.5D cycle.

These are extraordinary perks, but perhaps reflect the realities of today's tech job market. Startups have raised record amounts of funds this year — we're just in July, and Indian startups have raised more money than they did in all of 2020, and have created more unicorns than all of 2020. This has led to startups being flush with VC cash, and they can spend it on acquiring the best talent to build their companies. The numbers of qualified tech workers, though, hasn't increased drastically, which has meant that startups are now competing amongst each other to hire the best tech talent.
It's hard to say how long the party will last — startup funding usually peaks and falls in cycles, and there might be a time when funds aren't quite as abundant, and salaries and perks might rationalize. But tech workers aren't complaining — for now they're watching companies fight for them with cricket world cup visits and superbikes.