You can be boring and post a normal "Looking for a graphic designer for a creative and exciting startup" hiring ad OR you can show it. When job hiring campaigns are so good in themselves they serve more as marketing campaigns for the hiring company, other than getting the right candidates for the opening, it's only a good thing.
Here's some of the most creative, saucy and plain clever ads by Indian startups and ad agencies of late.
1. Zomato
We don't expect anything less than Zomato, who over the years have managed to carve a whole new niche and garnered an unchartered fan following with their superior witticisms aided by some neat graphic design work. It's only fair that their hiring campaigns looked the part.
2.  Oye Happy
This 2 year old Hyderabad-based startup makes people's day by arranging surprises. A creative ad for their hiring needs isn't a surprise.
3. Eventifier
When Game of Thrones is the buzz of the season, it's only a matter of time that you looked for a dedicated Jon Snow for your company. Eventifier, a Bangalore-based social media product startup is looking for designers with this GoT – inspired  ad.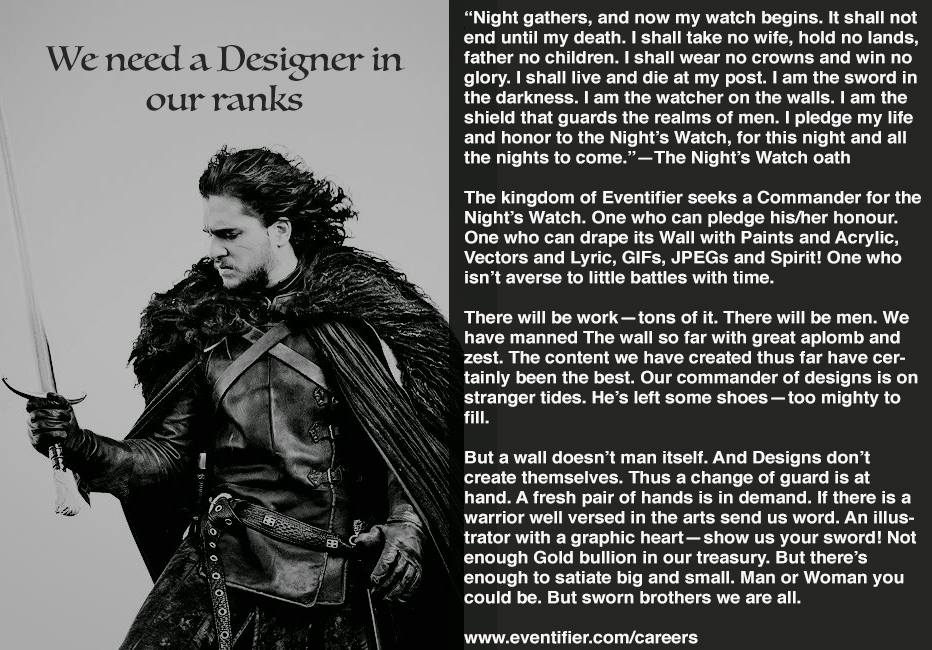 4.  Infinista
Sex sells and this agency knows. Their other ads are also on point on getting noticed by just the right people who need those jobs.
5.  ContractIQ
An epic ad indeed.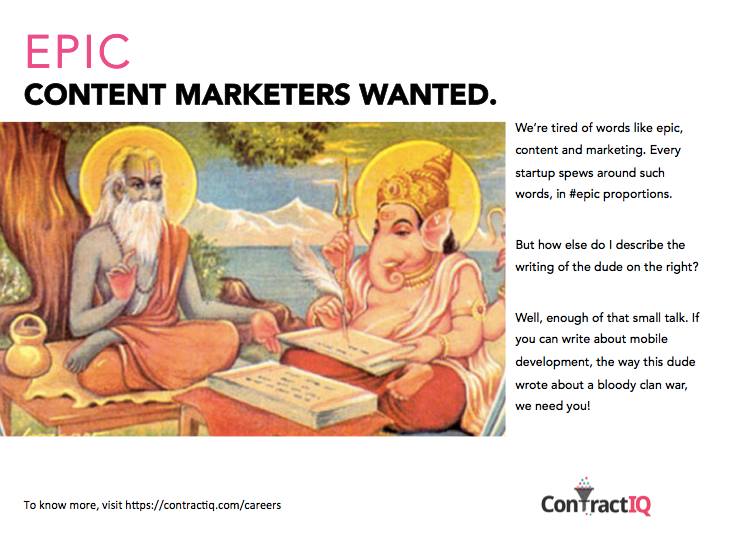 6.  Inkgrid
Here's one for the science buffs. Taking the startup buzzword "growth hacker", quite literally, Inkgrid sought people to inject those nitronous growth boosters in the ecommerce company.
You wanna hire a good coder, have him solve a code. In a Google-esque hiring ad, Squadrun wins this one with the spot on code-focussed ads.
8.  Sociowash
Everyone has heard of the epic client budget vs client expectations conundrums. Ad agencies deal with it everyday. So this ad which looks for the "middle guy" is perfect to scout for a client servicing candidate.
9. Sociowash
In another hiring ad, Sociowash takes their job hook up game to the next level with this Tinder theme campaign. We'd written about Tinder hiring for its newly opened operations in India, with a cool job, on Tinder. Like Tinder, this hiring campaign has bound to get Sociowash some right swipes.
10. Warcircle
While the spate of layoffs in the startup world may have caused some buzz and put thousands of people out of jobs, here's an agency that's having a good laugh at the startups' expense. Digital agency WarCircle rolled out this cheeky hiring campaign in late December in the wake of a consecutive slew of news about mass layoffs at vaunted startups like Zomato, TinyOwl, Housing and Helpchat.