Despite the legal status of gay marriages in India, love finds a way out. In a move that could potentially signal a wave of good things to come for the Indian LGBT community, a lesbian couple recently took their 8 year long relationship to the aisle. 
Smruthi Narayan and Shwetha Pai, employees of Google Hyderabad, have tied the knot at the City Hall in San Francisco. The pair has been working together at the company for the last 8 years. They are both active campaigners for LGBT rights and organize and participate in several events in the city.
Smruthi and Shwetha met in college and fell in love in their final year. They've been together ever since, and performed a small commitment ceremony in 2005. They both managed to get jobs at Google and have been living together since then.
They came out of the closet in 2011. "It was not easy", recalls Shwetha. Her parents haven't spoken to her since she broke the news to them. "We didn't know the existence of an LGBT community in India and didn't know whom to turn to when our families disowned us. But we were able to get help from two amazing souls in Bangalore who work on lesbian crisis intervention. They helped us deal with threats from family and be in hiding for a few months until things felt safe for us. It was the toughest and most traumatic experience of our lives.", adds Smruthi.
Google played an important part in their process of being accepted by the community. They became members of the Gayglers India group, the forum of Google employees that identifies as LGBT. "We helped organize the Google contingent for the Bangalore Pride that happened in 2011 and 2012. The participation in the Pride parade in 2011 was the first time Google participated as a company in a Pride event in India.", says Shwetha. "Google is very accepting of all kinds of people. It's difficult to imagine a company I could be more proud of".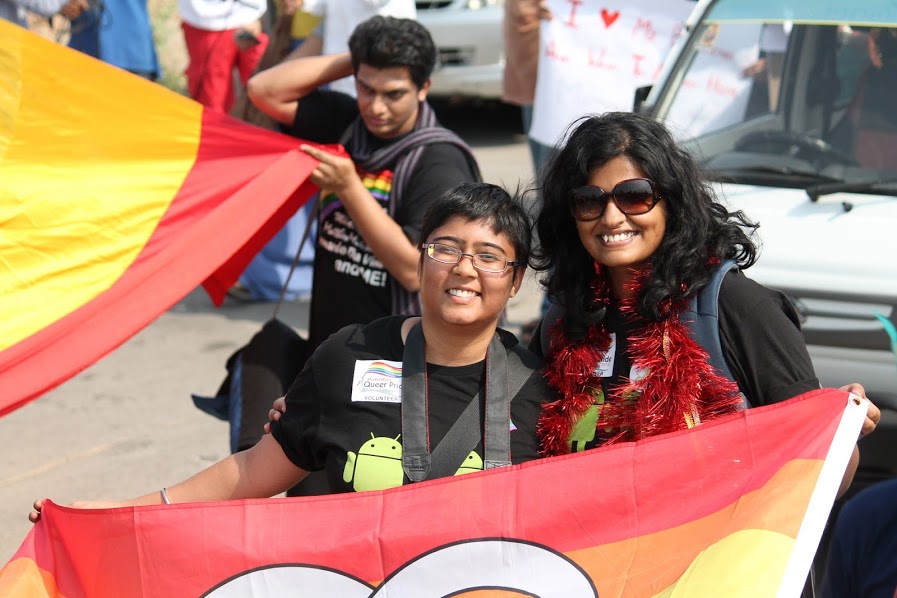 They have received tons of congratulatory messages following their wedding, and are pleasantly surprised at the reaction. "People who had last spoken to me when I was 10 or 12 were congratulating me on this news. So the social acknowledgement is a great feeling.", says Smruthi. They would have preferred to get married in India, they say, but India does not permit same sex marriages. They feel that this legal step has ascertained that their relationship "is not frivolous and has depth." "I've felt married to Smruthi for a long time, so the exchange of rings didn't change what I felt for her or what I feel about our relationship. This marriage has just changed the way others look at us.", says Shwetha.
It has been a long journey for the pair, but they're happy with what they've achieved. "There will always be hurdles when you try to do something transformational. There will be the fear of losing people close to you, a feeling that you don't belong, humiliation and shaming. If you want to see change, go out there and fight for the change. You have to be the change you want to see in others."
Recommended Reads: