Google's search bar already has answers for most of life's questions, but now it will also help people find jobs in India.
Google has launched a Job Search feature, where users can find jobs by typing in their requirements right into the Google search bar. Users can enter some details about jobs that they'd like into the search bar, just as they'd search for other things, and Google now returns a dedicated widget that shows available jobs that meet the requirements. Here are the results when we searched for "software engineer jobs".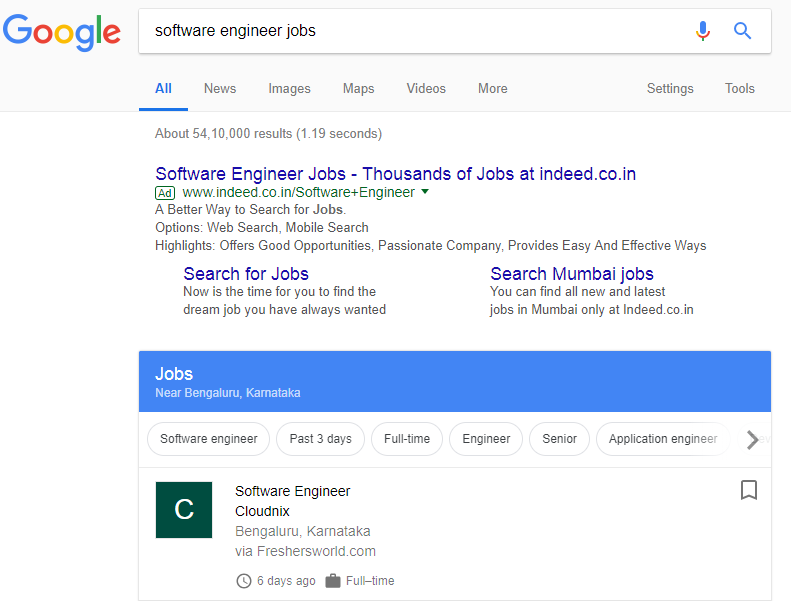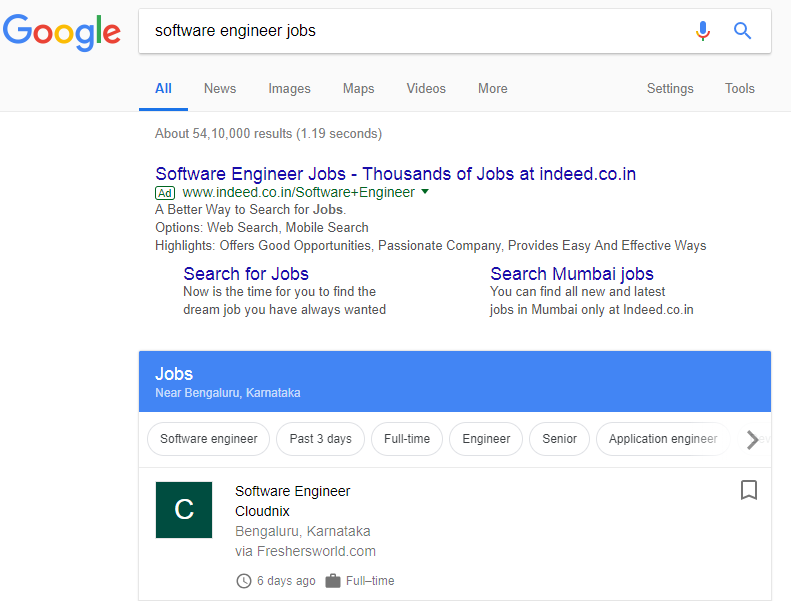 The widget itself is pretty nifty, and allows users to add or remove keywords. So for searches related to Software engineer jobs, Google lets people filter for new jobs which were posted in the last 3 days, full-time jobs, jobs which have the word "Senior" in their description, among others. Google's job search also utilizes Google's other smarts — we'd made our search from Bangalore, and it automatically detected our location, and showed us jobs that were based around Bangalore.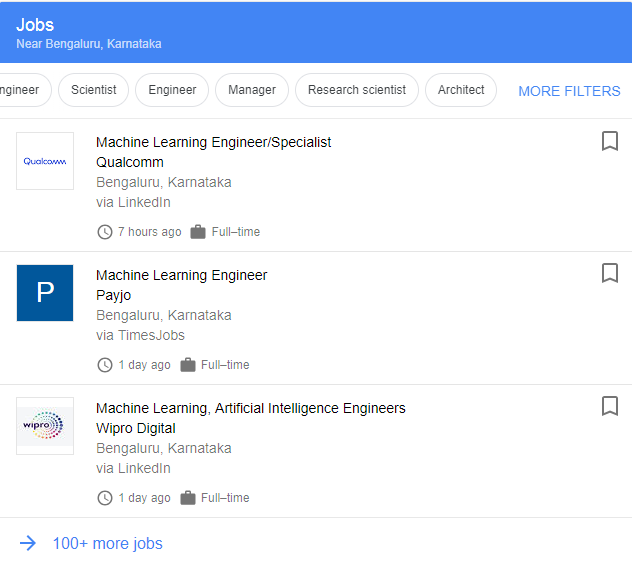 The jobs itself are powered by a variety of popular job portals in India. Google says that it's partnered with companies such as TimesJobs, AasanJobs, QuikrJobs, FreshersWorld and Shine.com, and populates its widget with postings from these sites.  While displaying the listed jobs, Google shows the aggregator the job was listed from by saying "via". On clicking on these links, users are directed to the partner sites, where they can continue their application process.
As such, Google's Job Search turns it into an aggregator of aggregators, listing down jobs from some of India's most prominent job sites. It's a remarkably similar approach that Google followed with Google Flights, through which it shows flight results right in the search results, with fares from the major booking sites. Google Jobs Search can prove to be quite handy for consumers, who can now find results from several aggregators through one single search — Google's search bar is already the most visited bit of real estate on the internet, and instead of visiting a host of different portals, users can find relevant jobs right from Google's search bar.
But Google's Job Search can also been seen as a bit of a power grab by the search giant. Google Search is already the default way to search for information on the internet, but a few categories, such as travel bookings, jobs searches, and restaurant reviews and had managed to create their own players. These players usually specialized in information that was rapidly changing such as flight rates and job availabilities, and couldn't always be served with traditional search. By looking to become the gateway for searches in these categories as well, Google is attempting to consolidate its already-ironclad hold on how people search for things online.
And concentration of power isn't always the ideal for the consumers in the long run, especially on the internet. Google says it's partnered with 8 job aggregators in India, but some prominent ones are missing — Naukri.com, for instance, won't have its listings shown on Google's Job Search widget. By showing these limited partner search results above organic results, Google will wield a tremendous amount of power on how Indian search for jobs online. While these partners will presumably enjoy a temporary boost in traffic to their sites, the ultimate power will be held by Google, who will remain the gatekeeper for which jobs listings are shown to users.
There have already been some misgivings about Google's attempts to add its own products right below search results. Just this year, Google was fined Rs. 136 crore by the Competition Commission of India for, among other things, its Google Flights feature, which it alleged amounted to an "unfair display and placement of commercial flight unit with link to Google's specialized search options so as to deprive the user of the search with additional choices." Google had said that it would appeal the order, but its Jobs Search feature shows, its brazen grab for power now has moved into the job listings space.