There are many reactions to a company being inducted into the hallowed unicorn club. They are showered with praise, the media rushes in to do inspirational profiles of the founders, and there are always the skeptics who grumble that the company is overvalued.  However, when chat messenger Hike became India's 9th unicorn after a funding round that valued it at $1.4 billion, the reaction was very different. The reaction basically was – who even uses Hike?
RT if you don't use Hike or know anyone who does.

— Madhu Menon (@madmanweb) August 16, 2016
Asked 100+ guys if they use @hikeapp. Only 2 use it & for the same reason – Wife checks Whatsapp msgs & don't give a shit about Hike.

— Unicon Baba (@uni_con1) August 17, 2016
Lots of people do, apparently. Hike claims to have 100 million registered users in the country. The majority isn't in urban India – reports say that over 90% of the users are in Tier 2 and Tier 3 cities. That's strange, because when we think of other unicorns, Flipkart, Paytm, Snapdeal or Zomato – these are apps we use on a daily basis. So as intrepid explorers of the digital landscape,
we decided to take a look into Hikeland, and see what makes it tick.
First impressions
Hike's opening screen is a whimsical montage of cartoons saying "Boss" and "Chill Maar" (take it easy). And it's in a font that looks suspiciously like Comic Sans, no less. A little unusual for a company valued at $1.4 billion, but we plough on.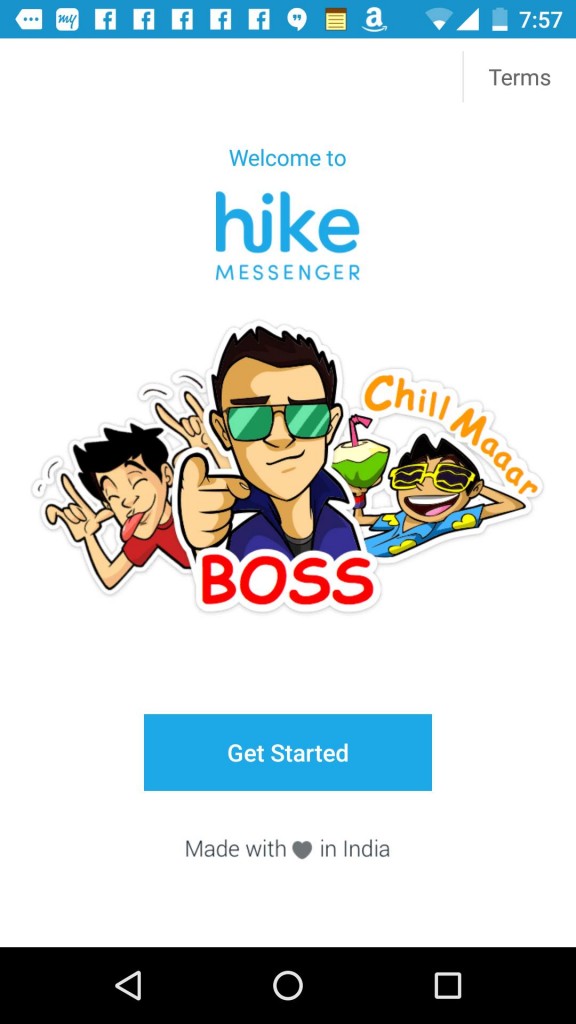 We complete a straightforward sign-in process, and are greeted by the home screen. That's when it hits us – Hike really, really likes stickers. These "stickers" are cartoons that are used to convey emotion. Why type out 'yes' when you can have a weird white alien enthusiastically do it for you.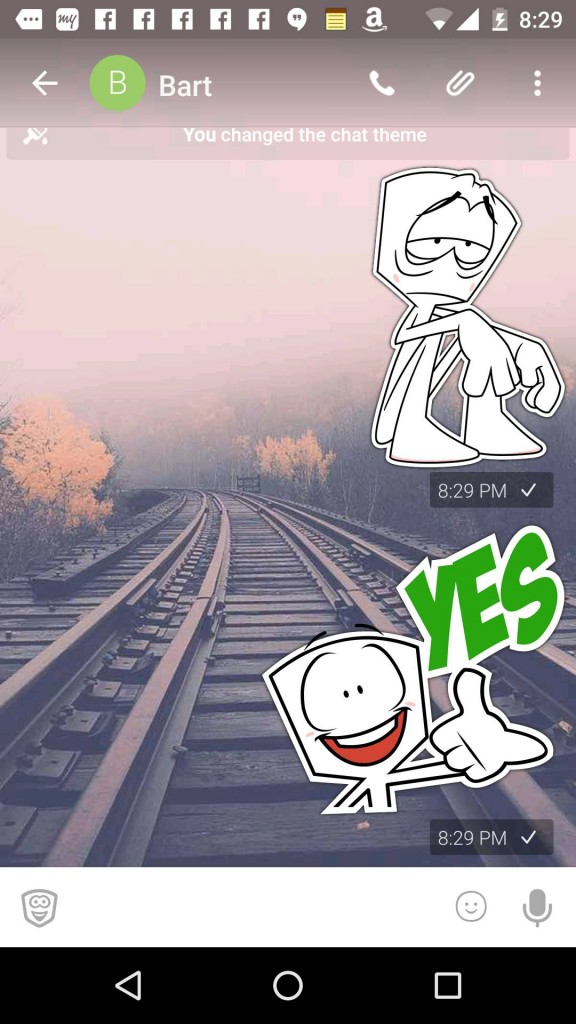 Hike encourages sticker use by prompting users to replace typed words with them. As you type, certain words turn blue, and clicking on them displays a popup from which you can choose a sticker that best conveys what you're trying to say. Hike has several kinds of sticker varieties, that are available to users as free downloads.
And apart from the stickers, there are several bells and whistles that the average Whatspp user will be impressed by. You can change the background of your chats (both for you and the person you're chatting with), and you can add filters to the pictures you send within the app (a la Instagram).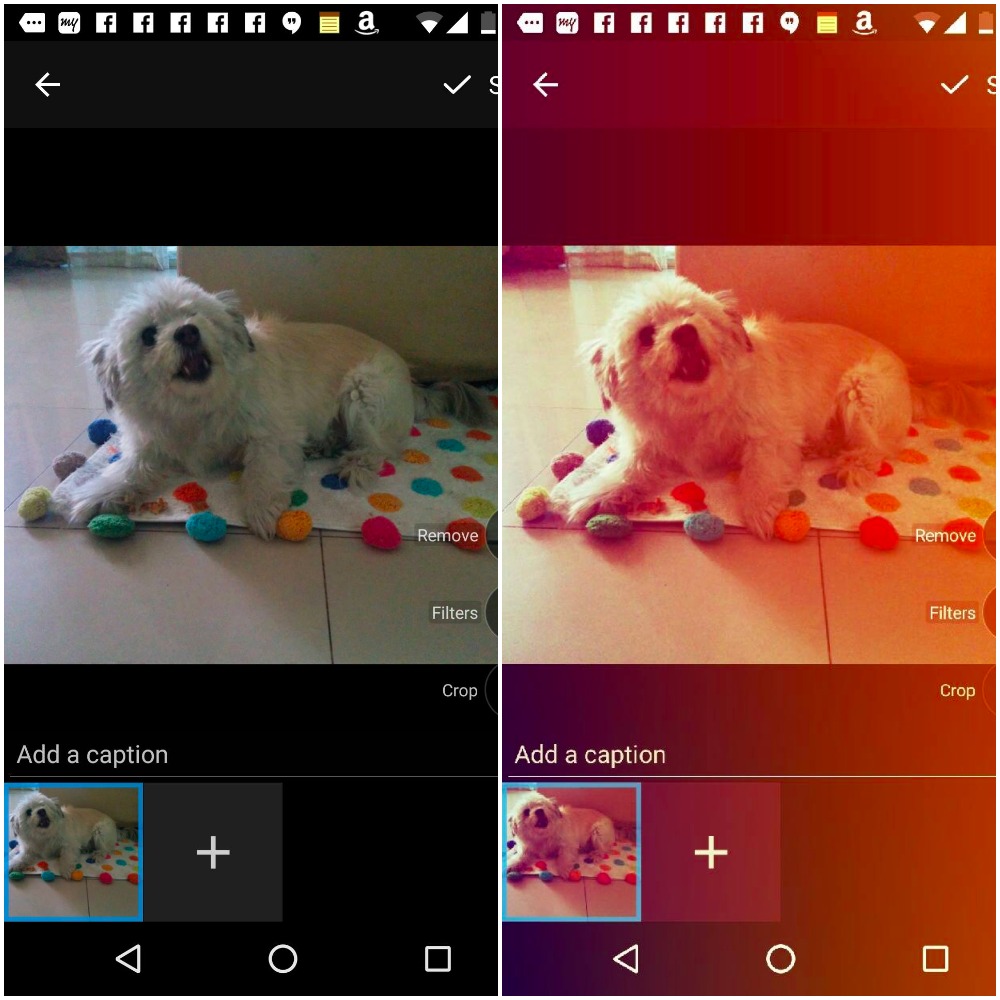 But it isn't just a richer chat experience that sets Hike apart from Whatspp. Hike aims to be what's called a "super app" – an app that provides services that go beyond chat. So it has a separate interface for news, where it provides short Inshorts-like summaries across news categories. It has chatbots that send you messages – Hike Daily started sending us inspirational quotes and Just For Laughs was sending jokes and memes.
You'd think that all these additional features would make Hike bloated, but Hike's engineering team seems to have done a remarkable job with the app. Hike runs as smoothly as Whatsapp and is just as responsive. More remarkably, it took up just 35 MB on our phone, compared to Whatsapp's 54 MB.
Whatsapp versus Hike
Whatsapp is the clear market leader in India. It was already becoming mainstream when Hike was launched in 2012, and egged on by network effects, only seems to have grown its lead.
But Hike and Whatsapp are very different services. Whatsapp is barebones chat, and does its job well. Having started out after Whatsapp, Hike had to offer a differentiated product, and it does seem to do that. We personally probably wouldn't use stickers, but given how heavily Hike seems to promote them, we're guessing they work among a younger demographic. If Whatsapp is good old brown rice, Hike is a steaming hot biryani – lots of additions and a distinct Indian flavour, but possibly not to everyone's taste.
Will Hike ever manage to break Whatsapp's hegemony though? In India, Whatsapp is to chat what Google is to search. People talk of Whatsapp forwards, not Hike forwards. Businesses list their Whatsapp contact numbers, not their Hike numbers.
But Hike, to its credit, seems to be a solid product. It has the functionality of Whatsapp, and has lots of cool services added on. What seems particularly interesting is its news feature – having Hike on your phone could possibly help you replace a news app on your phone. If like its investor Tencent's WeChat, it can integrate other services on its app, say cab bookings, or e-commerce, Hike could incentivize a lot more people to download it. And it'll hope that network effects kick in from then on.