Startup founders of today think of exits and liquidity events within years of starting their companies, but some of India's most iconic brands were built over decades of hard work.
Bikarervala Chairman Kedarnath Aggarwal has passed away at the age of 86. Bikanervala is today a sweets and savouries behemoth that's worth over Rs. 1,300 crore, and has a presence in 150 countries around the world. But the brand had some very humble beginnings, when Aggarwal used to go around the lanes of Delhi selling mithai in a a bucket.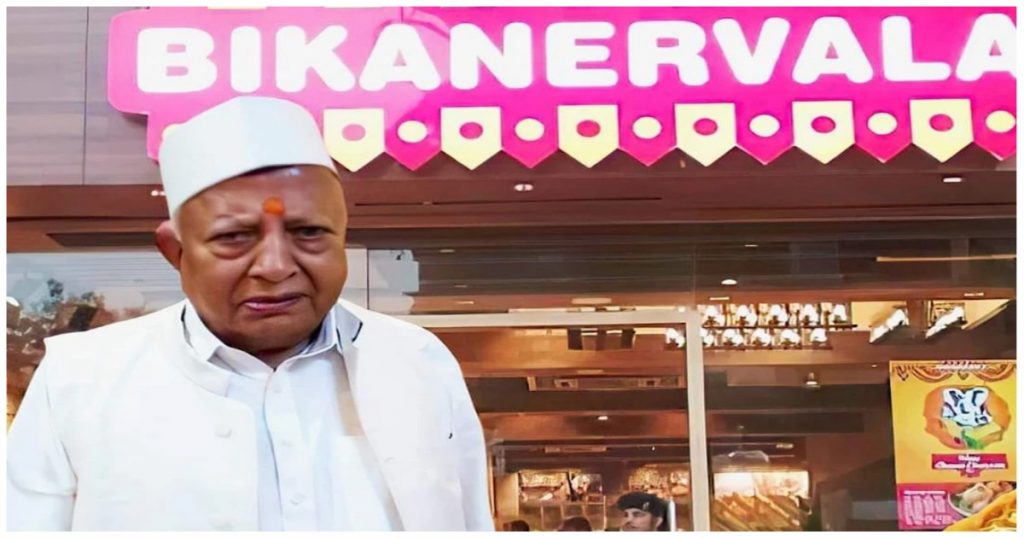 What is today the Bikanervala brand was once a humble sweetshop in the town of Bikaner in Rajasthan. In 1905, Lal Chand Aggarwal had started a small outlet named 'Bikaner Namkeen Bhandar' in Bikaner's old city area of Kote Gate. The shop found favour in a town that would later become famous for its sweets and namkeens, and in the 1950s, Lal Chand Aggarwal's two sons moved to Delhi's Chandni Chowk area to sell their sweets and namkeen.
Aggarwal used his family recipes in the national capital, and Bikaner Namkeen Bhandar became famous for its moong halwa, Bikaneri bhujia and kaju katli. Kedarnath Aggarwal used to take his bhujia and rasgulla in buckets, and sell it in the streets of Chandni Chowk. His wares developed a name for themselves among Delhi's population. They quite literally developed a name too — Delhi's people began calling the shop Bikanervala, or the shop from Bikaner, and the name stuck, resulting in the formal creation of the Bikanervala brand.
Bikanervala grew over the years, opening restaurants and sweet shops all over the country.  In 1988, to take the brand global, it launched packaged namkeen brand Bikano to sell sweets and namkeens in air-tight packaging. In 1995, Bikanervala entered into an exclusive agreement to produce namkeens for PepsiCo's brand Lehar, opening a new plant in Faridabad in Haryana.
By 2019, Bikanervala had as many as 107 restaurants not just in India, but also in places including Nepal, Singapore, US, Dubai and New Zealand. Bikano was also eyeing a bigger play in south India, and the company set up a new Rs. 100 crore plant in Hyderabad. Bikanervala's namkeens are now exported to 30 countries around the world.
Bikanervala is yet another success story to come out of the sleepy town of Bikaner, which is also the birthplace of brands like Haldiram's and Bikaji. It's rare for a single town to create a brand of national repute, and Bikaner has the distinction of having created three of the biggest sweet and namkeen brands that exist in India today. While the paths that Bikaji, Haldiram's and Bikanervala have followed have been quite distinct, they've had a few things in common — they've all toiled for years at their craft, and kept their customers front and center of their businesses; they've avoided the public and media eye and silently built their companies; and they've all been ambitious, and have taken their brands to all of India and beyond. And the creation of these mega brands from a single Rajasthani town holds lessons for all manner of entrepreneurs and startup founders looking to build their businesses in India today.