While US presidential candidate Donald Trump may be popular for all the wrong reasons, it's hard to deny that he offers a mass appeal very few politicians have in the recent times. His speeches get dissected for posterity, his offhand comments are ripped apart, and in general Trump makes for millions of social media discussions (and memes) – for or against him. Love him or hate him, you can't ignore him seems to be the general consensus. But this post isn't about him.
That Donald Trump is made of the stuff that embodies virality wasn't lost on Te-A-Me Teas, a Kolkata based tea company from India.  The company pulled a Trump card to cash in on Trump's popularity ( Or the unpopularity) with a viral stunt. The company sent a total of 6000 tea bags or "two years worth of goodness" purported to cleanse Donald Trump (since Mr Trump has the the world 'worried') to the Trump Towers in New York.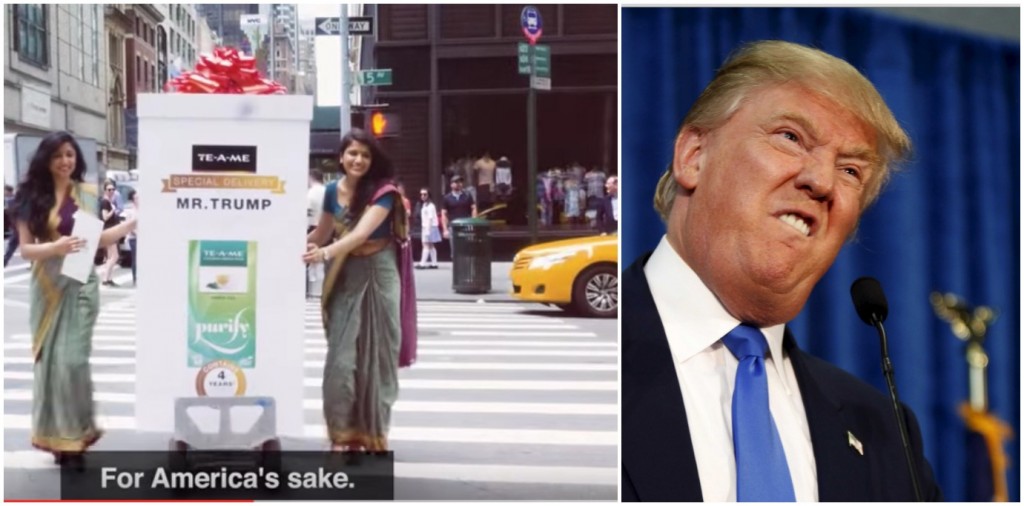 And this wasn't done behind closed doors. The gesture was orchestrated with an elaborate stunt, complete with a truck emblazoned with a "Special Delivery For Trump" and 2 Sari clad reps from the company pushing a cart full of the tea bags across the iconic city. The entire process was captured in a video, complete with some neat editing involving relaying the Tea For Trump message on the Times Square billboards and recording reactions from the public cheering 'Tea for Trump!' who also happen to be sipping the tea from the company branded mugs. The video has amassed over 2 million views already, and the story has been splashed all over media, making for the kind of a viral campaign Te-A-Me otherwise might have spent as many rupees on, to achieve a far less interesting effect.  The company has even rolled out a microsite called TeaForTrump to capture the viral campaign.
"Dear Mr Trump, namaste from India, we are sending you lots and lots of natural green tea. It fights against harmful free radicals. It helps purify mind and body and regain a healthy balance. It has also proven to make people smarter. Please Mr Trump drink the tea. For your sake, for America's sake, for the world's sake," the company said in the video.
Not sure if it's tea Trumps needs to cleanse himself and win his distractors, or that Indians need to care much about cleansing a presidential candidate in the US, but this little known tea company from India is now creating waves and brewing a storm in teacup, for a reason that may have nothing to do with the tea itself.
(We wonder if Trump will send out an equally trolling response by may be throwing all the tea bags into the sea,  imitating the historic Boston Tea Party!)
#TeaForTrump proves, make hay while the sun shines or rather, brew chai while the Trump reigns.