The Indian government banned 59 Chinese apps on Monday amidst the Ladakh standoff citing security concerns and data privacy issues. While this caused some cheer around the country — a ban on Chinese apps would undoubtedly hit China hard — there was even more enthusiasm among India's startup community. With 59 popular apps having disappeared from app stores overnight, there's an opportunity for Indians to build alternatives, which could quickly garner users. The biggest app that was on the banned list was TikTok, and a slew of Indian alternatives to TikTok have already thrown their hats into the ring. Here are the apps that are trying to be India's TikTok alternatives.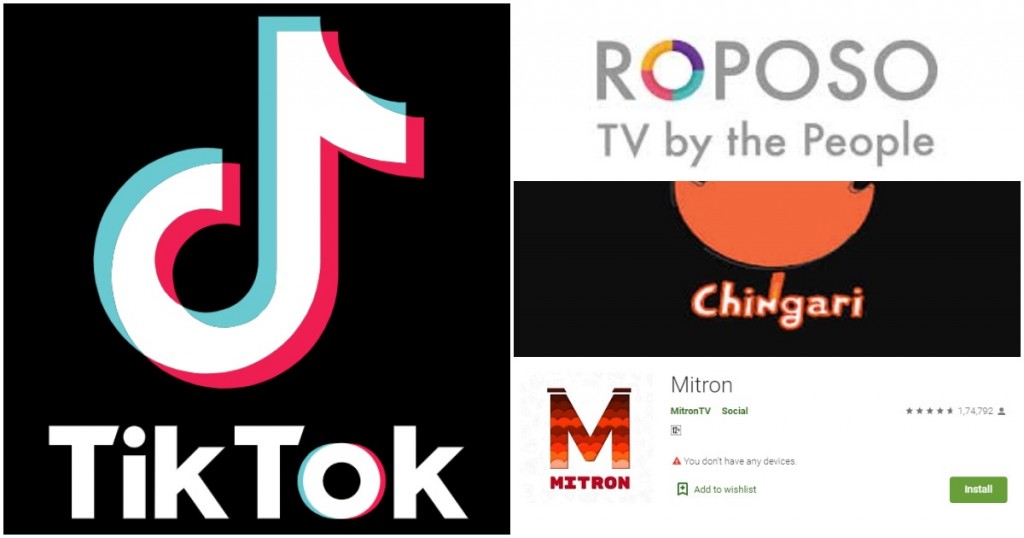 1.Roposo
Roposo had started off as a fashion curation platform several years ago, but has since pivoted to being a short video sharing app. The app now has over 30 channels, including fashion, comedy & jokes, homemade healthcare solutions, entertainment, singing, sports and news, where users can share short videos. Roposo also has some big backers behind it — it is owned by ad-tech unicorn Inmobi, and will likely have substantial marketing resources to quickly garner users. Roposo already has 65 million downloads, and is currently possibly in pole position to emerge as an Indian TikTok alternative.
2. Chingari
Chingari was founded by Bengaluru-based programmers Biswatma Nayak, Sumit Ghosh and Siddharth Gautam last year.It allows users to download and upload videos, browse through a feed, share content and more, and is available in a variety of Indian languages. Chingari already has 5 million users, and the vast majority of them have downloaded the app after TikTok was banned. Unlike TikTok, Chingari says it'll pay content creators for their viral videos.
3. Mitron
Mitron has been in the news quite a bit — in May, after tensions with China had escalated, it had managed to get 5 million downloads in a month. The app was then mired in controversy after it was revealed that the app had been built off a template purchased from a Pakistani developer, which made some question the made-in-India credentials of the app. But Mitron has now clarified the situation, and has more than 10 million downloads. Mitron has also recently raised its first round of VC funding.
4. Mor
Sharechat, which had captured Tier 2 and Tier 3 cities India before TikTok came along, has also quietly launched a TikTok-like app right after TikTok was banned. Sharechat focused more on text and image-based content, while TikTok focused exclusively on videos. ShareChat's new app Mor describes itself as a "place to meet people from all over the world, gather on Moj to meet interesting people and watch interesting short videos." Moj has also introduced special effects, stickers, magical emoticons for your selfies, magic filters, and syncing capabilities for music videos. The brand-new Mor currently has 10,000 downloads.