An endorsement by PM Narendra Modi had made the Aarogya Setu app the fastest-growing app in the world, when it had broken Pokemon Go's record to register 50 million users in 14 days flat. Now a TikTok clone, named after a term popularized by the Prime Minister, is breaking other records.
Mitron, an Indian video sharing app, has managed to get 5 million downloads within a month of its launch. "Mitron is a free Short Video and Social Platform," the app says on the Play Store. "It is designed for people to showcase their innovative videos inline with our theme of light humor. Mitron provides an easy and seamless interface for users to create, edit and share their videos, and at the same time browse through a library of top videos across the globe," it adds. Mitron means friend in Hindi, and is a word that's often used by PM Modi while addressing crowds and rallies.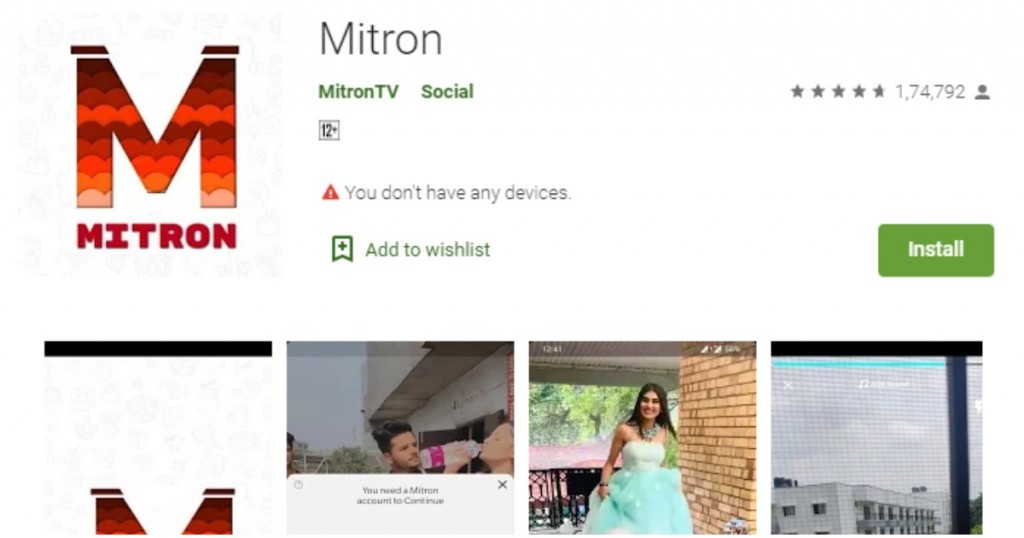 "Our mission at Mitron is to create a platform where people can come and entertain themself (sic) with small videos posted by people across the globe and at the same time create a social incentive for people to share and create their own videos," the app says.
If that sounds suspiciously similar to TikTok, it is — the app's interface is uncannily similar to the Chinese short-video sharing app. Even the content within the app seems to be similar to that that's shared on TikTok. But the app seems to have hit the right note — it has more than 5 million downloads, and a solid rating of 4.7 after 1.75 lakh reviews. Media reports have suggested that the app is developed by an IIT Roorkee student, but we aren't able to independently verify this — we tried contacting the app's creators, but are yet to receive a response.
Mitron's rise has been meteoric, but the app's timing couldn't have been better. TikTok has been under fire for a while for being Chinese, and China's recent cover-up of the coronavirus pademic had made people even less predisposed to Chinese products than usual. And things came to a head recently in a YouTube vs TikTok spat, in which prominent TikTok users managed to get a massively popular video taken off YouTube that had made fun of TikTok users. In response, Indian users had hit TikTok with millions of 1-star ratings, causing the app's rating to fall from 4.5 to 1.2 in days. In these times, an app that seems to be a TikTok alternative, and is called Mitron to boot, has managed to get an unprecedented surge in popularity. The country's best B2C app companies would be proud to manage to rack up 5 million downloads in a month — but through a combination of fortuitous timing, a solid product, and an unbelievably smart name, Mitron app seems to have done it without any major backing at all.