With 120 million users, TikTok may just be behind Facebook and Twitter in India as far as social media platforms go but it risks losing its massive following and user base today.
A large section of the internet is rallying to get the viral video platform banned as several pieces of problematic content uploaded on the platform have emerged in the last 24 hours. The hashtags #TiktokExposed and #BanTiktok have been trending on Twitter all day with over 45k tweets on the topic. Many influencers and celebrities have spoken out against the app.



The outrage was first triggered by a Tiktok video uploaded yesterday that seemed to promote violence against women.   The video shows popular Tiktoker Faisal Siddiqui enact a skit where he seems to be admonishing a woman for rejecting him, and avenges his rejection by throwing acid on her face.  Acid attack crimes are rampant in smaller towns and are a serious issue in India. The video, even though fictional, purported to send the wrong message by normalising the heinous act. The video's been taken down and the user has been suspended since. But the video has led to a series of exposes of problematic content on the platform.
It all started last week when popular YouTuber CarryMinati had uploaded a video unfavourably comparing TikTok with Youtubers. In the video that had garnered 4.5mn views within 2 days, he accused Tiktok users of stealing content from YouTubers, and lashed at the platform for promoting cheap content that required no skills as opposed to YouTube that offered quality content from skilled video producers. The video's been since taken down by Youtube, and the internet's been divided on the two platforms ever since. Tiktok critics have been quick to dig up problematic content on the platform.
Some of the other videos that have emerged included the heart-wrenching videos of a fad where girls trample kittens under pointy stilettos or bare feet. A similar video from India where a kitten was shown to be hanging by a rope was called out for promoting and encouraging animal torture for virality. Another bunch of videos showing teenagers engaged in inappropriate sexual acts have also evoked strong criticism against Tiktok for promoting underage sex and other forms of vulgar exposure. 
As is the case ever so often in India, the quickest way to get justice against a rogue app is to punish it with low ratings on the Playstore. Those against Tiktok have been urging people to downrate the app, and those who don't have it, to download only to downrate it. The app rating is duly down to a mere 1.3* now with thousands of 1* ratings and reviews bestowed upon it by angry Indians.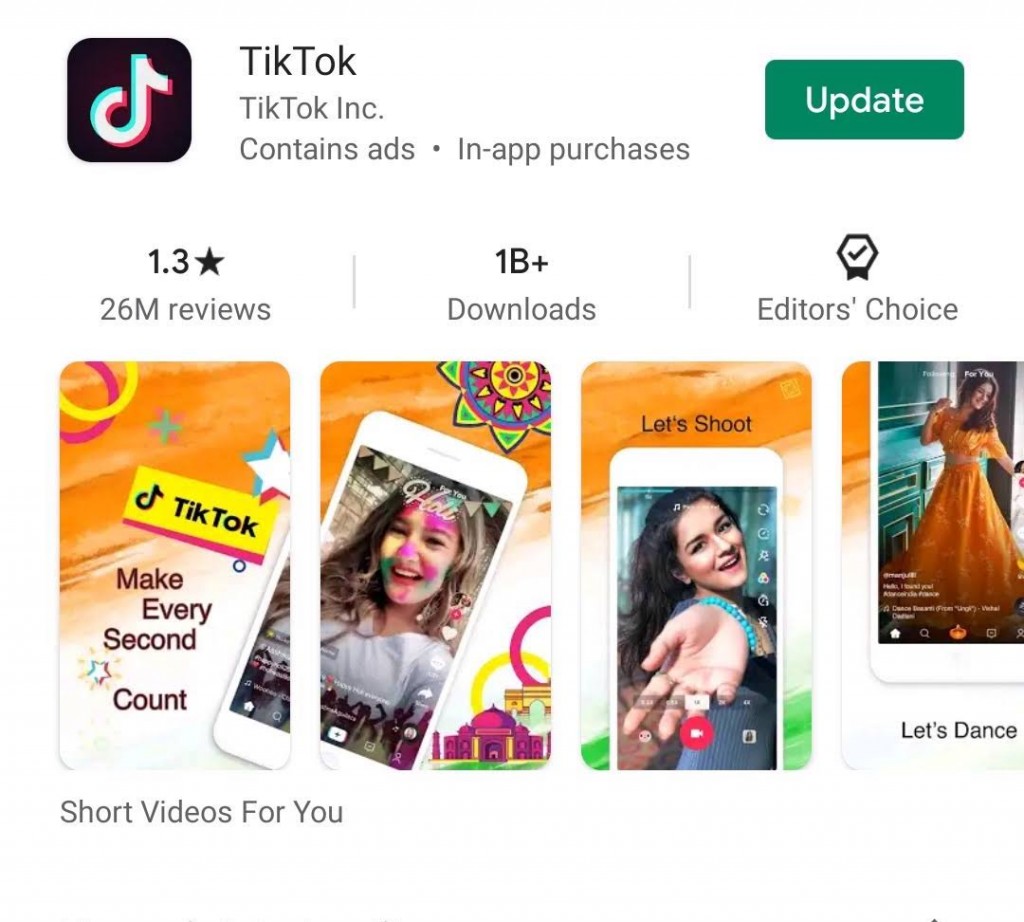 This is not the first time though that Tiktok has ruffled feathers in the country. In April last year, the Madras high court had put a ban on the app saying it encouraged pornography and made child users vulnerable to sexual predators. The judgement was in response to an individual's public interest litigation against TikTok, calling for its ban.
In the wake of all the problematic content that's called out from time to time, Tiktok's content moderation policies have been questioned by its critics. On May 12th, the company had to release a press statement to assure the users of its content moderation and security policies.   "In the recent past, we have heightened our moderation efforts by monitoring and systematically removing content from our platform that violates our Community Guidelines. For example, in India, we have removed thousands of such videos, including content that could cause imminent harm to public health and safety. Moreover, our enhanced in-app reporting feature – 'Misleading Information' category, allows our users to proactively flag content, relevant especially during times of COVID-19.", one of the snippets from the press release says.
Tiktok is owned by the Chinese company Bytedance and was launched in India in 2014  as Musical.ly and later renamed Tiktok. Due to its ease of use which lets users upload videos from their phones, add quick filters, preset scenes and dialogues, the app has quickly garnered a huge userbase in India – a country with a burgeoning population of smartphone users. Tiktok's often credited for democratizing social media as a chunk of its user base is from tier 2 and tier 3 cities in India and falls in the 15-30 years age group. Tiktok's gained massive popularity in the last year and many common people have gone on to become Tiktok celebrities with millions of followers while mainstream celebrities have joined the platform too. They dance, sing, cook, or enact famous scenes from the movies or direct complete skits of their own in short bite-sized videos. The Covid quarantines and unlimited time on hands has only added to the app's appeal.
Buoyed by its popularity in India, Bytedance has doubled down on its efforts to scale its operations in India and has been hiring key positions in the content and marketing teams.  It has also been actively promoting the platform– curiously on other social media platforms — as a viable advertising channel.
The internet can be a great place for entertainment, education and popularity, but as Tiktok's ugly underbelly reveals,  without a robust content moderation system in place, and users' greed for easy virality, it can turn into a highly-polarizing and even dangerous platform.