The government's Agnipath scheme might have led to massive protests, with roads being blocked and property being destroyed, but India's top business leaders don't seem to think the scheme is a particularly bad idea.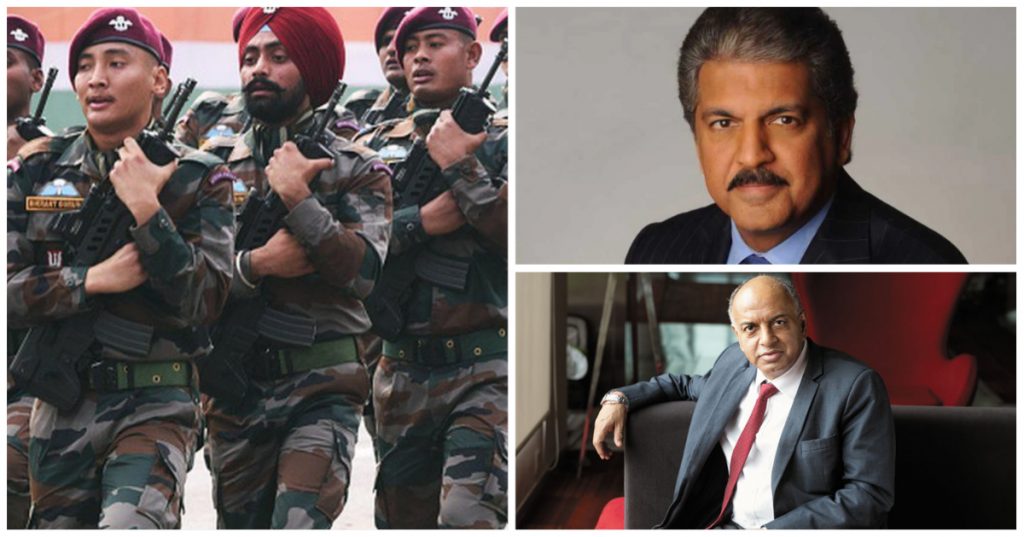 Some of the biggest names in Indian business have come out in support of the government's Agnipath sceheme, and have even said that they'd hire its graduates. "Saddened by the violence around the Agnipath program," wrote Anand Mahindra. "Then the scheme was mooted last year I stated-& I repeat-the discipline & skills Agniveers gain will make them eminently employable. The Mahindra Group welcomes the opportunity to recruit such trained, capable young people," he added.
Mahindra's comments come after concerns had been raised in some quarters whether some Agnipath graudates, who'd have spent four years with the Army but hadn't got their contracts extended, would be able to find employment at the conclusion of their program. The Agnipath scheme aims to target young Indians aged 17.5 to 21, to provide them training to join th army. 25% of the best-performing personnel would receive a 15-year extension, while all inductees would receive Rs. 11 lakh at the completion of the program.
RPG Group's Harsh Goenka sent out a similar message as Anand Mahindra. "The RPG group too welcomes the opportunity to employ the Agniveers. I do hope other corporates will also join us to take this pledge and assure our youths of a future," he tweeted.
Biocon CEO Kiran Mazumdar Shaw, who was until recently India's richest woman, said that she believed that those who'd graduated from the program would have a bright future. "I firmly believe that Agniveers will have a distinct advantage in recruitment in the industrial job market," she tweeted.
InfoEdge's Sanjeev Bihkchandani, who's built portals including Naurki.com and 99acres.com, and was one of the earliest investors in Zomato, also backed the scheme. "The armed forces are very fine institutions and a great training ground. If a person does four years of national service in the armed forces he or she will finish as a disciplined and a trained professional with a college degree," he said. He said that these graduates would find it easy to secure jobs in the private sector. "(The jobs) could be in any of several roles – sales, service, back office, operations anything. And I am not just talking about blue or grey collar jobs. Several could also grow into management jobs," he added.
TVS Motors, which is one of the biggest two-wheeler manufactuers in India, also backed the program. "The Agnipath scheme will have a significant positive impact on society and contribute greatly to nation building. Agniveers will play a key role in furthering economic growth and strengthening society in the coming years," said TVS Motors MD Sudarshan Venu.
Sajjan Jindal, the CEO of the JSW Group, echoed similar sentiments. "No better place than our Armed Forces for training our youth. Countries like Switzerland, Israel, Singapore etc. mandatorily make their citizens undergo Military Training. Values of nationalism and discipline taught by the Military build character & strength of a nation and Agnipath," he tweeted.
It remains to be seen whether a vote of confidence from the business community would cool the tempers that have flared since the introduction of the scheme, but India wouldn't be the only country to have its young people join the army for a brief period, and then return to civilian roles. Countries like Israel, South Korea and even Finland have similar programs, and their military-trained youth appear to seamlessly get back to civilian life. And with India's top business leaders backing the scheme, and even pledging to hire its graduates, the inductees into Agnipath, armed with a corpus of Rs. 11 lakh, and training from one of the best forces in the world, could end up doing pretty well for themselves.