Reliance is already India's largest telecom operator and its largest wired broadband provider, but now it has a wireless broadband offering too.
Reliance today launched Jio AirFiber, an internet service that delivers broadband-like speed over the air. Jio AirFiber has been launched in 8 cities including Ahmedabad, Bengaluru, Chennai, Delhi, Hyderabad, Kolkata, Mumbai and Pune. The wireless internet service will help Jio overcome the challenges of last-mile connectivity by bringing internet to areas where it is hard to lay down optical fibres.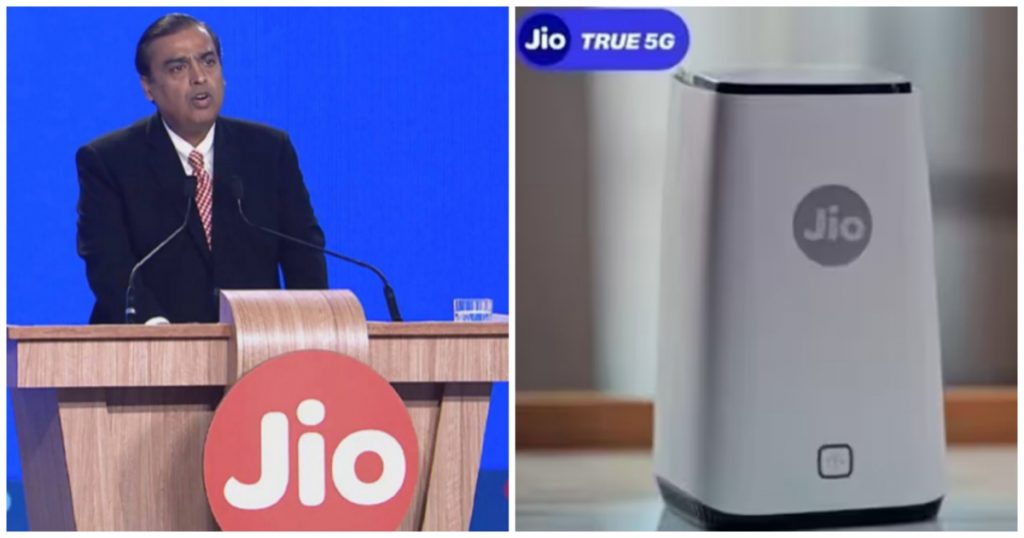 Reliance calls JioAirFiber a "wireless, simple, single-device solution". "Get it, plug it in, turn it on, and that's it. You now have a personal Wi-Fi hotspot in your home, connected to ultra-high-speed internet using True 5G," Akash Ambani had said during Reliance's AGM. The aesthetic advantage of JioAirFiber is the complete absence of wires, which otherwise "create an eyesore", he had added.
The cheapest Jio AirFiber plan starts at Rs. 599 per month which will provide 30 Mbps speed, with access to 550+ TV channels, and 14 OTT services. For Rs. 1199 a month, users can get a 100 Mbps connection, along with subscriptions to Netflix, Amazon Prime and JioPremium. Users will be able to access these OTT platforms through devices including tablets and laptops. More expensive plans are also available — for Rs. 3999 a month, users can enjoy a speed of 1000 Mbps. Jio will install an outdoor unit on users' terrace or outside the home that will cost Rs 1,000, but if they opt for an annual plan, the fee will be waived.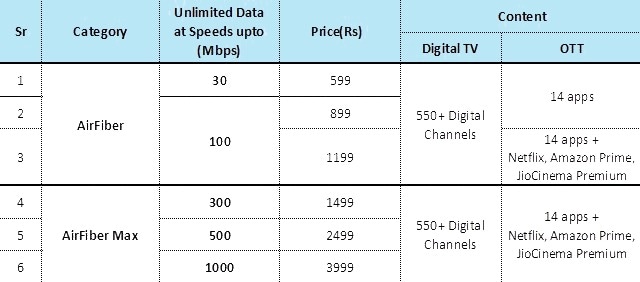 Reliance isn't the first company to launch a wireless broadband service in India — Airtel already has a similar offering. Airtel's Wireless Broadband is available in 2 cities. Its router is placed indoors, while Jio AirFiber's router is outdoors. Airtel also doesn't provide the bundled OTT offerings like Reliance does.
Jio's offering, though, underscores how serious Reliance is about continuing to be the biggest player in providing internet to Indian users. And perhaps for good reason too — the entire economy is moving to the internet, with everything from shopping to entertainment now taking place online. Reliance clearly wants to control the pipes through which these services reache people — while net neutrality rules don't allow it to tinker too much with the internet connection itself, it can bundle all manner of products and services with its internet plans. Jio AirFiber plans, for instance, will have add-ons for smart home implements. Jio can conceivably also bundle its OTT platform, JioCinema into its plans, and can also use the channel to market its wide range of consumer products. It's still early days for wireless broadband in India, but with Reliance Jio making a big push in the space, it's likely that it'll look to dominate this particular internet superhighway as well.