Reliance's  multi-year, multi-billion dollar bet on India's e-commerce space is finally here.
Jiomart.com, Reliance's foray into the e-commerce space which will pit it squarely against Flipkart and Amazon, is now live. The website has a list of items that are available for delivery, and is already serving select pincodes in major cities across India including Mumbai, Pune, Hyderabad, Chennai, Bangalore, Kolkata and Delhi. JioMart, at the moment, sells fruits and vegetables, dairy and bakery, staples, snacks and branded goods, and personal care items, and claims that many products on its website are a minimum of 5% below MRP.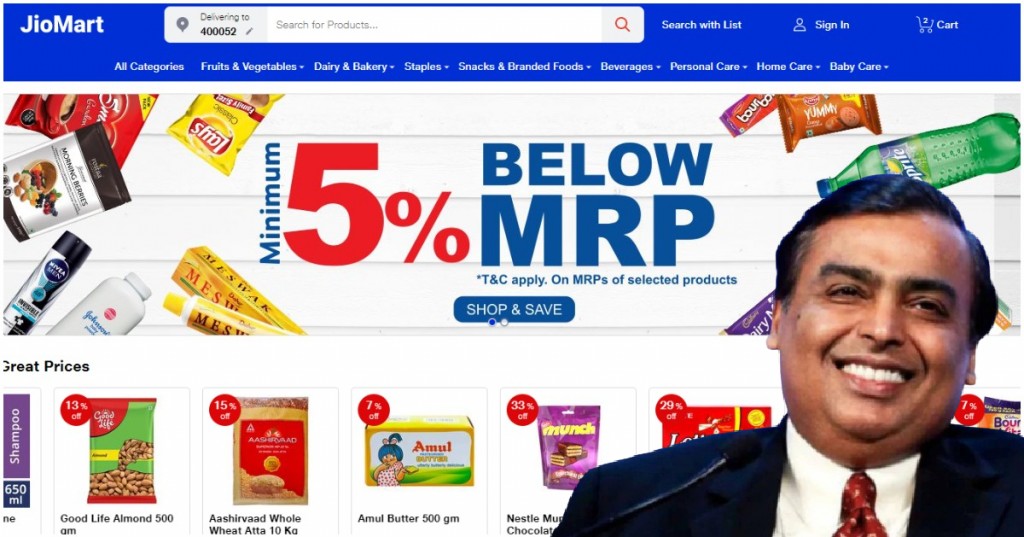 JioMart's website has Reliance's trademark blue, and has a fairly spartan, if functional, layout. Like other e-commerce sites, JioMart puts its best deals right on the top of its page, and also lets customers pick products through different sections. To make their orders, customers are required to enter their phone numbers, email address and physical addresses, and products are then delivered to them. JioMart is charging a delivery fee of Rs 25 if a customer places an order of less than Rs 750.
At the moment, JioMart seems to be powered by Reliance Retail's Smart and Fresh stores, which already have a pan-India presence. Reliance also plans to include small kirana stores into the mix, with the kirana store that's nearest to customers being made to fulfil orders. Reliance is tying up with kirana stores across the country, and is providing them with POS systems and inventory management software.
Before the launch of the website, JioMart had made its services available through WhatsApp in a trial, through which customers around Mumbai were able to order products through WhatsApp. That limited trial, though, required customers to go to the nearest store and pick up the orders themselves. JioMart's website, however, works like other e-commerce players, and Jio says that its app too will also be available soon across the country.
The way things stand, JioMart seems to currently be posing a bigger challenge to grocery delivery companies like BigBasket and Grofers. It's selling grocery products and essentials on its site, and its service will directly compete with these grocery delivery startups. Reliance also says that all products on its site are at least 5% below MRP, which could be hard for startups like Big Basket or Grofers to match — no startup in India can hope to undercut Reliance on prices, and Reliance could quickly take away customers from these services, much as Jio had taken away customers from telecom incumbents like Vodafone, Idea and Airtel. 
Reliance's gameplan appears to be to start with grocery delivery, and get customers used to ordering from its service. Grocery delivery is a high-frequency use-case, and when customers are regularly ordering from its platform, it can gradually start adding other products, such as electronics, which have higher margins. At that point, it will begin competing directly with Amazon and Walmart-owned Flipkart. Reliance also has Facebook in its corner — Facebook recently acquired 10% of Reliance Jio —  and e-commerce in India could well up end up being a three-way between these American companies. Reliance had upended telecom industry with the launch of Jio — it remains to be seen if JioMart will similarly upend India's e-commerce space.