It had been rumoured for years, reported on endlessly, thought to be the gamechanger in India's e-commerce space, and it's finally here — JioMart is live in certain parts of India.
Days after Reliance and Facebook announced their partnership, JioMart is now live in the suburbs of Mumbai. Customers in Navi Mumbai, Thane, and Kalyan can place orders on JioMart through WhatsApp. To order from JioMart, customers need to add JioMart's WhatsApp number 88500 08000 on their phones. If a customer types in "Hi" on the chat, JioMart sends a link to the customer's Whatsapp chat window. Clicking on the link directs the user to a new page wherein he has to fill his address — the phone number, thanks to the integration with a WhatsApp business account, is auto-populated. Users are then led to a catalog of products, which include sundry brands along with Reliance Retail's own private labels.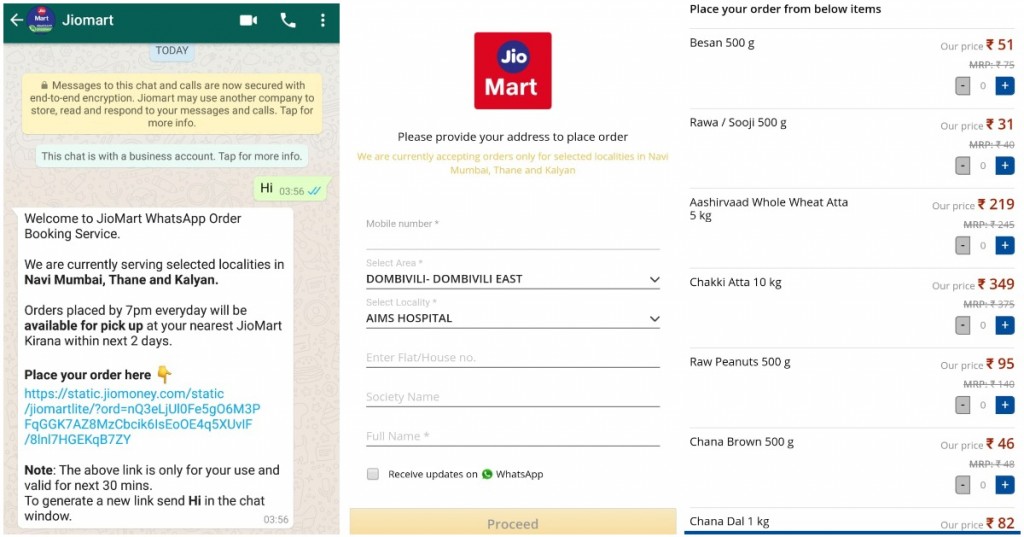 Once the final order is placed, it is shared with the local kirana store on WhatsApp. The customer receives a notification with the order and the kirana/JioMart store details on his number. The customer will also receive an alert once the kirana bills the order. 
Interestingly, the customer currently has to pick up the order from the kirana store, which makes the whole process sort of redundant — customers can just as well go to a store and make the order in person. The only payment option available at the moment is cash.
It appears that the the current form of the service is a pilot, and Reliance will later build the delivery infrastructure to go with it. But in principle, it does connect the customer with kirana stores over WhatsApp — this would mean that Reliance has some sort of an inventory management system in place which lets it update the quantities of goods available at any given time with a particular kirana store. Reliance isn't the only company that does this — services like Swiggy Go and Dunzo also provide similar updates around what goods are available at local stores.
But where Reliance can score over these other services is through vertical integration — Reliance already runs a sprawling Retail empire, and operates neighbourhood stores, supermarkets, hypermarkets, wholesale, specialty and online stores. By becoming both the middleman and the distributor, Reliance will be able to unlock value that other companies can't. Delivery companies like Swiggy and Dunzo are currently mired in losses, as are e-commerce companies like Amazon and Flipkart. Reliance will hope that with a model that combines the two, it'll finally be able to make some money in India's hyper-competitive e-commerce space.