Move over face recognition and dancing emojis, the next big smartphone add-on could be here.
LG's gone ahead and launched a phone that does what no phone has done before — it drives away mosquitoes. The LG K7i claims to be able to repel mosquitoes using something it calls the "Mosquito Away" technology. The phone has a device attached to its back that emits ultrasonic waves which supposedly keep mosquitoes at bay.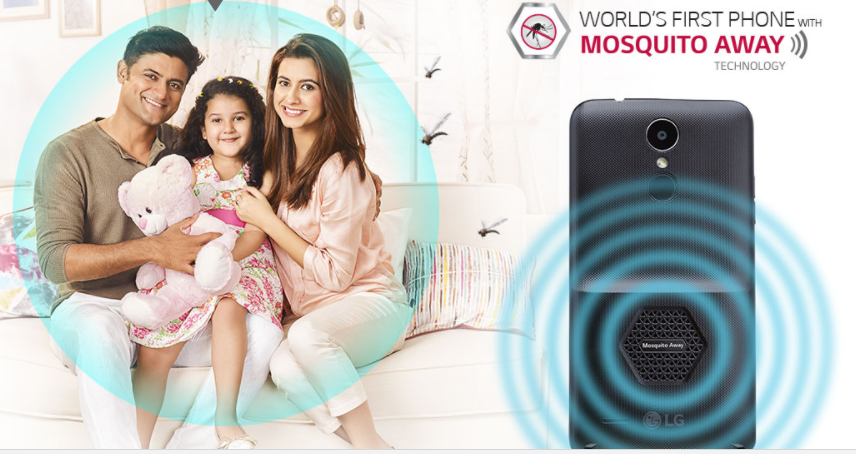 LG's going all-out (no pun intended) with its claims of the efficacy of its new device. Its advertisement features a happy family that's safely ensconced inside a blue shield that mosquitoes seem to helplessly bump against and retreat from, defeated. "Good for you, Bad for mosquitoes," declares LG.
And the company even throws in a science lesson about its technology. An infographic informs users that humans can hear soundwaves between 20-20,000 Hz. The LG K7i, on the other hand, emits waves of over 30,000 Hz, which apparently are like Kryptonite for mosquitoes. LG says it was able to repel 72% of mosquitoes during its clinical trials, and while the hexagonal sound-emitter might look a little intimidating, LG assures customers that its technique for repelling mosquitoes is "inaudible, invisible and odorless."
The K7i, though, isn't a one-trick pony. In addition to its malaria-fighting capabilities, the phone has a 12.7 cm on-cell display, an 8 MP rear camera, a 5 MP selfie camera, a 2,500 mAh removable battery, 2GB RAM and a 1.1 Ghz Quad-core processor. It retails in India for Rs. 9,990.
It sounds like a madcap idea, but LG's presumably put some thought behind this. The budget smartphone market is fairly saturated at the moment, and it's hard for new phones to stand out. LG's gone ahead and created a phone that's bound to generate some buzz. Mosquitoes are a serious problem in India, and indeed the world — with 4,30,000 deaths attributed to malaria globally in 2015, LG's phone might end up solving a fairly major problem. Smartphones are already becoming ubiquitous, and if they can double up as mosquito repellents, they can help accelerate the prevention of mosquito-borne diseases.
And if LG's "Mosquito Away" technology works as well as advertised, it might end up becoming a new standard for phones. Nobody thought the camera and the cellphone would end up getting bundled together until someone first did it — if the K7i takes off, there's no saying where this technology might end up.